---
PROVIDENCE, RI—Who are the significant adults in the lives of teenagers, beyond the home and classroom? How do they reach out to youth, and why?
Almost a decade ago, youth across the nation gave their answers, as they interviewed, photographed, and publicly honored "Mentors That Matter" in four cities (Chicago, Providence, San Francisco, and Tampa). They nominated people from all walks of life—artists, coaches, public officials, even a school bus driver and a hair stylist—who show that they care about "other people's children."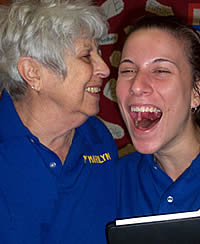 Sponsored by MetLife Foundation, the WKCD initiative developed literacy, communication, and photography skills in some 200 students who participated. But it also did much more.
Young people showed how much they value adults who reach out to share time and expertise with them. And as the mentors told their own compelling stories, they revealed that adults, just like youth, benefit from time spent together.
Here WKCD presents a look at the resulting photo-narratives from each city. A selection of their work also appears in the book Pass It On: Interviews by Youth with Mentors That Matter (Next Generation Press, 2008).
Click here to see the following examples:
Derrick Rollerson | pastor (Chicago)
Hector Escalera | probation officer (Chicago)
Georgia Dunbar | school bus driver (Chicago)
Adeola Oredola | director, youth activist group (Providence)
Len Cabral | storyteller (Providence)
Steve Bianchini | restaurant chef (Providence)
Celina Ramos | youth credit union program coordinator (San Francisco)
Naomi Wright | assistant, after school programs (San Francisco)
Andres Fernandez | capoeira teacher (San Francisco)
Laura Stringer | foster mother (Tampa)
Susheela and Ravindra Nathan| pediatrician and cardiologist (Tampa)
Brother Damian McCullagh | church elder, copy machine guru (Tampa)
Complete collections by city:
Chicago [PDF, 2.5 MB]
Providence [PDF, 4.6 MB]
San Francisco [PDF, 10.9 MB]
Tampa [PDF, 3.4 MB]