---

Bronx, NY — As a young African female starting a new life in the United States, "it's heartbreaking to see my friends give up their future for early marriage and pregnancy," says college freshman Aminata Seck. Two years ago, Amina and Mariam Dagnoko, another student at New York's Bronx International High School, decided to create a documentary video about the subject, exploring the push and pull around young parenthood that engulfs many African immigrant girls.
Their 17-minute video, "Experiencing Tradition," offers a straight-up, heated look at the conflict between family expectations and individual ambitions that female immigrant teens, like them, often face.
While the differences among immigrant communities across the United States are substantial, the struggles confronting young girls are often similar.
Click here
to see the research questions that guided "Experiencing Tradition," along with discussion questions for students who watch the film.
America's acceptance of women's rights, individual expression, and teenage rebellion presses against the traditions immigrant families bring with them. For many parents, the fear of losing control of their daughters, paired with their unfamiliarity with American life, can lead them to take desperate measures to curtail their daughters' activities and education. For daughters, the experience of a freer lifestyle and the opportunity to pursue their academic and career goals may alienate them from their parents and homeland culture. Immigrant girls and their families wrestle with the process of adaptation, often with heart-breaking decisions and consequences. As Amina says, "it's hard on everyone."
Like Amina, who is from Senegal, the young women featured in "Experiencing Tradition" are all from West Africa. They fight a high tide of customs and statistics.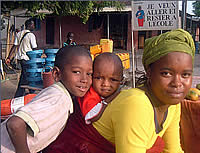 UNICEF estimates that in Africa, 42 percent of women aged 15 to 24 married before the age of 18. In West African Niger, 27.3 percent of women ages 15 to19 married before the age of 15, and 76.6 percent of women ages 20 to 24 married before the age of 18. Fifty-three percent had also had a child before the age of 18.
In these African nations—as in so many developing countries—early pregnancy, when it happens within marriage, is rarely seen as a "problem." Instead, it is viewed as a blessing for the young married woman, no matter what her age. It proves she is her fertile.
Here we present interviews with student videographer Amina Seck and Liana Maris, the Bronx International High School (BIHS) teacher who guided the documentary project—along with Seck and Agnoko's remarkable film, "Experiencing Tradition."
Interview with Amina Seck, BIHS graduate from Senegal, Africa
Interview with Liana Maris, fifth-year BIHS teacher
Film: "Experiencing Tradition" (17 min.)