---
(Left): President Barack Obama declares June LGBT Pride Month; (Right): NYC's Youth Pride Chorus performs "Ooh, Child" for It Gets Better video
by Barbara Cervone
NEW YORK, NY—In the early morning hours forty-three years ago, a police raid of homosexuals at the Stonewall Inn in Greenwich Village ignited a series of spontaneous, violent demonstrations.
Police raids on gay bars were routine in the 1960s, but officers quickly lost control of the situation at the Stonewall Inn, and attracted a crowd that was incited to riot. "It wasn't anything tangible anybody said to anyone else," witness Michael Fader recalls. "It was just kind of like everything over the years had come to a head on that one particular night in that one particular place."
Tensions between New York City police and gay residents of Greenwich Village erupted into more protests the next evening, and again several nights later. Within weeks, Village residents quickly organized into activist groups to concentrate efforts on establishing places for gays and lesbians to be open about their sexual orientation without fear of being arrested.
"Everyone in the crowd felt that we were never going to go back," Fader continues. "It was like the last straw. It was time to reclaim something that had always been taken from us.... There was something in the air, freedom a long time overdue, and we're going to fight for it. It took different forms, but the bottom line was, we weren't going to go away. And we didn't."
On June 2, 2000, President Bill Clinton declared June "Gay & Lesbian Pride Month," in commemoration of the Stonewall Riots. This June, for the fourth time since he took office, Barack Obama made a similar declaration.
"This June, let's take some time to celebrate teachers and students who take a stand against bullying, openly gay and lesbian service members, ... families and friends who have seen their own attitudes evolve," he urged.
In cities and towns across the country, the LGBT community and their allies are answering back with parades, picnics, performances, and lectures. Although so much remains to be done, the years between the Clinton and Obama presidencies have brought sweeping changes in America's stance towards the LGBT community—from widespread acceptance of civil unions to the end of "Don't Ask, Don't Tell," from the election of openly gay politicians to Obama's recent support of gay marriage.
For LGBT youth, pride and heartache
"[If I were bullied at school] I wouldn't tell anyone else about it," a 16-year-old gay student in Massachusetts says. "I don't think my teachers would be any more accepting of my sexuality than the harasser."
For America's LGBT youth, the past decade has brought as much heartache as pride, it seems. At the same time, for example, that the number of Gay-Straight Alliance clubs on high school campuses nationwide has exploded, bullying of LGBT in school has skyrocketed too, as more youth come out and ineluctably test the attitudes of their classmates and teachers.
A year ago this June, WKCD and Next Generation Press put our own stake in the ground with the publication of Queer Youth Advice for Educators: How to Respect and Protect Your Lesbian, Gay, Bisexual and Transgender Students. In the preface, the editor Abe Louise Young wrote:
The main message is simple. Queer youth are here. They're in your class. They're standing on the fault line of a powerful continental shift between old rules and new values in our society. Just as the children of every civil rights movement have done, they're taking a lot of the heat. Some are exuberant leaders; others are choked with fear. But they all want to grow and learn, and want your respect.

In a school of 1,000 students, up to 100 will be gay, lesbian, or bisexual; 10 will be transgender; and 1 will be intersex (biologically neither male nor female). If their lives are average, 87 of them will be verbally harassed, 40 of them will be physically harassed, and 19 will be physically assaulted in the next year, because of their sexual orientation or gender expression. Sixty-two will feel mostly unsafe going to school. Thirty will harm themselves in what may be suicide attempts. Their academics suffer; social and emotional needs go hand in hand with educational needs, and nervous students don't learn easily.
Into their own hands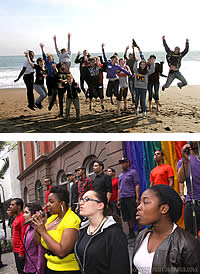 As much as LGBT youth desperately need teachers and other adults (including their parents) to be their allies and protectors, they are determined to grow their own voices and action.
They are pushing back.
In summer "youth activist" camps, sponsored by Gay-Straight Alliance Networks in various states, LGBT youth are learning organizing skills and strategies for promoting anti-harassment policies at their schools. Last summer, for example, 20 youth gathered at the Northern California Gay Straight Alliance Activist Camp in Marin County to learn how to be proactive in relation to a new bill passed by the California State Assembly.
"Seth's Law," named after 13 year-old Seth Walsh, a gay junior high school student from Tehachapi who hanged himself after years of harassment at school, requires schools to update and implement anti-harassment and anti-discrimination policies. The Marin youth staged a mock school board meeting where the (virtual) stakes couldn't have been higher. Pinedo, at the time a 17-year-old youth counselor, channeled his own experience where the bullying in his school got so bad that he came close to taking his life.
[Listen to a podcast of the Marin Camp youth talking about the experience.]
This month, the Texas Gay Straight Alliance launched The Texas Queer Youth Zine. "Zines are free-form publications," the new website explains. "They include everything from collage to poetry, cartoons to rants, how-to's to manifestos, stories to chants to.... whatever you can dream up. Tell us something about you, about your community, or about making change. Share tools, ideas, visions that will be useful to other youth. Express yourself in whatever way feels most powerful or real to you!"
At this year's annual Creating Change conference, the winner of the Paul A. Anderson Youth Leadership Award, Ernesto Dominguez, brought to the stage not only a stunning record advocating for queer youth across Oregon, but also a remarkable personal story. When he came out at age 16, his mother kicked him out of the house and for almost two years he was homeless. (Twenty-percent of homeless youth are LGBT, the National Coalition to End Homelessness reports.) He was also an undocumented immigrant. "Coming out as undocumented has always been a lot harder for me that coming out as queer," Domínguez said. "You never know who you can trust, or how they're going to take it."
Since 2003, New York City's Youth Pride Chorus has galvanized the voices of lesbian, gay, bisexual, transgender, and straight youth ages 13-21 in the movement for change. YPC concerts feature these young artists in exciting, high-energy performances of both classic and current pop, rock, and folk songs, original choreography, and spoken word. Through fun and rigorous weekly rehearsals, YPC singers train in voice, dance, and song interpretation, achieving artistic excellence and developing leadership skills. YPC has performed as guest artists at the GLAAD Media Awards, GLSEN's Respect Awards, Broadway Backwards at Lincoln Center, and with Cyndi Lauper on her True Colors Tour.
When the Youth Pride Chorus performed "Ooh, Child" (Things Are Gonna Get Easier) to a packed house at New York City's Julia Miles Theater, they brought the audience to its feet.
"This year has been revolutionary," Eddie, an 18-year-old activist told us a year ago. "The kids have taken the gay rights movement into their own hands."