Bronx Strong: Empowering Immigrant Youth Through Soccer
by BARBARA CERVONE |April 13, 2016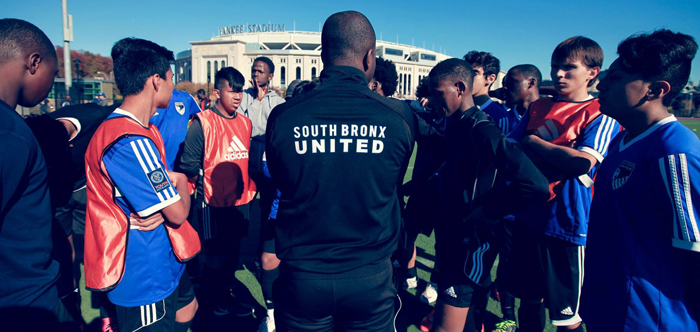 Photos courtesy South Bronx United
This profile of South Bronx United is the second in a series of stories about some of the remarkable programs that are part of New York City's Student Success Network—a rapidly growing, self-governing network of 40 youth development and education organizations committed to empowering low-income middle-and high-school students with the social and emotional competencies to succeed in college and career.
ON AN UNSEASONABLY WARM MARCH AFTERNOON, the astro turf alongside Yankee Stadium buzzed with young soccer players getting their blood running after a day seated in school. English, Spanish, French, and Mandingo filled the air.
In one corner, a team of middle-school-aged boys went from a push up to a standing position as fast as they could. In another, older youth practiced dribbling, first with the outside of their foot, then with the inside. Their coaches cajoled and praised. "I know you can do it faster." "Good job."
In two days, these aspiring student athletes from one of New York City's poorest neighborhoods would take their game to the 2016 City Showcase, an annual event that combines strong competition and information on college for youth soccer teams across metropolitan New York and beyond. Coaches from over 70 colleges would dot the sidelines, there to scout talent and field questions.
When these "Bronx Strong" youth take the field, their diversity would make them standout: 120 players from 29 countries. Less visible will be the hardships and aspirations that unite and push them. Coaches aren't looking for the best player, they've heard. They are looking for the best person.
United by soccer
In 2009, when Andrew So assembled an afterschool soccer team at the South Bronx school where he taught, he figured his students needed a way to get off the streets and do a safe, prosocial activity with peers. It was an easy sell. As the children of immigrants or newcomers themselves, his students were as passionate about soccer as So, a Stanford graduate who knew firsthand soccer's power to fuel dreams and cross cultures.
South Bronx United (SBU), the organization Andrew So started that year, in 2016 engages nearly 900 children and youth between the ages of 4 and 19. Seven hundred of these youth play recreational soccer, with another 400 kids waiting for an opening. A dearth of playing fields keeps the lid on enrollment. (Elsewhere in New York City, youth from families with enough money "pay to play" in one of the city's longstanding soccer clubs—or they attend a school where soccer thrives.)
Pope Francis thrust SBU into the headlines on his August 2015 visit to New York, when he met with members of a soccer team of unaccompanied minors from Central America, organized by South Bronx United and Catholic Charities. He had just addressed a joint session of Congress, asking lawmakers to see the "faces" of immigrants, especially children uprooted by violence and poverty.
The team presented the Argentine Pope with a soccer ball.
Soccer, plus more learning
The heart of SBU is its afterschool Academy, which currently enrolls 150 middle and high school youth who typically stay with the program for years. The program combines competitive travel soccer with academic enrichment, college prep, mentoring, leadership development, immigrant legal services, and other social and emotional supports. A five-week summer program extends the Academy's reach.
Almost all its students come from immigrant families, and nearly half were born outside the U.S. The $80 annual participation fee reaches the limits of what most can afford, and it's often waived.
"The culture of soccer, combined with wanting to make a difference, binds us all."
- Eric Saito, education coordinator
A youthful full-time staff of eleven includes a college placement and alumni adviser, amental health counselor, and an immigration lawyer. Along with 200 volunteer tutors and coaches, they mirror the diversity of the students.
"The culture of soccer, combined with wanting to make a difference, binds us all," said SBU's education coordinator, Eric Saito, who spent a year in South Africa using soccer to spread HIV awareness before joining South Bronx United. "It unites everyone who works here and the students, too."
A way to shine
Football—as it is called everywhere except the U.S.—is a game people play regardless of whether it is offered in school, or they are part of a team, or they have a field to play on. "You play it anywhere, it's a game you love, a way to shine," said Mr. Saito. "It's a source of expression and creativity. It's an international language."
For the youth who flock to SBU, soccer also offers a "place" to let off steam, take a break from their problems, and excel in a way they rarely can in school. "You don't need words to communicate on the field," as Mr. Saito noted. Yet communication in a new language also strengthens spontaneously through such physical activities, research has found.
SBU Academy fields seven teams, five for boys (divided by age, under-12 to under-19) and two for girls. The teams practice twice a week and, during the season, compete on weekends. The boys teams play in the Cosmopolitan Junior Soccer League, the first youth soccer league in the country (started in 1933), with 200 teams across the New York metropolitan area.
Receiving, passing, turning, heading, trapping, and shooting—these and other individual techniques fill SBU practice drills. Players hone the principles of attack and defense: giving support, marking, covering, creating their own space, creating space for others, and more. Goalkeepers learn how to cup and grip the ball, how to narrow the angle.
"I keep on developing my technique," said Admir, who comes from Montenegro and plays for the Under-17 team. "I guess that goes on forever—getting better from practice."






Succeeding as a team
The skills these youth gain from their soccer drills go beyond technique. Developing grit and a "growth mindset" come with the territory. "It's cumulative," Mr. Saito explained. "It's not a formal speech before a game, or a vocabulary list. Our best coaches give informal feedback all the time, noticing when a player has done something well, or pulling a student aside when he seems to be struggling."
Players also develop an appreciation of teamwork, along with the social intelligence it demands. Like soccer-crazed kids across the world, they may dream of being the next Cristiano Ronaldo or Alex Morgan. But succeeding as a team, many said, had the biggest impact on their motivation.
Most have grown up caring for siblings and looking out for each other. Now, their coaches and the mentor assigned to each team work to build the bonds among them. They model nonstop caring and connection, believing it will help kids reach higher and stay on track, but also guide their relationships with one another.
"You lead by example. You don't need to be loud to be a leader. "
- Gnim, Boys Under-19 team
For Admir, this has translated into a different definition of leadership. "A leader is someone who cares, who gives his teammates confidence," he said. "It's about positive energy and meeting your team's needs, on and off the field."
Seventeen-year-old Gnim, who moved from Togo to the Bronx when his mother won a visa lottery, described himself as a shy person who would typically keep to himself. In his second year of soccer, the coach named him captain of the team, he said:
"I asked him why he picked me. For me, a captain was someone who was always talking, always encouraging. When I asked Coach why he picked me as a leader, he said, 'You lead by example. You don't need to be loud to be a leader, to always be talking. You need to be a model.'"
Academic mindsets
Few of the youth who join South Bronx United come for the academics. They have earned praise for running fast, but rarely for their intellectual record. SBU aims to build their ability and confidence as students, too.
When coach and mentor Kimani Calnek talks to kids about joining the program, he makes them promise to fight as hard academically as they do on the soccer field. He said:
"I tell them they can score a touchdown in math the way they score on the soccer field. It starts with a plan. Without a plan, the goal is only a wish. The same way we train on the pitch, breaking down the steps that can lead to a score, we need a plan for classroom. We can't just wish to do well in our next exam. We have to tilt the odds in our favor."
SBU students are required to attend two hours of afterschool academic programming twice a week. Middle school students catch up on homework and school projects, learn study skills, and start putting college in their sights. High school students wrestle with the habits that go with being a scholar, prepare for the SATs and Regents exams, and explore colleges.
"I tell them they can score a touchdown in math the way they score on the soccer field."
- Kimani Calnek, coach
Volunteer tutors, including many college students, move from one student to another in the five classrooms at Mott Haven High School where the afterschool program meets. SBU coaches and mentors like Mr. Calnek are also on hand. Many kids who come to tutoring insist that they don't need any help, or that it won't do any good, Mr. Calnek noted. So he begins his work with a student by saying, "Show me what you have." He points out what the student did right, then areas where the work could get better. It's not necessarily about conveying new content, he explained:
"[It's] telling them that what they have is pretty good, giving them confidence, and then also giving them the confidence to do it a little better. Our kids have the ability. What they lack are the messages that give them the feeling they can succeed academically as well as athletically."
At 16, Admir talks about learning to tackle an academic problem like a challenging opponent. "If the first plan doesn't work, you have a plan B, and a plan C," he says.
Most SBU students will be the first in their families to go to college, and the support they receive with the college admission process stands in for what they don't get at school and can't get at home. It begins with helping students believe they are college material. One of the byproducts of SBU's college visits is that students start imagining themselves on a college campus.




A culture of caring
Praise, individualized attention, students knowing that there are caring adults who support them on the field or in the classroom. "These social-emotional elements give students the ability to come back from failures, to rebound," said Eric Saito.
The immigrant youth who join SBU want a better life and are willing to fight for it. Their vulnerabilities run deep, however. For many, family is a source of strength; for others, it seeps sorrow. Poverty and discontinuity are norms. Some students are bullied at school. (Aly said that he hears people say, "You African, you so black," as he walks down the hall.)
Aicha, a refugee from battle-torn Sierra Leone, recalled what she was told when she joined South Bronx United: "It doesn't matter if your mother or your father or your sisters aren't here. It doesn't matter what color your skin is or what language you speak. This is your family."
A determination to create a culture of caring infuses SBU, with mentoring and knowing every student well as through-lines. The efforts begin on a student's first day and follow them to college.
"It starts with listening. IIf you aren't in tune with the students and what they need, your game plan won't work."
- Rumbi Mavima, mentor and volunteer coordinator
Like most SBU staff, Rumbi Mavima, who coordinates volunteers, also doubles as a mentor. Assigned to the Boys Under-12 team, she catches up with her crew at practice and tutoring. What's new? How are things at school? At home? How's your mood? Are you struggling with something that I can help you with? If a student is absent, Ms. Mavima follows up the next day to find out why.
When SBU coaches and mentors meet each week, they share what they have learned in their check-ins with students, comparing notes and giving advice. They are well versed in mentoring, with a special eye to helping vulnerable students grow socially and emotionally.
"It starts with listening," said Ms. Mavima. "If you aren't in tune with the students and what they need, your game plan won't work. There's a lot on our students' shoulders that we never see—having to babysit, to work to help support their family, to translate for their parents."
Bridget Mahon, SBU's full-time youth development counselor, engages with students to foster social-emotional growth. She offers additional support for students who draw special concern, perhaps because of school or family stress, attendance issues, difficulty adjusting to changes in their lives. She described using soccer as a bridge:
"Instead of sitting down with a student and focusing solely on feelings and problematic behaviors, we talk about soccer. It's a lot less intimidating, it's something they're more comfortable discussing. Then I can draw out skills they are practicing in soccer and align them with other skills, like how we talk to our friends, how we handle something when we get frustrated. We talk about ball control and emotional control and the process of practicing a skill and getting better at it."
Two afternoons a week, Ms. Mahon runs social skills groups for the Boys Under-12 and Girls Under-14 teams. She introduces concepts like setting goals and making plans, resolving conflict, learning from experiences that don't go right. George, who is 12, said, "It's where I learn to be a responsible boy."
SBU's culture of caring extends to parents as well. The conversation typically begins with soccer, a universal language for SBU families, and then moves to matters where a parent may be more reticent: accessing health care, paying taxes, putting food on the table. The staff makes clear that SBU is there to help.
The more that they connect with parents, staff members have found, the more parents press their kids to go to tutoring and other academic aspects of the program. The connections SBU makes with families also spill into the community. curriculum that addresses the particular needs of female students on the cusp of adolescence.
Immigration assistance
Nearly one quarter of the 150 students in the Academy have immigration issues involving legal status. In 2014, Brendan Davis, a young Australian trained in immigration law (and a soccer player), joined SBU as an Americorps volunteer, determined to help students and families navigate the immigration system. This year, he provides legal support and advocacy full time.
"The kids often don't know there is an immigration issue," he explained. College applications are often the trigger. "When it comes time to put a social security number on their application, they go home and discover they don't have one."
Lacking an advocate at this point, many undocumented youth hang up their college dreams, aware that their immigration status bars them from financial aid. They fear the possible repercussions of asking for help.
"They got me my green card. They are like angels who came to help me."- Miguel
SBU mitigates these fears.
"Trust is a huge issue," Mr. Davis said. Drawing upon longstanding relationships with students and familiarity with their individual circumstances, he and his colleagues pull students and their families into the process, an essential step. Navigating the immigration status system requires patience and punctiliousness. Davis keeps close to the youth whose cases he champions, shepherding them to appointments and buoying their spirits when they feel like giving up.
For unaccompanied minors, Mr. Davis pushes to secure Special Immigrant Juvenile Status (SIJS), a classification available to certain undocumented immigrants under the age of 21 who have been abused, neglected, or abandoned by one or both parents. "
"They got me my green card," said Miguel. "They are like angels who came to help me."
In 2015, SBU provided immigration casework to 45 individuals and helped 10 immigrant youth gain permanent legal residency.


Adding it up
Seven years later, South Bronx United continues to draw students in first through their passion for soccer.
"We almost never have kids come to us because they're seeking out academic help, or legal help, or counseling," said Carlos Bhanji, SBU's director of programs and recruitment. "They come to us because they love soccer."
The program's greatest successes, though, have been off the field.
In a neighborhood where less than half the students graduate from high school and enroll in college, 100 percent of SBU's graduates in 2015 completed high school and were off to college. The SBU alumni list of 100 young men and women includes those studying (and playing soccer) at Sarah Lawrence College, Franklin and Marshall College, Hobart and William Smith Colleges, St. Lawrence University, and the Rochester Institute of Technology.
"I came to SBU thinking soccer was the big aspect, but you quickly find out that soccer is just a way to open up more options, a new world," said Gnim, a junior in high school. "My first year, if you had asked me what I wanted to be when I grow up, I would have said a soccer player. My second year, if you had asked me again, my answer would have been completely different: doctor, surgeon, maybe a lawyer. My list keeps getting bigger."
For many students, SBU is a family as well as a motivator. "It's where I feel comfortable, it's like home," said Aicha, who now attends Franklin and Marshall College, supported in part by a $4,000 scholarship from South Bronx United.
At 12, Hailey talks about the comments she gets at school when she tells classmates she plays soccer. "They are always surprised, because it's more of a boy's thing. They underestimate me until they hear I play soccer. It's like, wow! It makes me feel special."
"I look at my teammates and I say we're all making progress. "
- Admir, Boys Under-17 team
"What I've learned from SBU may not be what you expect," Admir said, when asked about the program's impact on him. He thought for a moment, then continued:
"I've learned it's all about consistency and learning from mistakes. With soccer, if you start losing focus, it's hard to get back on track. It's the same thing with school. You have to just keep doing what you have to do, work hard, study, including for tests—the same way you practice for a game. The key thing is to practice—and I mean good practice and not bad practice, which is when you work on things you already know.

"Mistakes are the best teachers. If I'm doing math and the method isn't working, I say to myself, 'Don't do that first, like you did before, do this instead.' It's the same on the soccer field. Mistakes help you see what you did wrong and what you can do instead to get better. Our coach will tell us, 'Turn your body this way instead of that.'

"I look at my teammates and I say we're all making progress. I can't wait to see where we all get in life."
What Kids Can Do, Inc. | info@whatkidscando.org | www.whatkidscando.org

Copyright © 2016 What Kids Can Do, Inc.
---