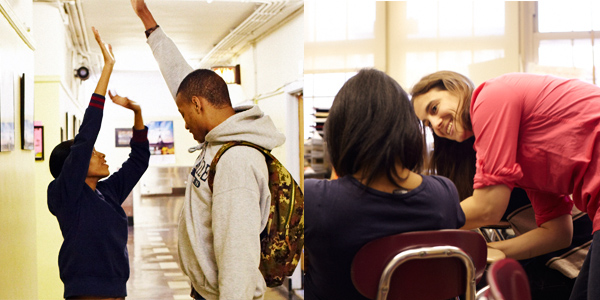 For the past year, with support from the NoVo Foundation, WKCD has researched and documented the power of social and emotional learning, and its ties to deeper learning, in U.S. secondary schools. We've created a special website to contain the fruits of this project.
Five case studies of a diverse collection of schools (three Gr. 9-12, two Gr. 6-12) that weave SEL into their daily fabric

An executive summary that pulls together effective practices and policy implications from the five studies

"Close ups" of a distinguishing element at each of the five schools

Student voices (multimedia we created from our interviews/photos/video taping)

Resources for educators who want to take action
Back by popular demand . . . WKCD's directory of challenging summer programs for teens, updated for 2014. This year's directory includes three sections: (1) summer abroad programs that combine service, teaching and learning, and exploration; (2) national pre-collegiate programs on college campuses that focus on academic enrichment and college life; and (3) summer camps with an "edge," that take up themes like political leadership development, social justice, the environment, video, LGBT youth, and more.

Too often, our newspaper headlines show teenagers in negative ways. Or we see them as "good" when they toe the line--when they don't dropout, drink and drive, get pregnant, or score poorly on standardized tests. For more than a dozen years, WKCD has scanned the daily news looking for positive stories about teens: making scientific discoveries, starting nonprofits, reaching out to those in need, redesigning urban spaces, and so much more. Watch this audio slide show of 2013 highlights from WKCD's "Kids on the Wire." It will make your day. We promise.

Few ideas about learning have made their way as quickly into the lexicon of educators as growth mindset. WKCD has assembled five short videos that provide a lively introduction to growth mindset and why it matters, for students as well as teachers. At the end of each video we offer suggestions for activities and assignments, for use by teachers (as part of a professional development workshop) and by students (as part of their classroom learning). We encourage you to browse through the presentation and pick those videos that work for your situation and audience—and to amend the suggested activities

When the world's top snowboarders perform their amazing grabs and flips, what's pushing them to do their best? As part of its Sochi 2014 coverage, The New York Times asked an elite group of riders about "the joy and fear that come with these jaw-dropping maneuvers." We thought that what they had to say—about pushing past fear, balancing pressures, mind-boggling practice, made good discussion starters for students.
TOP—AND OTHER NEW—STORIES. . .
Soccer as Unifier at Oakland International High School
Since its 2007 founding, Oakland International has been a point of entry into the city's schools for the newest of its teen-age immigrants, who come here from more than 30 countries and speak at least that many languages. Fully a third of the 330 students here are refugees from war-torn countries, and 25 percent come with little or no formal education. Yet in the midst of their frustrating transition to a new language and culture, these young people are finding common ground and motivation to learn on the soccer field. With its cross-cultural appeal—played in over 200 countries by anyone with access to a ball, a patch of land, and a few sticks for goalposts—soccer has provided an ideal way for them to forge social and emotional bonds at the same time that they practice their new language.
Service Learning and Giving Back at Quest Early College High School
It's a Friday morning in early October and instead of lugging backpacks to class, students at Quest Early College High School in Humble (pronounced "umble"), Texas are traveling light. As they do every Friday throughout the school year, the students jump into buses that will take them to the "service sites" where they will spend the next four hours.The school's 300 plus students fan out across their suburban community, 25 miles north of downtown Houston—to elementary schools, a center for disabled young adults, an animal shelter, a hospital clinic, a nursing home, and more. For almost two decades, this small progressive high school has made service learning core, and its students say they can't imagine attending a regular high school where the chance to give back wasn't prized.
Restorative Practices at Fenger High School
The stresses of being a teen in one of the Chicago's most violent neighborhoods don't trigger the metal detectors at the entrance to Fenger High School on the city's South Side. But they can erupt quickly in the classrooms and halls of this "turnaround?school. In September 2009, Fenger became a poster child for urban school violence when rival gangs beat to death an honors student on his way home. Four years later, the school is making news again: as a turnaround school, whose staff does everything in its power to build a community of supports where failure is not an option. Restorative practices—from peace circles and peer juries to meeting students' basic needs for safety, mental and physical health, sometimes even food and shelter—are a vital part of Fenger's transformation.
Creating Accountability through Community at East Side Community School
School had only been in session for eleven days when Mark Federman, the principal of East Side Community School, got the call from New York City's Department of Education: Get everyone out of your building, and get them out fast. An alert custodian had noticed that the brick facade of the 90-year-old five-story school building on Manhattan's Lower East Side was threatening collapse. Without a moment to prepare, Mr. Federman and his staff had to evacuate their 650 students in grades 6 through 12, sending them to makeshift shared quarters in widely separated neighborhoods. One year later, that difficult five-month exile had become the stuff of legend in this close-knit school community. "You can take us out of East Side, but you can't take East Side out of us," students proclaimed
Developing Student Agency at Springfield Renaissance School

It was one of those days at Springfield Renaissance School when everyone was either crying or laughing. People were pouring through the halls, streaming into the big auditorium Renaissance shares with another district school housed in this sprawling 1990s brick building in Springfield, Massachusetts. It was May 16, the annual Senior Decision Day, and every single twelfth-grade student was about to stand up before this assembly to announce a postgraduate plan: to each other, to their fellow students in grades 6 through 12, and to the teachers and families whose beaming faces lit the darkened hall. At this grades 6-12 Expeditionary Learning school, based on there's a saying: "We are crew, not passengers." Renaissance takes personal challenge seriously in both academic and developmental contexts.

Practice Makes Perfect: Jason Brown and the Triple Axel
When 19-year-old Jason Brown reached the end of his free skate at the U.S. Figure Skating Championships this January, he blew the roof off the arena. His stunning Riverdance routine and elegant spins, his choreography and charm had stolen the show—and won him second place. His ponytail, too, was flying high. Brown, however, wasn't overly impressed. "Not even for one second did I think that was the best performance I've ever done," he said. He'd spent three and a half years mastering the toughest jump in his program (the triple axel). He's prepared to spend the next several years perfecting the quad jump (four revolutions). We thought his story made a good addition to our "Practice Project."
Dragon Slayers: Young Alaskan Olympians
For more than a decade, a group of teenage girls in Aniak, Alaska have served as EMTs and firefighters in this remote Alaskan village. They call themselves the "Dragon Slayers.?They became national heroes when in 2001 two of them, ages 15 and 19, helped with the marathon rescue of two boys who had collided on snowmachines. The call took 34 hours. Growing up in one of the poorest regions of the state, former Dragon Slayers have become health aides, nurses, paramedics. Current Dragon Slayers continue to make emergency medical and rescue calls, 24/7, up and down the Kuskokwim River Valley.
Inner City Ice: Positive Disruption
It's not just the snow and ice that encases the Winter Olympics in white. It's the athletes, too. For 90 years, the Winter Olympics have been a mostly exclusionary event for black athletes. Although a record 19 black athletes are competing in Sochi, they make up .06 percent of the 2,850 competitors. Access and cost are formidable barriers for black athletes. A Google search of winter sports programs for "inner city youth" resembles a bare ski resort. There are two bright spots, however: one in Brooklyn and the other in Harlem. Both embrace neighborhood kids who want to give skating a whirl but lack the resources. "When I skate I feel free," says Valerie, who practices synchronized skating with Brooklyn on Ice.
Documenting Stories of Immigration in Your Community
Immigration issues continue to fire up passionate dialogue across America, nationally and locally. One of the best ways to engage students in this critical debate, we believe, is to have them gather the stories (and images) of immigrants near at hand—almost every community in the nation has become a home to newcomers. Your students can bring back powerful interviews if they venture into their communnities to talk to immigrants they meet or know. WKCD learned this when we coached and then published such work by New York City students in our photo essay book Forty-Cent Tip: Stories of New York City Immigrant Workers. Here we are offer a look at our coaching guidelines—and a chance to be published—in the hope that you will try the project, too.