---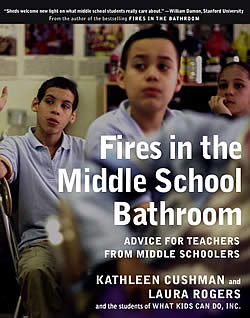 What do students in the middle grades most need from their teachers? WKCD offers their answers in a sequel to our groundbreaking book Fires in the Bathroom—this time, listening to the voices of early adolescents. Talking in depth with 40 students in middle grades around the country, WKCD's Kathleen Cushman asked them questions like these:
* What helps you want to try hard in school—or keeps you from doing so?
* How can your teachers help you deal with social issues and pressures you face?
* What's fair in the classroom, and why?
* What helps you understand your challenging academic subjects?
* When it comes to your parents, what do teachers need to know and do?
* How can teachers prepare you for the transition to high school?
The first-person answers kids gave—piercing, funny, eloquent, and revealing—shed new light on teaching and learning in the middle grades. To interpret them, Cushman teamed with Laura Rogers, a developmental psychologist who has worked in middle schools for the past 13 years and now teaches at Tufts University.
MetLife Foundation made the project possible—and recently, the 2007 MetLife Survey of the American Teacher came out with new data on "the homework experience," a crucial middle-school issue.
To bring the voices of middle grades students to that subject among others, WKCD offers here a sampling of what they say about "how to help us learn," from Fires in the Middle School Bathroom: Advice for Teachers from Middle Schoolers, by Kathleen Cushman and Laura Rogers (The New Press, April 2008).
Tips on Helping Us Learn
From binders to homework, what helps us stay with it.
Journey Over a Bridge
What makes us tick. What we know about ourselves.
"You Got a C?"
The impact of grades on our work. An exercise on grading for teachers.
What's Fair?
How classroom fairness, respect and conflict look to us. An exercise on fairness for teachers.
Food for Thought
Having our say about eating in school.
Just Another Way to Judge us?
What encourages to the risks involved in real learning