---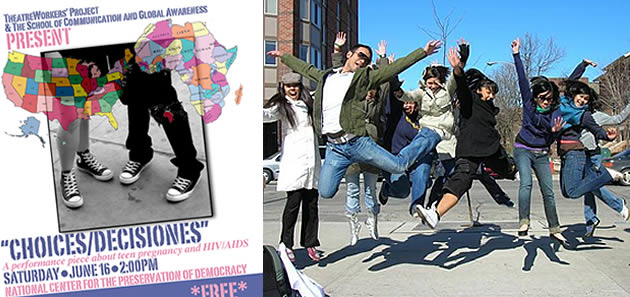 Usually, WKCD reporters write the stories on our website. But in Your Stories, we showcase the best examples our readers send in about how they created "powerful learning with public purpose." Each story includes a first person interview with WKCD, links, examples of student work, and, often, supporting curricula and guidesheets. (If you have a story to tell, click here.)
Lighting Up the "Dismal Science" [7.13.11]
A wonderful example of "deeper learning" by high school students is "Economics Illustrated," a book self-published by 45 tenth gradestudents at High Tech High in San Diego. It consists of their short explanations of terms of art in the field of economics, accompanied by engaging articles that show how they relate to current events. Striking linoleum-block prints illustrate each entry, making the concepts even more memorable.
Bringing Eyeglasses to the Third World [9.1.10]
Before 2008, Janice Guzon never gave a second thought to good eyesight. Thumbing through magazines while doing research in the library that summer, she noticed that few people from Third World countries wore eyeglasses. She just assumed that they all had really good vision, unlike her. Then her family received a letter from her aunt in the Phillipines, asking for money to buy glasses. Janice decided to do something to help her aunt and the 153 million people around the world who have poor eyesight and lack glasses.
Everybody Dance Now [7.18.10]
Dancing has swept American popular culture, from TV shows such as "Glee" and "So You Think You Can Dance" to "High School Musical" productions on the stage and screenBut one organization believes dancing can do more than just entertain. Everybody Dance Now (EDN) believes dancing can bring a community together. Jackie Rotman, an eighteen-year-old sophomore at Stanford University, founded EDN four years ago. Since then, EDN has made dancers out of nearly 850 young people and entertained thousands more.
Discover Green [7.18.10]
Matthew Evans never considered himself a big environmentalist. However, he cared about the environment and wanted to make a difference, so in October 2008, he founded Discover Green in Pflugerville, Texas. He was 15 years old. "I had watched 'An Inconvenient Truth' and had made lots of changes in my own home about energy conservation and water conservation, and I was awfully tired of talking about it and I wanted to go and do something," he said.
The Purpose of School, Through Students Eyes [6.10.10]
Several years ago, a school gymnasium in Cleveland collapsed, injuring teachers and frightening students. The incident got Jim Harmon, a high school teacher in Euclid, OH, wondering, "What message does that [incident] really send to students about the purpose of school?" Harmon, and colleague and friend Prof. Kristien Zenkov, both photographers, wanted their students to be able to reflect on these questions and express themselves in a way that better served their learning style.
Building Young Bodies, Minds, and Futures [6.11.10]
As adolescents walk into YouthVille Detroit, they enter a place where staff members not only know their names, but their backgrounds and life goals as well. This is no ordinary recreation center. In its service to its approximately 3,500 members all over Detroit, YouthVille cares for the whole child – body, mind and future. "The reason why I keep coming back is because of the growing opportunities," said 18-year-old youth leader Renisha Bishop.
Sharing the Pleasures of Food [6.9.10]
Sometimes the small things in life really do make a big difference. Two organizations run by youth have realized that and are reaching out to others through the pleasures of food. One such organization is Bake Me Home, founded in 2008 by twin sisters in Cincinnati, Ohio. Amy and Emma Bushman, age 9, had collected items and volunteered at Bethany House Shelter for three years. After viewing a program about young entrepreneurs, they wanted to do something special for the disadvantaged mothers and children they visited with. When they learned how to create a cookie mix in a baking camp, they knew what they were going to do.
From Earthquakes to Hurricanes: We Care Acts [5.10.10]
When a deadly earthquake struck Sichuan, China in 2008, the Li siblings of Pearland, Texas knew they had to do something for the victims. Grace, along with siblings Sharon, 12, and Eric, 9, have family and friends in China and quickly sprang into action, collecting donations from neighbors and classmates. They made bookmarks to help raise money and created newsletters to educate others about the devastation in China, which eventually claimed 90,000 lives. By the time Hurricanes Ike and Katrina hit the US Gulf Coast, the Lis had stepped up their efforts and created a worldwide program called We Care Act.
Building Community, One Soccer Field at a Time [4.26.10]
Professional soccer's top competition will be played in South Africa this summer, and the country is buzzing with excitement. Not only will it be the first time the Federation of International Football Association will stage the FIFA World Cup on African soil, but it also recognizes soccer's importance to this historic land and its youth. "It's more like a religion," explained Kyle Weiss, 17-year-old founder of FUNDaFIELD, a nonprofit organization dedicated to enriching the lives of African youth through soccer.
We're a Family, Onstage or Off: Hawaiian Theater Students Transform Their Island [4.26.10]
On the west side of the island of Oahu stands Nanakuli High and Intermediate School, a large building nestled on sixteen acres in a green valley. Eighty percent of its student body has native Hawaiian ancestry. Though rich with natural beauty, family history, and cultural tradition, the area is challenged by social and economic problems. The school has not passed No Child Left Behind standards and struggles to get by. Yet for over nineteen years, Nanakuli High and Intermediate School Performing Arts Center (NPAC) has engaged students in exceptional productions. An inter-age group—from fourth graders to seniors—has staged more than seventy-five shows, and travels island-wide to perform, sing, dance, and dramatize for community members.
A Teen Made Museum: Chicago Youth Interpret Teen Cultures [4.12.10]
"The museum we are working on creating is going to be for, by, and about teens. We want youth who come to this museum to feel that they're not alone. We're diverse and we want to know about each other. But it's also for adults, grandparents, tweens. There's so much to learn about." The Chicago Teen Museum is the first museum in the nation dedicated to connecting youth expression to the museum profession.
Restoring Illick's Mill [4.12.10]
Forty years ago, a teacher and students at Liberty High School in Bethlehem, Pennsylvania made news when they converted a local gristmill into the region's first music venue for teenagers. But as the years went on, the mill on the banks of Monocacy Creek fell into disuse and disrepair. In 2001, another Liberty High School teacher decided to use the run-down mill as an educational opportunity for her students and the community.
Youth Dreamers: Building a Youth Center, Top to Bottom [3.10.10]
In 2001, middle schoolers at the Stadium School in Baltimore sat in class and discussed the lack of constructive opportunities for kids in their community. They were concerned about a recent shooting in the neighborhood and the closure of many recreational centers that kids frequented after school. Nine years later, they are about to open a new youth center in a once abandoned building, fulfilling their dream.
Discovering Common Ground through Social Media [2.19.10]
Armenian and Azerbaijani youth typically don't have much in common, aside from their mutual feelings of mistrust, bred by years of violent territorial conflict. But with the help of a program funded by the U.S. State Department, some of these young people have come together—along with American youth--around a shared interest: using film and social media to create social change. They are part of DOTCOM, based in Vermont.
Bike It: How Students at One School Are Reducing Their Carbon Footprint [1.26.10]
Founded in 2004, the Samohi Solar Alliance (SSA) is a student-run, grassroots organization working to inspire environmental awareness, education, and tangible change at Santa Monica High School in California and in the greater community. On its regular "Bike It" days, 40 percent of the student body use alternative transportation—most often, bikes—to get to school.
Radio City Works: Students Investigate Personal Truths on the Air [1.26.10]
Radio stories with extraordinary personal voices are emerging at City High School in Tucson Arizona, in a classroom outfitted with bare-bones recording equipment and a $150 annual budget. Teacher Sarah Bromer recruits students to produce three radio stories. Then, she says, "I tell them what I know, I help them get through blocks when they're stuck, and besides that, I let them discover it." The results are extraordinary.
Free Dance: Philadelphia Youth Create the "Hidden City Festival" [1.26.10]
Walkers in downtown Philly must have been astonished. On a rainy day in May, the streets were alive with dancing teenagers. Sixty-five students in teacher Joshua Block's English classes at Science Leadership Academy teamed up with Leah Stein Dance Company, to "make dances spontaneously, rigorously, on location, in collaboration, in connection with the moment." The equation was simple: site + sound + movement = dance.
On Top of a Housing Development, Students Pioneer a Living Roof [11.30.09]
On the grounds of an old Catholic parish in Somerville, MA, a surprising sight greets the eye. Birds whirl above a landscape of drought-tolerant plants growing on the rooftop. A palette of bright green vegetation stands out against the blue sky. In a pioneering ecology project, a team of local high-school students created this living roof, winning LEED certification for this new affordable housing construction.
Forget H&R Block: Louisiana Students Handle Taxes for Community | E. Iberville, LA [6.25.09]
Tax time. Those two little words evoke stress and anxiety for most adults. But for Kristen Smith, a 15-year-old tenth grader at East Iberville High School in St. Gabriel, Louisiana, the months before—and after—April 15 are exciting. "I wouldn't have changed the experience for anything," she says. Smith, with seven of her classmates, signed up to become a volunteer income tax assistant. She underwent extensive training in tax law and preparation, and got officially certified with the IRS to help people in her community with their income taxes.
A New Generation of Journalists | Indianapolis, IN [6.25.09]
"As I stuffed my bag with mini cassette tapes, a digital recorder, a notebook, and a handful of pens and pencils, the nightly news anchors and daily newspaper headlines proclaimed that things were not looking too good for American journalism. The Rocky Mountain News had recently shut down, and many other papers faced the threat of closure. Public demand for written news was decreasing, daily newspaper subscriptions were down, and analysts predicted that the newspaper industry—the most respected outlet of journalism—might eventually disappear. It was under these seemingly grim circumstances that I packed my bags and traveled to Washington, D.C. for a journalism conference for high school seniors."
Riot Youth Teens Shed Light on Discrimination in Schools [4.22.09]
Ann Arbor, Michigan has a reputation. It's known as a progressive community, where anyone can feel comfortable and accepted. But two years ago, when a teenager said he had nearly been run off the road by some classmates because he was gay, many people didn't believe him. "It's Ann Arbor, and we're supposed to be all gay friendly and everything," says Sterling Field, a high school senior and youth activist in the organization Riot Youth.
Blogging from Inside: Youth in Detention Publish their Work [3.17.09]
In her classroom in the Northern Virginia Juvenile Detention Home in Alexandria, Virginia, Cheryl Duckworth's students have begun posting their creative writing on a blog. "I focus my classroom around daily journals that we keep. I draw most of the theory for the curriculum from Paolo Freire. His ideas were based on critical inquiry into the students' own lives. It won't surprise you that many of these kids come to the classroom with a lot of baggage and unmet needs."
Improving the Lives of Stray and Homeless Animals Worldwide [3.17.09]
"SPOT Globally is a nonprofit that was established less than a year ago," explains its founder, Ayna Agarwal, a 16-year-old New Jersey high school. "It connects developing nations all over the world, including Thailand, Italy, South Africa, Philippines, Nepal, Mexico, Lebanon, Dominican Republic, Colombia, Cook Islands, and India. We dedicate our work to really improving the lives of stray and homeless animals. There are a lot of adults involved, but it's the youth that are actually running the entire program."
We've All Learned So Much | Bangor, ME [1.28.09]
Excavating the remains of a German prisoner of war camp, hidden near a small lake. Providing Ugandan orphans portraits of themselves to have as a keepsake. Educating the public about "Shaken Baby Syndrome." Producing a video about their hometown, Belfast. These are some of service-learning projects that are engaging K-12 students across Maine.
The Plight of Day Laborers | Norwalk, CT
[8.18.08]
For the past several years, Youth Activists of the Peace Project at Brien McMahon HIgh School in Norwalk, Connecticut have been working to help improve conditions for local day laborers, including helping sponsor health and wage clinics.
Girls Helping Girls | Fremont, CA
[6.03.08]
At age 15, Sejal Hathi of Fremont, California founded an international nonprofit called Girls Helping Girls. Hathi, now 16 and finishing her junior in high school, just launched Sisters for Peace Network.
Turn Your World Around | Scarsdale, NY
[3.03.08]
Tara Suri founded H.O.P.E. (Helping Orphans Pursue Education), an organization dedicated to raising funds for orphanages in India and Sudan, when she was just 13. Now a junior, the 17 year-old has expanded her mission to include bringing laptops to children in the developing world.
Youth Photography in the Mathare Slum | Nairobi, Kenya
[1.30.08]
Today's news is filled with images and stories of violence in Kenya, spurred by a close presidential election whose irregularities have ignited long-standing tribal rivalries. Some of this unrest has taken place in the Mathare slum of Nairobi, considered one of the worst slums in the world. Ten years ago a visitor to the slum provided Julius Mwelu, then 12 years old, a disposable camera, and encouraged him and other Mathare youth to document daily life around them. The project is still going strong, under Mwelu's leadership.
"Hometown History" | Skowhegan, ME
[11.27.07]

For ten years, a team of teachers at Skowhegan Middle School in Skowhegan, Maine has inspired their students to become local historians. Students have published in-depth research and historic photos, they have produced videos and essays, and they have created a website to display their huge body of work. They are now putting the finishing touches on a historic walking tour of Skowhegan…
"Pass It On" | New Haven, CT
[11.27.07]
For the past five years, students in the Four Corners course at Common Ground Charter High School have been mapping the histories of four diverse New Haven neighborhoods—neighborhoods the students live in and know well. The project allows them to take what they are experts in and link it to U.S. History content and writing skills. Now, the students are publishing their findings on a new website.
"No Sides to Walk On" | Brooklyn, NY
[11.27.07]
Artist Lisa Wilde has been teaching English at Brooklyn's Wildcat Academy for ten years. Her students come with lives and dreams broken by poverty, foster care, disabilities, absent fathers. Every semester, she lures her students into a one-week poetry seminar. Over lunch and other cracks in the school day, Wilde draws or paints their portrait…
"Dear Mr. Douglas" | Yakima, WA
[11.27.07]
Though Supreme Court Justice William O. Douglas died nearly 30 years ago, students at the high school he attended in Yakima Valley, Washington continue to write letters to and about him. At A. C. Davis High School, American literature students have used the life and work of Judge Douglas as a lens through which to study and discuss everything from The Scarlet Letter to the events of 9/11, by writing letters to scholars, lawyers, and even Douglas' family.
ldquo;Stayin' Alive" | Melbourne, FL
[11.27.07]

When Allyson Brown first learned about malaria as a high school junior, she was shocked to learn that the mosquito-borne disease is the number one threat to children in Africa. In the face of such a devastating—but entirely preventable—global killer Brown wondered, "What can one person do?"…
"Rocking Their World" | Minneapolis, MN
[10.03.07]
For five days this past summer Women in Music MInnesota ran the Girls Rock 'N' Roll Retreat (GRRR), a rock and roll camp for girls ages 10-17. In the camp, which was held in Golden Valley, Minnesota, the 35 participants honed their musical skills, formed all-girl bands, and participated in seminars on the music industry. Fourteen-year-old Lauren explains: "I came to camp with a passion for music – that's all! I had no background in knowing how to play an instrument or read music. Within a week, all that changed, and by Friday afternoon I was in a band, on stage in front of a large crowd proudly displaying my talents!"...
"Get Outta My Face" | Bend, OR
[8.01.07]
Ten Oregon teens, tired of being the fattest and most unfit generation ever, have taken matters in their own hands and launched a nonprofit organization and website dedicated to combatting the fast food, big marketing, and conventional media that target youth. Using the latest digital technologies, they are telling food industry advertisers, "Get Outta My Face," and outta our way...
"Lead, Act, and Change: Youth Empowerment and Possibility in a Democratic Society" | Senior Capstone Project at Boston Leadership Academy, Boston, MA
[7.10.07]
In the school year that just ended, teacher James Liou and his seniors took on a new challenge at their six-year-old pilot school in Boston. They launched a unique program that combined historical reading, participatory action research, community internships, and the writing of a 40-page research report. Their focus: the social and historical forces that have shaped and continue to shape the lives of Boston's residents, particularly its young people. To graduate, all the school's seniors had to complete the project, called a "capstone"…
"Choices/Decisiónes" | TheatreWorkers' Project and The School of Communications and Global Awareness, Los Angeles, CA [7.10.07]
For two years, the Los-Angeles based TheatreWorkers' Project and The School of Communication and Global Awareness at Manual Arts High School, in South Central Los Angeles, have teamed up to create documentary theater written and performed by Manual students. This year's performance, Choices/Decisiónes—about teen pregnancy and the global AIDS epidemic—played to packed audiences…