---

by Charlie Hartman, Director, Service Learning, Maine Department of Education
AUGUSTA, ME—Service learning in Maine combines community service with classroom instruction, focusing on critical, reflective thinking and civic responsibility to engage students. Service learning programs involve students in activities that address local needs while developing their academic skills and commitment to their community.
Research done here in New England, including in Maine schools, shows the impact that service learning has on students:
80% of students reported that they were more sure they wanted to graduate high school and complete a college degree,
68% reported that they try harder when in class at school,
79% believe they can make a difference in their community,
80% reported that they are more likely to vote in national elections when they are adults,
71% said they learned that it is important for everyone to be concerned about state and local issues,
73% reported that they learned to accept responsibility for their actions, and
84% reported that they are more likely to take action on causes they believe in.
The schools and districts currently being funded by Learn and Serve America are approaching the idea of service learning in a variety of ways. Here is a sampling of what they've done:
The Memory Project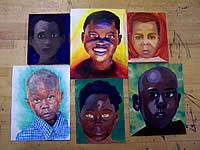 In Old Town, art teacher Rachel Rice's service learning activity involved the Memory Project, a national endeavor that aims to give Ugandan orphans portraits of themselves that they can have as a keepsake. Six OTHS art students each drew or painted a portrait of a child based on a snapshot. The artwork will be delivered to the children who have very little to call their own.
Rice said her students enjoyed the art project and that it made them feel important and offered a new perspective. "I wanted them to try and relate to someone who doesn't have much in common with them…I think it opened their hearts up, staring into the eyes of a child and trying to do their portrait."
Art student Katie McPhail said the activity made her feel good. "It's something a little more important than the average project. You're actually going to affect another person in a positive way. It's not just a painting that someone's going to buy and hang in their living room because it matches the drapes."
The German POW Camp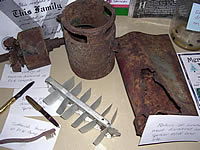 In Jackman, Debbie Achey's 8th grade history students at the Forest Hills School are working with the local historical society and foresters from Plum Creek to excavate the remains of a German prisoner of war camp that was located in Spencer Lake, a few miles south of town. Not many people know about the POW camps in Maine and how the German prisoners worked in the woods and picked potatoes. The students have marked the site with a granite memorial to preserve a piece of Maine's history.
The military paper Stars and Stripes carried the story of this class, and people from around the world have contacted the students to share their experiences of that camp and that time.
This project has opened the eyes of many students. "I was surprised at the story of the guard that was guarding the prisoners and he lost the clip to his gun in the potato field. I was shocked that the prisoners didn't try to run away, instead they helped the guard find his clip," one student reports. Another student says, "History has more meaning for me now." Perhaps most telling is Ms. Achey's comment, "I couldn't imagine going back to the other way of teaching. We have all learned so much from this."
Shaken Baby Syndrome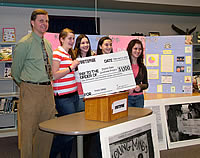 At Lyman Moore Middle School, Glenn Nerbak's 7th grade social studies students thought about what issues in their community were important to them and how they might change things. Siena Butterfield, Amanda Masse, Stephanie Rogers, and Caitlin Very decided one problem was that not enough people know about Shaken Baby Syndrome – what it is and the terrible effect it can have on babies. They researched the problem, talked with doctors and other experts in the community, and decided to make a pamphlet on the problem of Shaken Baby Syndrome for distribution to doctors' offices, hospitals, and other places where parents and babysitters could find them. They are also working on having all Red Cross babysitting classes include information on Shaken Baby Syndrome.
What started as a social studies project has grown to influence public policy in Maine, and the girls recently received a $1,100 grant from a youth philanthropy group, YOUTHINK, in Portland (www.youthinkportland.org) to produce and distribute their pamphlets.
Time for Belfast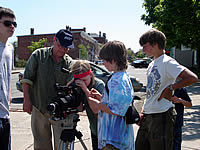 Last winter, two filmmakers sailed into Belfast, Maine and decided to winter over. They fell in love with the town and wanted to make a movie about this hidden corner of Maine, so they went to nearby Toddy Pond School and asked the students to help them. Although they had intended to write and create the movie themselves and teach the students about filmmaking, the students (age 6 through 14) had other ideas. They wanted to create the movie, too. The result is a "cinematic lark" focusing on what the students like best about their town. They decided what they wanted to do; researched and wrote reports as the basis for the script; learned about directing, camera work, and production; and starred in the movie. The one-hour movie, Time for Belfast, has shown in movie theaters around Maine to unanimous acclaim. According to Alan Sanborn, co-owner of Railroad Square Theater in Waterville, Maine, "It's delightful. It is so much about being a kid in Maine. It was one of the most gorgeous films I've seen. It really makes Belfast and Maine and the coast look stunning."
This was not all the students did, however. They filmed what was happening behind the scenes while they were making the movie and took part in interviews along with their teacher, their parents, and community members. This companion documentary, along with Time for Belfast, is being considered by PBS for national television broadcast. Check out their website at www.timeforbelfast.org.