---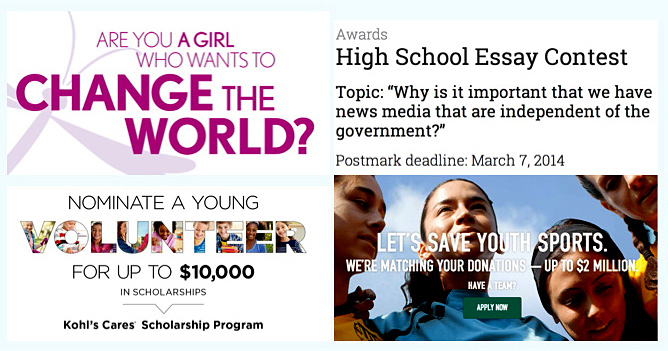 Theodore Roosevelt Memorial Young Naturalist Award | Deadline: January 1 - March 1, 2014
The Young Naturalist Awards is pleased to announce a new award for the 2014 competition that honors the legacy of visionary conservationist Theodore Roosevelt. Roosevelt's lifelong passion for nature led him to become America's greatest conservation president. To commemorate his legacy, the Theodore Roosevelt Memorial Award will be presented to an urban student whose investigation demonstrates close observation, thoughtful analysis, and deep appreciation of the biodiversity, ecology, and habitats found in an urban environment. The winning essay will be selected from the pool of Young Natural Award entrants and will be evaluated according to the same criteria. There is no separate submission process.
Learn more: http://www.amnh.org/learn-teach/young-naturalist-awards
Norman Mailer High School Writing Awards | Entries Accepted March 1 - April 30, 2014
The High School Creative Non-Fiction Writing Award Competition is open to students currently enrolled in a high school accredited by the US. Students may submit one or more pieces of writing as one file, maximum 10 single-spaced pages, endorsed by a teacher and released by a parent or guardian. The winner will receive: • Cash award of $2,500 • Travel and lodging to attend the Colony's National Award Ceremony.
Learn more: http://bit.ly/1hzPAhL
9/12 Generation Project Healing Hearts Service Grants | Deadline: March 1, 2014
Youth ages 11-18 located in the United States are eligible to submit their Healing Hearts Essay and be considered for a $250 9/12 Generation Project Service Grants in the areas of Disaster Relief, Community Revitalization, and/or the Arts. Projects focused in these areas will receive first preference but awarded grants may be extended to other project types.
Learn more: http://bit.ly/1c5zGbv
ANNpower Fellowships | Deadline: March 1, 2014
The ANNpower Vital Voices Initiative empowers young women from across the U.S. to affect global progress, invest in their communities, and begin their journeys as the next generation of leaders. 50 10th and 11th graders will be selected to be 2014 ANNpower Fellows. If you are selected, you will join an elite group of rising stars, providing you with skills, tools and training, including the ANNpower Vital Voices Leadership Forum, a three-day leadership training in Washington, DC from June 16-19, 2014.
Learn more: http://bit.ly/NfkGlm
Society of Professional Journalism High School Essay Contest | March 7, 2014
Topic: "Why is it important that we have news media that are independent of the government? The Society of Professional Journalists wants to increase high school students' knowledge and understanding of the importance of independent media to our lives. National winners of this essay contest receive scholarship awards. All students enrolled in grades 9-12 in U.S. public, private and home schools within the United States are elgible. Students must submit original work and have a sponsoring teacher sign the contest entry form. The essay should be 300-500 words and must include an entry form. Entries may be typed or handwritten but must be double-spaced.
Learn more: http://www.spj.org/a-hs.asp
Kohl's Cares Scholarships | Deadline: March 14, 2014
Nominate a young volunteer who has made a difference in your community. Students must be between the ages of 6 and 18 as of March 15, 2014 and not yet a high school graduate. Store winners will each receive a $50 Kohl's Gift Card. Regional winners will each be awarded a $1,000 scholarship for higher education. National winners will each receive a total of $10,000 in scholarships, plus Kohl's will donate $1,000 to a nonprofit of the student's choice.
Learn more: http://bit.ly/1eZkdKC
Youth Action Net Global Fellowship | Deadline: March 16, 2014
Sponsored by the Sylvan/Laureate Foundation, the Laureate Global Fellowship annually recognizes 20 young leaders, ages 18-29, who have pioneered solutions to urgent challenges in their communities and beyond. Fellows benefit from a yearlong experience that includes leadership training, coaching/mentoring, advocacy, and networking opportunities with over 900 change-makers like them who continue to benefit from learning opportunities and connections throughout their social change careers.
Learn more: http://bit.ly/1jd7F6w
Peace First Prize | Deadline: March 17, 2014
The Peace First Prize is your chance to celebrate the powerful contributions of the youth peacemakers. The Prize will recognize 5-10 young people between the ages of 8-22 for their compassion, courage and ability to create collaborative change. Through a two-year $25,000 Peace First Fellowship we will invest in their leadership as peacemakers and share their stories with the nation.
Learn more: http://bit.ly/1fkR2Ss
Ann Rand Essay Contests | Deadlines: March 20, 2014 and other deadlines based on contest
Ayn Rand's novels are inspiring and intellectually challenging. But they can also be financially rewarding for high school and college students. The Ayn Rand Institute sponsors annual essay contests that offer 600 prizes and $100,000 in prize money every year.
Learn more: http://aynrandnovels.org/essay-contests.html
Up2Us Sports Matter Matching Grants | Deadline: March 21, 2014
Up2Us is partnering with DICK'S Sporting Goods to support a new, youth sports initiative, Sports Matter. Sports Matter will accept applications from youth (K-12) sports teams that as a result of funding restraints, are no longer able to play, are on the brink of being cut, or have never existed despite youth interest. Selected teams will be asked to raise half the funds needed to operate their program for one year, and the other half will be provided through a matching grant once the goal is met. In addition to toolkits and other fundraising resources, teams will have access to support from Up2Us to help them build capacity and stability.
Learn more: http://bit.ly/1jd6nbG
Lend for America Fellowships | Deadline: March 30, 2014
The Lend for America fellowship program trains students who are seeking to start microfinance organizations ("Campus MFIs") at their college campuses. Fellows receive a crash course in microfinance in North Carolina, a full-time paid summer internship with an existing microfinance group at one of three locations (North Carolina, New Jersey, or Rhode Island), and year-round support from Lend for America as they start their organizations on campus. Undergraduates and graduates of all majors are encouraged to apply.
Learn more: http://bit.ly/1myC7rL
World of Children Youth Award | Deadline: April 1, 2014
The World of Children® Award provides funding and recognition to support life-changing work for children by discovering and elevating only the most effective changemakers for children worldwide. The Youth Award recognizes a young hero (under the age of 21) who is making extraordinary contributions to the lives of other children. Awards will be presented at an annual ceremony held in New York City, USA, on November 6, 2014. At that time, World of Children Award will offer cash grants up to $25,000 to the proven, sustainable programs created and managed by the 2014 Honorees.
Learn more: http://bit.ly/1d02HEU
The Gloria Barron Prize for Young Heroes | Deadline: April 15, 2014
The Gloria Barron Prize for Young Heroes celebrates inspiring, public-spirited, highly diverse young people from all across America. Each year, the Barron Prize honors twenty-five outstanding young leaders ages 8 to 18 who have made a significant positive difference to people and our environment. The top ten winners each receive a $5,000 cash award to support their service work or higher education.
Learn more: http://bit.ly/1jhX1vT
2014 Thacher Environmental Research Contest | Deadline: May 5, 2014
Since 2000, Insttute for Global Environmental Strategies has sponsored the Thacher Environmental Research Contest in honor of late IGES Board Member Peter S. Thacher. The contest provides cash awards to high school students (grades 9-12) who conduct innovative research on our changing planet using the latest geospatial tools and data. With millions of acres of protected land in our country, what are the best ways to utilize remote sensing technologies to ensure these areas stay safe for future generations? As part of this year's contest, high school students are expected to tackle this difficult question, while exploring the past, present, and future of U.S. protected areas. Students are asked to identify a U.S. protected area of interest, and design a research project that identifies why the area is unique, why it significantly contributes to our society, how this area has changed over time, and ways remote sensing and geospatial tools can be used to monitor these environmental treasures. Three cash awards will be given – 1st place – $2,000, 2nd place – $1,000 and 3rd place – $500.
Learn more: http://bit.ly/1fsaBh9
SIGGRAPH - SpaceTime 2014: Call for Submission | Deadline: May 15, 2014
The SpaceTime competition provides an excellent opportunity for students currently attending school in either traditional academic setting or home school at either the College/University levels or High School/Secondary levels and working in computer based media to exhibit their creative work nationally and internationally. Entries will be judged on the basis of solution of the theme, artistic merit, design, originality, technical excellence, and content. We are interested in ways to push the limits of the technology available or involve combinations of technologies. The theme for SpaceTime 2014 is "Naturally Digital" in keeping with the theme of 2014 conference. We are looking for posters that depict this idea. Selected works will be exhibited at the SIGGRAPH Education Committee Booth at the 2014 Conference and included on the ACM SIGGRAPH Education Committee web site, and in promotional materials. Three winners will receive a Conference Access registration to the SIGGRAPH 2014 Conference in Vancouver, Canada August 10-14 2014, which does not include travel or lodging. The authors of accepted works will receive a letter, which may serve as a basis for applying for their schools' grants to attend the conference. You may include text in the poster design as long as it suits the theme. A minimal use of text is suggested.
Learn more: http://bit.ly/1jB45Uv
World We Want Foundation Grants | Deadline: Rolling
The World We Want Foundation partners with different types of organizations and schools to form teams of youth and work with them to implement their Social Action Project. With the Social Action Project, teams identify a need for change within their community, research and develop a solution, and measure the impact of their project within the community. Through the World We Want Foundation, Young Global Citizens are able to showcase and raise funds for their project online and gain skills in leadership, teamwork, and critical thinking.
Learn more: http://bit.ly/1lmsErn
Teen Ink Contests | Deadlines: RollingACMs
Since 1989, the website/magazine/book publisher Teen Ink, has invited submssions from teen writers for inclusion in its magazine. It's a great opportunity to get your work published. Here are the current categories. Cover Art—Send your best photo or artwork and it could be published on the cover of Teen Ink magazine. Nonfiction—Two winners selected every month out of the following nonfiction sections: Nonfiction, Focus/Special Issue, College Essays, Heroes, Pride & Prejudice, Health, What Matters, and Sportsl Poetry—Are you the next Maya Angelou or e.e. cummings? Serious, funny, long or short - send us your poems today! One winner selected each month! Educator of the Year— Send your nominating essay today to recognize that amazing teacher in your life, and give him or her a chance to be in the spotlight. Fiction—Fairy tales, sci-fi, horror, romance - short stories galore! Entries of all kinds are accepted throughout the year. Winner selected twice yearly. Travel & Culture—Hiking in Yosemite. Strolling through Paris. Celebrating Chinese New Year. Describe your latest cultural adventures at home or abroad. Winners selected twice a year. Environment—Hybrid cars? Required recycling? Tell us about a problem facing the planet ... and abour your solutions and ideas. Winners selected annually. Community Service Awards—What do you do to make the world a better place? Tell us about it and win $100 for your favorite charity, plus a prize for you. Winners selected annually.
Learn more at: http://www.teenink.com/Contests
WaysToHelp.org Grants | Deadline: Ongoing
WaysToHelp.org invites teens in the United States to apply for grants to fund their community service ideas across any one of 16 issue areas. You can apply for a grant, by visiting www.waystohelp.org and for any issue area, selecting "See Ways To Help" followed by "Apply for a Grant". Applications are short - just 5,000 words or less - and should summarize: how the project will involve others, who it will help, what effect it's expected to have, when it will start and how the funds will be used. Grant requests are reviewed and responded to on a monthly basis.
Learn more at: http://www.waystohelp.org
Scholastic Lexus Environmental Challenge | Deadline varies; see website.
The Scholastic Lexus Environmental Challenge program is designed to educate and empower students to take action to improve the environment. The program encourages middle and high school students to develop and implement environmental programs that positively impact their communities. Middle and high school teams comprised of 5 to 10 students and one teacher advisor are invited to participate in four initial challenges, each addressing a different environmental element -- land, water, air, and climate. Maximum Award: $75,000. Eligibility: students in grades 6-12 and their teachers. Deadline: varies.
Learn more at: http://www.scholastic.com/lexus