---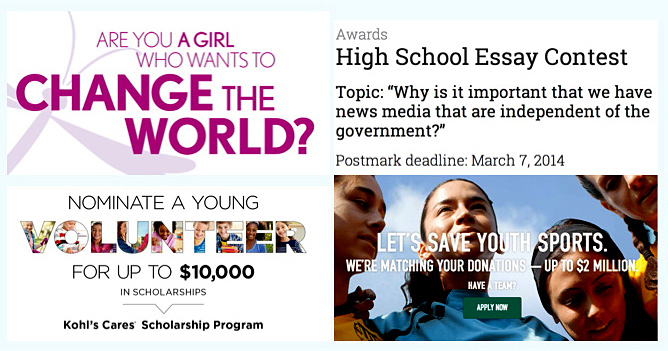 Norman Mailer High School Writing Awards | Entries Accepted March 1 - April 30, 2014
The High School Creative Non-Fiction Writing Award Competition is open to students currently enrolled in a high school accredited by the US. Students may submit one or more pieces of writing as one file, maximum 10 single-spaced pages, endorsed by a teacher and released by a parent or guardian. The winner will receive: • Cash award of $2,500 • Travel and lodging to attend the Colony's National Award Ceremony.
Learn more: http://bit.ly/1hzPAhL
Sustainable Futures Summer Workshop for High School Students| Deadline: April 30, 2014
Center for Global Studies Summer Workshop for High School Students; University of Illinois at Urbana-Champaign; Sunday, June 15 to Friday, June 20. Are we headed for a sustainablefFuture? The global climate is changing. Fossil fuels can't last forever. The global population has passed 7 billion. Is the concept of modern civilization under threat? What is needed to put society on a path that can safely take humanity to the 22nd century and beyond? The answers will surprise you. In this course we'll see how the fields of culture, politics, economics, physics and biology interact to reveal what will happen in a sustainable future. Experience College Life & Earn One College Credit! Join Professor Jonathan Tomkin for this one-week intensive course that combines lectures and discussions about the fundamental challenges of sustainability with case-study investigations of local practice. Students will do research, visit field sites and make team presentations on their findings.
Learn more at: http://bit.ly/1gRrg9U
2014 Thacher Environmental Research Contest | Deadline: May 5, 2014Deadline:
Since 2000, Insttute for Global Environmental Strategies has sponsored the Thacher Environmental Research Contest in honor of late IGES Board Member Peter S. Thacher. The contest provides cash awards to high school students (grades 9-12) who conduct innovative research on our changing planet using the latest geospatial tools and data. With millions of acres of protected land in our country, what are the best ways to utilize remote sensing technologies to ensure these areas stay safe for future generations? As part of this year's contest, high school students are expected to tackle this difficult question, while exploring the past, present, and future of U.S. protected areas. Students are asked to identify a U.S. protected area of interest, and design a research project that identifies why the area is unique, why it significantly contributes to our society, how this area has changed over time, and ways remote sensing and geospatial tools can be used to monitor these environmental treasures. Three cash awards will be given – 1st place – $2,000, 2nd place – $1,000 and 3rd place – $500.
Learn more: http://bit.ly/1fsaBh9
SIGGRAPH - SpaceTime 2014: Call for Submission | Deadline: May 15, 2014
The SpaceTime competition provides an excellent opportunity for students currently attending school in either traditional academic setting or home school at either the College/University levels or High School/Secondary levels and working in computer based media to exhibit their creative work nationally and internationally. Entries will be judged on the basis of solution of the theme, artistic merit, design, originality, technical excellence, and content. We are interested in ways to push the limits of the technology available or involve combinations of technologies. The theme for SpaceTime 2014 is "Naturally Digital" in keeping with the theme of 2014 conference. We are looking for posters that depict this idea. Selected works will be exhibited at the SIGGRAPH Education Committee Booth at the 2014 Conference and included on the ACM SIGGRAPH Education Committee web site, and in promotional materials. Three winners will receive a Conference Access registration to the SIGGRAPH 2014 Conference in Vancouver, Canada August 10-14 2014, which does not include travel or lodging. The authors of accepted works will receive a letter, which may serve as a basis for applying for their schools' grants to attend the conference. You may include text in the poster design as long as it suits the theme. A minimal use of text is suggested.
Learn more: http://bit.ly/1jB45Uv
UNESCO Summer Campss | Deadline: May 31, 2014
This project is in partnership with U.S. Federation UNESCO Clubs, World Genesis Foundation and UNESCO Center for Peace. It will bridge two amazing youth summer camps, Atlantykron Summer Academy of Learning, held in Capidova Romania and the IMUN Summer Camp, held in Fredrick Maryland USA. It is open to youth around the world ages 15-24
Learn more: http://www.unescocenterforpeace.org/; http://www.worldgenesis.org/education-essay-contest-2014.html
The Future of Education Worldwide Essay Contest | Deadline: May 31,2014
We want to invite youth around the world, ages of 15 – 24 to participate in the "Future of Education" Worldwide Essay Contest. We are asking youth to answer the question: What will education in the future be like? What changes would you make? Why and how would you change it?
Get started at: http://www.worldgenesis.org/education-essay-contest-2014.html
Day in the Life Video Contest: Deadline: June 1, 2014
Have you ever wanted to produce a short documentary for a professional client? ConnectEd Studios, the online platform that supports Linked Learning, along with partners RoadTrip Nation and Gigniks, are looking for high-quality student-produced videos to add to our Day in the Life channel! Your video should be unique and interesting, but also educational so your peers can get a good sense of what the job looks like and what skills are required. The top Day in the Life videos will be featured on the ConnectEd Studios channel, which has over 600,000 views. Your video will also be posted on our Twitter and Facebook pages, with followers from all over the world! The top three video teams will win prizes, including a Chromebook.
Learn more. http://bit.ly/1hKl4Vt
World We Want Foundation Grants | Deadline: Rolling
The World We Want Foundation partners with different types of organizations and schools to form teams of youth and work with them to implement their Social Action Project. With the Social Action Project, teams identify a need for change within their community, research and develop a solution, and measure the impact of their project within the community. Through the World We Want Foundation, Young Global Citizens are able to showcase and raise funds for their project online and gain skills in leadership, teamwork, and critical thinking.
Learn more: http://bit.ly/1lmsErn
Teen Ink Contests | Deadlines: RollingACMs
Since 1989, the website/magazine/book publisher Teen Ink, has invited submssions from teen writers for inclusion in its magazine. It's a great opportunity to get your work published. Here are the current categories. Cover Art—Send your best photo or artwork and it could be published on the cover of Teen Ink magazine. Nonfiction—Two winners selected every month out of the following nonfiction sections: Nonfiction, Focus/Special Issue, College Essays, Heroes, Pride & Prejudice, Health, What Matters, and Sportsl Poetry—Are you the next Maya Angelou or e.e. cummings? Serious, funny, long or short - send us your poems today! One winner selected each month! Educator of the Year— Send your nominating essay today to recognize that amazing teacher in your life, and give him or her a chance to be in the spotlight. Fiction—Fairy tales, sci-fi, horror, romance - short stories galore! Entries of all kinds are accepted throughout the year. Winner selected twice yearly. Travel & Culture—Hiking in Yosemite. Strolling through Paris. Celebrating Chinese New Year. Describe your latest cultural adventures at home or abroad. Winners selected twice a year. Environment—Hybrid cars? Required recycling? Tell us about a problem facing the planet ... and abour your solutions and ideas. Winners selected annually. Community Service Awards—What do you do to make the world a better place? Tell us about it and win $100 for your favorite charity, plus a prize for you. Winners selected annually.
Learn more at: http://www.teenink.com/Contests
WaysToHelp.org Grants | Deadline: Ongoing
WaysToHelp.org invites teens in the United States to apply for grants to fund their community service ideas across any one of 16 issue areas. You can apply for a grant, by visiting www.waystohelp.org and for any issue area, selecting "See Ways To Help" followed by "Apply for a Grant". Applications are short - just 5,000 words or less - and should summarize: how the project will involve others, who it will help, what effect it's expected to have, when it will start and how the funds will be used. Grant requests are reviewed and responded to on a monthly basis.
Learn more at: http://www.waystohelp.org
Scholastic Lexus Environmental Challenge | Deadline varies; see website.
The Scholastic Lexus Environmental Challenge program is designed to educate and empower students to take action to improve the environment. The program encourages middle and high school students to develop and implement environmental programs that positively impact their communities. Middle and high school teams comprised of 5 to 10 students and one teacher advisor are invited to participate in four initial challenges, each addressing a different environmental element -- land, water, air, and climate. Maximum Award: $75,000. Eligibility: students in grades 6-12 and their teachers. Deadline: varies.
Learn more at: http://www.scholastic.com/lexus