---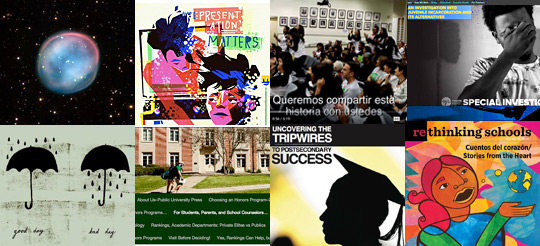 For years, WKCD kept track of upcoming grant opportunities and awards for middle and high school students. For better or worse, we've decided to drop this feature. To tell the truth, it's been hard to come up with a compelling list every month or two. We've been astonished (and saddened) at how few substantive grant and award programs there are for young people who want to think big and make a difference. For a reliable, ongoing list of what is available do see http://www.ysa.org/grants.
On the other hand , we've decided to round up each month a small collection of articles, resources, and examples of youth voice that synch with our commitment to saluting the contributions of America's adolscents and supporting first generation students.. These "Shout Outs" will first appear on the WKCD homepage and then be archived on this page.
SHOUT OUTS
August 2015
The first time you read Brooklyn high school student Chanie Gorkin's poem,"Worst Day Ever," it comes across as contentious. It begins: "Today was the absolute worst day ever/ And don't try to convince me that/ There's something good in every day/ Because, when you take a closer look/ This world is a pretty evil place." But if you read the poem again from the bottom to the top, the message flips. That clever twist is what made the poem go viral. In a recent interview on NPR's The Take Away, Gorkin explains why she wrote the poem and her surprise at the response.
"School is out, but science is everywhere." That's the tagline for a new online feature at the New York Times. A recent post describes an encounter with a venomous tree frog in Brazil. Another probes a dying star's remains. A third describes looking for clues to early life in an underwater volcano. "Bear viewing never gets boring," scientist Jenna Schnuer writes about her visit to Katmai National Park in Alaska, where the bears on
Explore.org's bear-cams
live.
More and more public schools are starting and expanding honors programs, including honors colleges that give students some of the perks of private schools without the exorbitant tuition. "While they're hardly secrets," writes Frank Bruni of the NY Times, "they don't get quite the attention from college applicants--most notably from those fixated on the Ivy League and its ilk--that they deserve." This new web site fills that gap.
Reported over four months, "Unlocked" is a three-part investigation into alternatives to juvenile incarceration, produced by young people at the award-winning Youth Radio. Their investigation documents how moves away from juvenile incarceration nationwide are affecting youth and the system, sometimes with unintended consequences. Youth Radio is a nationally acclaimed media production company that trains diverse young people in digital media and technology.
Started in 2006, Adobe Youth Voices (AYV) engages youth across the globe in developing digital media to drive change in their communities. Each year, AYV recognizes the best of these youth-produced media. Among this year's 15 winners, a Palestinian teenage refuge named Majed recalls the day a fire destroyed the refugee camp in the Iraqi desert where he lived with his family for five years ("Better Than Baghdad"). In her collage "Representation Matters," 17-year-old Asian-American Valerie Kao urges the media to "go beyond exclusive standards on beauty, race, and other elements of self-identity."
Last year, parents, students, teachers and community members in Los Angeles achieved a huge victory: they successfully pushed the LA school board to adopt the "Equity Is Justice Resolution," which will direct the distribution of new state funding to prioritize the highest-needs students and schools. A new, short, bilingual video--from the Schott Foundation for Public Education and the Community Coalition--highlights the campaign and the dedicated parents and young people who made equity the guiding principle of their city's school funding system.
This remarkable report by 60 self-selected Kentucky middle and high school students and college undergraduates--all members of the Prichard Committee Student Voice Team--uncovers the unacknowledged barriers behind the state's troubling postsecondary graduation rates. In addition to poring over the latest research and data, the team interviewed academics, policymakers, parents, teachers, administrators and, most notably, students statewide to understand the challenges inherent in the postsecondary transition experience.
See also an excellent article about the report by one of its high school authors.
have a story for wkcd?
Want to bring public attention
to your work? WKCD invites
submissions from youth and
educators worldwide.
"There's a radical—and wonderful—new idea here… that all children could and should be inventors of their own theories, critics of other people's ideas, analyzers of evidence, and makers of their own personal marks on the world."
– Deborah Meier, educator