---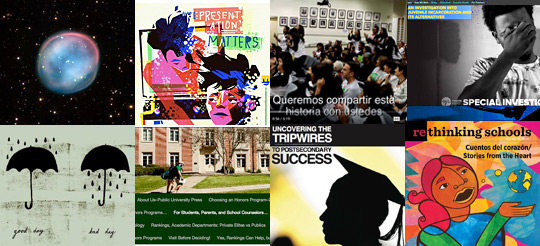 For years, WKCD kept track of upcoming grant opportunities and awards for middle and high school students. For better or worse, we've decided to drop this feature. To tell the truth, it's been hard to come up with a compelling list every month or two. We've been astonished (and saddened) at how few substantive grant and award programs there are for young people who want to think big and make a difference. For a reliable, ongoing list of what is available do see http://www.ysa.org/grants.
On the other hand , we've decided to round up each month a small collection of articles, resources, and examples of youth voice that synch with our commitment to saluting the contributions of America's adolscents and supporting first generation students.. These "Shout Outs" will first appear on the WKCD homepage and then be archived on this page.
SHOUT OUTS
December 2016
Ideas for Productive Discussion: Reflections on a Civil Conversation Challenge This fall, the New York Times Learning Network invited teenagers nationwide to weigh in on some of the most divisive issues of this election and challenged them to have the kinds of respectful, productive discussions across ideological divides that, it seemed, many adults were unable to. Nearly 3,000 comments were posted to its monthlong Civil Conversation Challenge. Here are observations about the best of those conversations and what made them work, along with unedited student examples for each.
Six Ways to Give the Gift of Generosity to Children and Teenagers "This is not a guilt trip," writes Ron Lieber in the New York Times. "Pile the presents to the sky, by all means. . . . But let this column be an additional seasonal reminder that generosity is a trait that nearly all of us share and hope to imprint on the ch.ildren and teenagers in our orbit. So if you're so inclined, commit yourself to doing at least one thing before the end of the year to bring the gift of giving to young people. Here are six ideas to get you started."
"My students are worried about their families being deported. Here's what I stopped world history class to tell them." "Queens, New York is an exciting place to teach world history," writes John Giambalvo. "The borough is known for its diversity, and more than 1 million of its residents were born in a different country. That diversity is also why I knew my high-school students would have more than a mild curiosity about President-elect Donald Trump's stance on immigration. So, last week, I finished our lesson a few minutes early and asked my students: 'Who here is concerned that someone they love will be forced to return to a home country under President Trump?' More than half of my students raised their hands."
The Teenagers Suing over Climate Change In the spring of 2010, environmental attorney Julia Olson met Alec Loorz, a 15-year-old from Ventura, California who had been inspried by Al Gore's "An Inconvenient Truth" and had founded a group called Kids vs. Global Warming. At the time, Olson was preparing to sue the federal government over its insufficient action on climate change—and Loorz asked to be a plaintiff. The lawsuit was eventually dismissed, but as this New Yorker article points out, it was the beginning of a legal campaign that is gaining attention from teen-age climate activists across the country.
November 2016
An Estimated 24 Million Young People Voted in 2016 Election The Center for Information and Research on Civic Learning and Engagement (CIRCLE) has analyzed the 2016 National Exit Poll data in relation to young voters. The data suggests that the actual split in the election was 55% for Clinton to 37% for Trump among youth aged 18-29. They also suggest that there were more youth in 2016 who supported a third-party candidate, did not vote for a presidential candidate, or specifically chose not to answer this poll question. This year, 43% of young Whites voted for Clinton, while Black youth supported her by almost double that margin (83%) and Latino youth voters by 70%.
Trump Win Sparks Student Walkouts and Protests Across the U.S. Donald Trump's victory in the presidential election has sparked protests across the nation, including students marching through city streets, rallying at college campuses, and staging school walkouts. "I expected better of my electorate," said one young demonstrator. "I thought this country was different." From Los Angeles to the Puget Sound, from Maryland to Portland, student groups have been disavowing the President-elect.
Millenials on Trump's Appeal: 'Emotion,' 'Honesty' A March 2016 Politico article—now telling—argued that while Young Republicans weren't Trump's base, he had an appeal to this group that was underestimated. "I'm not personally a Trump supporter but I think Trump's galvanizing rhetoric, his brute honesty might be the selling point," said one conservative millenial. "He doesn't play the game that the rest of the establishment candidates do. He doesn't play the civility game."
A Post Election Note to You WNYC Radio recently posted this invitation as part of its popular podcast Note to Self: "We're all processing this election together. We want to create a nurturing, constructive space to do that. . . . Sure, we're asking ourselves: 'What does this election mean for the country?' But we're also asking: 'What does this election mean about me? About how I live my life? About how I connect to human beings and information?'" As a way to start processing all of this, Note to Self curated a list from its archives.
October 2016
Teaching With: 'Supreme Court v. the American Voter' This short documentary explores how this year's election will be the first in over 50 years without the full protection of the Voting Rights Act. Has the United States succeeded in making voting a universal and equal right for all American citizens age 18 and over? Did the Voting Rights Act accomplish its goals so it's no longer needed? Or, is voter discrimination and suppression still taking place?
Day of the Girl October 11 was National Day of the Girl. #DayoftheGirl was the second trending topic on Twitter all day, but there's something different about the U.S. arm of the movement—it's run by a group of nine girls in college and high school. From providing tampons in school bathrooms to creating a toolkit outlining students' rights according to Title IX and their relation to assault and harassment, the young female voices ring loud and clear.
New Book Gathers Stories of Young Minnesota Immigrants A new book collects personal essays of students from 13 countries who all have one thing in common: They call Minnesota home. Green Card Youth Voices: Immigration Stories from a Minneapolis High School includes writings from 30 students at Minneapolis' Wellstone International High School. It offers a profound window into what these youth have been through and what their lives were like before they came to the U.S.
Maine Teens Share Ideas to Prevent Addiction When students from 30 high schools across Maine gathered to discuss how the schools they attend and the adults who work there can better support young people—and combat drug use—their answer was unanimous: they want someone at school who will listen to them without judging them. They also called for instruction in coping skills, stress relievers, life skills, and acceptance.
September 2016
Our Election 2016 Unit: An Overview While the 2016 presidential election, with its unprecedented level of alarming rhetoric, may feel less straightforward or easy to bring into your classroom than elections of the past, we believe that it also offers unique opportunities to engage students with real and pressing questions about our democracy and how it works.
Letters to the Next President 2.0 Gives Voice to Teens' Opinions in Election Teens may not yet be able to vote, but that doesn't mean they don't have something to say about election issues. As students head back to school amidst a particularly intense fall election season, educators across the nation have come together to launch the online publishing site, Letters to the Next President 2.0 (L2P 2.0).
Around the World in 30 Days What would you do if you were US Education Secretary? What Curriculum makes education relevant in a 21st Century world? What do Millennials around the world think about Immigration? What do our Top Global Teachers do to promote integration in their increasingly diverse classrooms?
Global Youth Speak Up on Burkini Ban Youth around the world had a lot to say about France's recent ban of burkinis. "The burkini ban is a violation of the fundamental freedom of belief. It is political propaganda at the expense of people's rights and freedoms. Rather than securing public safety, the ban is actually promoting more separation and guaranteeing public humiliation." — Renee Castro, 23, El Salvador
Plan for a Presidential Youth Council Victorious in Five States State-by-state, lawmakers are signing off on the idea of a Presidential Youth Council that would give young people an opportunity to share their views at the highest levels of government. While 35 percent of youth report exercising their citizenship online, a recent Harvard poll found that only 8 percent of 18-29 year old had participated in a government-based organization.
Young Alaskan Blazing the Trail for Diversity in the Great Outdoors A short climb from Rendezvous Peak, where the trail plateaus into ridgeline, 21-year-old Reth Duir's reaction to Arctic Valley's mountainous views is one of awe.But that wasn't always the case. "I was definitely terrified," said Duir of his previous attitude toward the great outdoors. "I just thought of worst things that could happen. I thought about bears, I thought about drowning in the water."
July 2016
2 Valedictorians in Texas Declare Undocumented Status, and Outrage Ensues When Mayte Lara Ibarra, the valedictorian of her high school's graduating class, revealed her plans to attend the University of Texas at Austin on a scholarship, she did what any graduate would do: She shared her excitement on social media. Ms. Lara also declared, proudly, that she is undocumented.
Kids Talk about Segregation It's been 62 years since Brown v. Board of Education, but the percentage of racially segregated schools in the United States has been growing steadily over the past 15 years. New York has the most segregated schools in the country. New York's WNYC asked these Bronx 5th graders what segregation looks like today.
Shining a Spotlight on Black Girls This infographic from the Schott Foundation focuses on the barriers facing Black girls in our public schools. Unfair discipline practices. Disinvestment from curriculum. Lack of supports for girls who face familial responsibilities. High rates of exposure to sexual harassment and violence. Lack of resources for counseling and addressing trauma.
From Activism to 'Zowie!': 10 Articles From the Times Archives on Life as a 20th-Century Teenage Sex, drugs and rock 'n' roll—and feminism, fashion, war protests, first driver's licenses and the hottest slang of 1943. In this piece, members of our Learning Network's teenage Student Council chose 10 gems from the Times archives about the lives of young people in the 1940s, '50s, '60s and '70s.
Sisterhood on Wheels: Bushwick's Rugged Roller Derby Girls Blossom Bettles is a petite 12 year old who lives on a tree-lined street in Brooklyn. Her father, who is British, is a photographer; her mother is a meditation and mindfulness teacher from New Zealand. Blossom's name seems to suit her perfectly, until she straps on skates, dons her gear and becomes Dark Pixie, a fierce competitor in a gritty junior roller derby league in Bushwick.
8th-Grader Nails Impersonations Of Trump, Clinton, Obama, Sanders Maybe we're all just taking politics too seriously these days. Eighth-grader Jack Aiello used his 8-minute graduation speech to impersonate Donald Trump, Ted Cruz, President Obama, Hillary Clinton and Bernie Sanders. Aiello, speaking as Sanders, said his school had the best cinnamon rolls he'd ever tasted, but "I do have one improvement for them, though: We need to make them free."
May 2016
In Our Village: NYC Elders Through the Eyes of Its Youth How do stories awaken our conscience? How is history witnessed in the present? Diana di Rico, who teaches Global Literature at Baruch College Campus High School, recently asked her students these questions. They answered by interviewing, photographing, and creating word portraits of elderly citizens in their community. Their just-published book, which includes student insights about the project, offers a stunning model for how teachers can engage their students in cross-generational story telling. View the publication online.
Washington Monthly College Guide Unlike U.S. News and World Report and similar guides, this one asks not what colleges can do for you, but what colleges are doing for the country. And Washington Monthly's annual list of "Best Bang for the Buck Colleges" offers a great list of schools that help non-wealthy students attain marketable degrees at affordable prices.
President Obama Reaffirms The Potential Of Boys Of ColorYoung black and brown boys don't always see reaffirming messages in society that allow them to believe that they can grow up to become successful. Without this reassurance, their potential can be stifled. In this PSA which aired during the MTV Movie Awards, President Obama looks into the future of several young boys of color, introducing them as future directors, scholars, presidents, writers, among other esteemed titles and recipients of awards.
How to Fix the Criminal Justice System: A Student-Created Debate and Lesson Plan In this Room-for-Debate-style lesson plan from the NY Times Learning Network, three students from across the United States take different perspectives on which aspect of the criminal justice system should be fixed first. Students might read the arguments and answer some of the discussion questions, and then, using the piece as a model and the related resources for additional ideas, create their own Room for Debate-style projects on issues that concern them.
Finding Identity in a New America Mmachi Dimoriaku, is a senior at DreamYard Preparatory School in the South Bronx. She's a second generation immigrant from Nigeria and a passionate storyteller who uses performance to understand and share her many identities. Here, she talks with WNYC's John Hockenberry about life, school and expectations.
A Few Miles From San Bernardino, a Muslim Prom Queen ReignsIn the days after the December terrorist attack in San Bernardino, Calif., when pictures of the hijab-wearing suspect filled television screens and newspapers, Zarifeh Shalabi's mother and aunts stayed at home.But this month, Zarifeh received the ultimate symbol of teenage acceptance: She was crowned prom queen after her non-Muslim friends campaigned for her by wearing hijabs in solidarity.
April 2016
Where Will Young Voters Impact the 2016 Election? Parties and other political groups often overlook the votes and energy of young people even where youth can have a decisive influence on the outcome of the race. CIRCLE (The Center for Information and Research on Civic Learning and Engagement among young Americans) is providing data-driven insights about the states and congressional districts where youth are poised to have a disproportionately high electoral impact in 2016.
'Unprecedented' Youth Climate Case Against Government Moves Forward A federal judge in Oregon recently ruled that a lawsuit brought against the U.S. government by a group of youth, ages 8-19, can go to trial—a case climate activists call "the most important lawsuit on the planet right now." The young plaintiffs state that the federal government is violating their right to life, liberty, property, and public resources by enabling continued fossil fuel extraction and use.
Girls for Equity Gender Too often, when we talk about issues facing girls, the conversation fails to recognize the unique challenges many girls encounter as they deal with systems rooted in racism, sexism, and structural poverty. This report elevates the voices of girls and young women of color, their priorities, and the solutions they suggest to the barriers they face.
Student Voices on Identity & Belonging "One of my goals for students this year is to provide writing experiences that encourage young people to identify as writers and thinkers," writes Philadelphia teacher Joshua Block. Block keeps a blog of his students' work (and his work with them). Here he shares some of their remarkable essays about identity and belonging.
The Mary Jane Mindset: Rookies Report on Marijuana In this podcast from WNYC's Radio Rookies, youth reporters Temitayo and Gemma speak with nearly three dozen high school students who smoke weed to learn more about what they call "the Mary Jane mindset." They caution parents: "If you see a joint in your kids' room, slow down. That doesn't tell you anything right there. It's the other choices they are making around weed that will tell you what to worry about."
March 2016
New SAT, Same Old Anxiety The College Board recently revised the SAT in hopes of making it more straightforward and aligned with high school curriculum. But student anxiety about the exam remains the same. Hear two juniors at West Brooklyn Community High School talk about the new format and how crucial the SAT is for them realizing their dreams. Both will be first generation college students.
Our 100 Most Popular Student Questions for Debate and Persuasive Writing In anticipation of the NY Times' third annual Student Editorial Contest, the Learning Network recently offered the 100 most-commented-upon questions they've ever asked that call for persuasive writing. Many of the topics are familiar: technology, video games, sports and gender issues. Others are classic debate issues like government regulation and gun violence. Which broad topic, though, consistently engage students the most? The answer: school.
25 Teenagers Recommend Readings for Women's History Month Here, in honor of Women's History Month, the Times' Learning Network asked the 25 teenagers on their nationwide Student Council to search the Times and find the most interesting pieces they could on the broad topic of gender. They unearthed everything from a 1911 report on the Triangle Shirtwaist factory fire to current articles, videos and essays on Hillary Clinton, campus rape debates, gender pronouns, abortion, Title IX, and parenting.
Teen Coders Honored Nationwide For Creating Original Apps Over 1,700 students signed up for this year's Congressional App Challenge, a competition meant to encourage U.S. high school students to learn how to code by creating their own applications. The apps covered an enormous range of topics and uses, from saving water during a drought to connecting agricultural workers with jobs. Here are the winners, state-by-state, along with the link to each app's demonstration video.
We asked, you answered: What happened when teachers went too far? Being a teacher can be frustrating. Having a frustrated teacher can be upsetting. The education newsletter Chalkbeat has been taking a look at the ways school discipline policies play out in classrooms, and spent time asking students and teachers about moments that changed them—times they just lost their cool, or saw others lose theirs. Here are a few of those stories. "I always tried getting on her good side," said tenth grader Rachelle, "but for some reason I was always on her bad side."

February 2016
Another Kind of Girl In this short documentary, a 17-year-old Syrian films an intimate portrait of life in a Jordanian refugee camp, where she has lived for three years with her mother and six siblings. "I'm filming from my own personal perspective,"Khaldiya explains. "I live in the camp, I am within the camp, and I know the camp. An outsider will miss a lot of the deeper meanings because they haven't felt what it's like to live here."
Summer's Choice We all remember the "bad kids" from high school: the pregnant teen, the kid who was always getting into fights, the truant student, or the one who just couldn't keep up with the rest of us. We take kids who can't seem to stay on track and write them off, dismissing them with summary labels. This Op-Doc video profiles one of those kids, a talented art student named Summer Jordan, who attends Black Rock High School in the Mojave Desert town of Yucca Valley, California.
The Only Girl in School to Spark an Interest in Welding Kalei Kipp is the only girl in the welding program at Cedar Crest High School in Pennsylvania. "It's different from every other class that's offered at the school, and it's kind of dangerous and neat," explains Kalei, who is considering a career in welding. This short documentary video was made by students who are part of PBS's Outside the Box series, aimed at challenging gender stereotypes.
Ten Things I Learned From New York City's Youngest Voters WNYC is engaging in a year-long set of conversations with young voters, the high school class of 2016, who are just turning voting age. "Young people don't vote!" you say. That may be true, but what young people say today lands in the zeitgeist tomorrow. The first installment in this series is gleaned from three months of conversations with seniors at Curtis High School in Staten Island, Millennium Brooklyn High School, and Bronx Collegiate.
Students Say Racial Hostilities Simmered at Historic Boston Latin School With court-ordered desegregation of public schools unfolding violently across this city in the mid-1970s, Boston Latin, then about 90 percent white, began admitting more minority students, remaining a place of relative calm in a city engulfed in protest. But in the last two weeks, the school, a beacon of high achievement founded by Puritans in 1635, has emerged at the center of a new discussion of racial tensions.
January 2016
Democracy Is a Verb Youth in Chicago's Mikva Challenge talk about their political transformation into activists, determined to join the politial process by being active participants in elections (including this year's presidential election), community problem solving, and policy-making programs. This youth-produced video was part of Mikva Challenge's 2015 fundraising campaign, as well as a powerful tribute to youth making a difference.
Young Culture Critics Recently, the New York Times Learning Network challenged teenagers to go out and experience works of culture that were new to them, then write about it. . Over 1,600 students took up the offer. The winning submissions ranges from "South Park" to Mozart; an American Airlines on-board meal to a graphic novel about Jeffrey Dahmer; a video game that "dismantles the fluid morality of other RPGs" to a Valentino ready-to-wear show that "interweaves the diverse cultures" of Africa and Italy.
Girls Speaking Up for Human Rights Teen Voices, a program of the international WomensNews, delivers the direct, authentic voices of thousands of teen girls in Afghanistan, Kenya, Uganda, Morocco, Kenya and the United States. While all the stories featured here speak to the larger issue of human rights of teens, they touch a very personal moment about what it means to be a girl today.
Temporary Housing For Young People, By Young People Homelessness is hard enough, but being a young adult and homeless brings its own set of challenges. No longer eligible for family shelters, 18- to 24-year-olds can be targets of theft and assault by older homeless adults, experts say. In Boston, a new homeless shelter just opened for young adults only. One thing that makes Y2Y special is the staff—every one of them is a young adult.

December 2015
Learning Network Editorial Contest 2015 Winners Students 13 to 19 years old responded to The New York Times' first teen Editorial Cartoon Contest with humor, wit and irony to comment on the issues they care about: the 2016 presidential campaign, the Islamic State's rampage in the Middle East, gun violence, education inequality, global migration, the California drought and more. The most popular topic, by a long shot? Donald Trump. From the almost 500 entries, judges selected 5 winners, 17 runners-up, and 26 honorable mentions
Teens Challenge Muslim Stereotypes Donald Trump's outrageous remarks, the shootings in San Bernadino, the Paris attacks, and the Syrian refugee crisis have put Muslims—and Islamophobia—in the crosshairs like never before. One way to dispel harmful stereotypes, of course, is to listen to the stories and experiences of real-life Muslims. In this Speak Out from New York City's Youth Communication, Muslim teens share their experiences in an effort to set the record straight.
Youth Lead the Change – Participatory Budgeting Boston: A Student's Perspective In January 2014, the City of Boston launched the first youth participatory budgeting process in the U.S., allowing teens and young adults to decide how to spend $1 million of the city's capital budget. The youth propose ideas for improving their communities, develop the ideas into concrete proposals, and vote on the best ways to make Boston a better place. Laura Correa-Franco, currently a freshman at Emmanuel College, participated in this process in both 2014 and 2015.
Film Club | 'A Conversation About Growing Up Black' Imagine strangers crossing the street to avoid you, imagine the police arbitrarily stopping you, imagine knowing people fear you because of the color of your skin. In this five-minute Op-Doc video, "A Conversation about Growing Up Black," African-American boys and young men speak openly about what it means to be a young black man in a racially charged world and explain how they feel when their parents try to shelter and prepare them for a society that is too often unfair and biased.
Floyd Little Double Dutch Steps Up Last month, on a balloon-littered floor in Newark, a D.J. blasted rap music while squads of 8-to-18-year-old girls turned ropes, eggbeater-style at the first International Double Dutch League Thanksgiving Tournament. Double dutch, a jumping game involving two ropes, goes back a few centuries and possibly to ancient times. In the 1970s, a former NYC police sergeant fell in love with the street version of the game and created rules to make it a competitive sport.
November 2015
The Displaced Nearly 60 million people are currently displaced from their homes by war and persecution—more than at any time since World War II. Half are children. This New York Times multimedia journey in text, photographs and virtual reality tells the stories of three of these children: Oleg in Ukraine, Chuol in South Sudan, and Hana in Lebanon. Where does their resilience come from? Or perhaps resilience is a concept supplied by adults, Jake Silverstein of the Times writes, who would like to believe that children will overcome the terrible experiences we foist upon them.
Youth Voices on a Post-2015 World This UN-sponsored report is the result of consultations with diverse groups of young people in 12 countries—including young people living in poverty, conflict or post- conflict situations, and those living far from global decision-makers. Heading the list of issues most critical to the youth were equality and freedom. "I see a world where equality is everyone, everywhere, every day," one participant said. Other top issues included fair, responsible, and accountable government; environmental stability; the right to be healthy; peace; and quality education.
Unequal Education Revisited In 1992, youth at NYC's Educational Video Center produced Unequal Education for national PBS Series, "Listening to America with Bill Moyers." Their film revealed the stark contrast in resources and opportunities offered to students in two Bronx middle schools—one in a middle-class area and one in a low-income community—in the same district. More than twenty years later, the crew reunited to produce Unequal Education Revisited, bearing witness to the long-term impact that inequities plaguing our society—in education, justice, and healthcare—have on those struggling to survive.
Youth Voices for Justice Rise at Rally The "Justice or Else" gathering held before hundreds of thousands of people on the National Mall on October 10 featured the voices of emerging new leadership in America. Many said the overwhelming success of the gathering had the footprint of youth all over it. In fact, what was striking at the demonstration was the absence of traditional civil rights leaders. The diversity of the young audience participating in the rally included not only Native and Latino faces, but also Asian, African, and the Caribbean. And despite the hue of their skin, many of them wore shirts that read, "Black Lives Matter," a movement that played an important role in the rally.
October 2015
What Middle-Schoolers Think About the Pope Middle-schoolers and Pope Francis have a lot in common. They love animals. They're anti-mafia. And they have some pretty enlightened ideas about what it means to be compassionate. On the eve of Pope Francis's visit to New York City, WNYC (the city's public radio station) talked to a group of students at Saint Saviour Catholic Academy in Park Slope, Brooklyn, about the "People's Pope," and what big issues he should take on.
Radio Rookies Talk About Romance and Relationships For years, WNYC has provided a platform for the award-winning Radio Rookies, a citywide program for NYC youth. In a new series, Radio Rookies turns up the volume on the challenges of teen love and relationships, both when they soar and when they crash. First Loves features four young people who are learning for the first time what it means to be in a healthy relationship. In What I Want, 15 young people show that when it comes to figuring out love, the devil is in the details. If you've never been in a serious relationship before, how do you know what you want? In Crushed Teens and Dating Abuse, Radio Rookies report on the impact of abuse on their lives and their families.
Being 12: The Year Everything Changes Here's another Radio Rookies series you won't want to miss. Everyone knows that 12 can be a tough age. Kids shed layers, test new roles, and transform before our eyes as they try on new identities. Their brains and bodies hit overdrive. Romances bloom and fade. Friendships mean the world and loneliness hurts. And school gets harder. The stakes ramp up in so many ways. Radio Rookies' "Being 12" brings to life the experiences of an array of young New Yorkers.
Kids on Race: "People Think I'm Supposed to Talk Ghetto, Whatever That Is As part of "Being 12," Radio Rookies took up the special issue of race. After a year that saw high-profile police shootings plus the deadly attack on a black church in South Carolina, middle school teachers told WNYC their classrooms were abuzz with personal and sometimes difficult conversations. And they didn't always feel prepared to handle what came up. In this video, we hear directly from the students. They answer the question "who am I?" Their answers will surprise you.
Everybody's Different For more than 30 years, New York City's Youth Communication has trainied a diverse teen writing staff to provide content with special relevance and appeal to marginalized youth. It has also evolved to reach audiences through video, the web, books, and curricula. This short film about Johileny Meran, a disabled and homeless Brooklyn high school honor student, was recently voted a web favorite and aired on public television (Channel Thirteen). Click here to read the story Johileny wrote for YCteen.
Young Activists Getting Results—in Chicago, Across the Nation For more than five years, a determined group of young people has demanded that University of Chicago Medicine open a trauma center on the South Side. From Ferguson, Missouri, where the "Black Lives Matters" movement took off, to the South Side of Chicago, where Fearless Leading by the Youth launched the trauma center campaign, young people are leading the call for justice. And increasingly across the country, they are strategically amplifying their message to get results.
California's Upward-Mobility Machine The University of California is struggling with budget woes that have deeply affected campus life. Yet the system's nine colleges still lead the nation in providing top-flight college education to the masses, according to the New York Times. This excellent article explores in depth what these U. of C. colleges are doing to insure that their students thrive, regardless of their backgroundand today's less than bright data around diversity—and higher education and what needs to be done. The article includes several videos of first generation college students talking about their experiences.
Homework: A New User's Guide This NPR story maps out six, research-based polestars that should help guide you to some reasonable conclusions about homework. How much homework do U.S. students get? How much do students in other countries get? How much homework is too much? Does homework improve students' performance? What kind of homework is most effective?
August 2015
The Story Behind the Absolutely "Worst Day Ever" Poem The first time you read Brooklyn high school student Chanie Gorkin's poem,"Worst Day Ever," it comes across as contentious. It begins: "Today was the absolute worst day ever/ And don't try to convince me that/ There's something good in every day/ Because, when you take a closer look/ This world is a pretty evil place." But if you read the poem again from the bottom to the top, the message flips. That clever twist is what made the poem go viral. In a recent interview on NPR's The Take Away, Gorkin explains why she wrote the poem and her surprise at the response.
Summer of Science "School is out, but science is everywhere." That's the tagline for a new online feature at the New York Times. A recent post describes an encounter with a venomous tree frog in Brazil. Another probes a dying star's remains. A third describes looking for clues to early life in an underwater volcano. "Bear viewing never gets boring," scientist Jenna Schnuer writes about her visit to Katmai National Park in Alaska, where the bears on Explore.org's bear-cams live.
PublicUniversityHonors.com More and more public schools are starting and expanding honors programs, including honors colleges that give students some of the perks of private schools without the exorbitant tuition. "While they're hardly secrets," writes Frank Bruni of the NY Times, "they don't get quite the attention from college applicants--most notably from those fixated on the Ivy League and its ilk--that they deserve." This new web site fills that gap.
Unlocked: An Investigation into Juvenile Incarceration and Its Alternatives Reported over four months, "Unlocked" is a three-part investigation into alternatives to juvenile incarceration, produced by young people at the award-winning Youth Radio. Their investigation documents how moves away from juvenile incarceration nationwide are affecting youth and the system, sometimes with unintended consequences. Youth Radio is a nationally acclaimed media production company that trains diverse young people in digital media and technology.
Adobe Youth Voices Awards Started in 2006, Adobe Youth Voices (AYV) engages youth across the globe in developing digital media to drive change in their communities. Each year, AYV recognizes the best of these youth-produced media. Among this year's 15 winners, a Palestinian teenage refuge named Majed recalls the day a fire destroyed the refugee camp in the Iraqi desert where he lived with his family for five years ("Better Than Baghdad"). In her collage "Representation Matters," 17-year-old Asian-American Valerie Kao urges the media to "go beyond exclusive standards on beauty, race, and other elements of self-identity."
Five Steps for Bringing Educational Justice to Your Community Started in 2006, Adobe Youth Voices (AYV) engages youth across the globe in developing digital media to drive change in their communities. Each year, AYV recognizes the best of these youth-produced media. Among this year's 15 winners, a Palestinian teenage refuge named Majed recalls the day a fire destroyed the refugee camp in the Iraqi desert where he lived with his family for five years ("Better Than Baghdad"). In her collage "Representation Matters," 17-year-old Asian-American Valerie Kao urges the media to "go beyond exclusive standards on beauty, race, and other elements of self-identity."
Five Steps for Bringing Educational Justice to Your Community Last year, parents, students, teachers and community members in Los Angeles achieved a huge victory: they successfully pushed the LA school board to adopt the "Equity Is Justice Resolution," which will direct the distribution of new state funding to prioritize the highest-needs students and schools. A new, short, bilingual video--from the Schott Foundation for Public Education and the Community Coalition--highlights the campaign and the dedicated parents and young people who made equity the guiding principle of their city's school funding system.
Uncovering the Tripwires to Postsecondary School Success (PDF) This remarkable report by 60 self-selected Kentucky middle and high school students and college undergraduates--all members of the Prichard Committee Student Voice Team--uncovers the unacknowledged barriers behind the state's troubling postsecondary graduation rates. In addition to poring over the latest research and data, the team interviewed academics, policymakers, parents, teachers, administrators and, most notably, students statewide to understand the challenges inherent in the postsecondary transition experience. See also an excellent article about the report by one of its high school authors.