---

by Jordan Denari
BALTIMORE, MD—In 2001, several middle schoolers from the Stadium School in Baltimore sat in class and discussed the lack of constructive opportunities for kids in their community. They were concerned about a recent shooting in the neighborhood and the closure of many recreational centers that kids frequented after school.
Chekana Reid, 20, who was a student in that class, recalled, "If kids had things to do after school, then they would be more productive and not into crime and violence."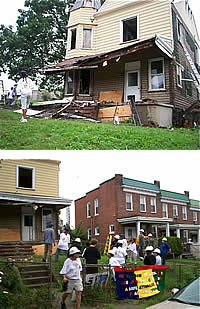 The teacher, Kristina Berdan, who was leading this elective on community action, encouraged the kids to think up possible solutions. The middle schoolers' ideas were more than Kristina had expected—they wanted to build a youth center and start a non-profit organization. Despite the magnitude of this endeavor, Kristina wanted to support the students' goals in whatever way possible. So she and the class began their work toward opening a youth center--a process that would take nearly 10 years.
It was clear from the beginning that kids would be the ones leading this process.
Deja is a current seventh grader in the organization, now called Youth Dreamers. She was explicit about the relationship between the youth and adults involved.
"We're all equal. If we have ideas, all our ideas are heard."
With guidance, information, and resources provided by Kristina and the other adults, the kids made most of the decisions about programming, setting up the organization, and building the youth center. Not only that, but they also did much of the logistical work—writing grants, dealing with money, choosing a center site, galvanizing support from the community.

After purchasing an empty neighborhood house in 2004, Youth Dreamers and volunteers from the community worked in the demolition, reconstruction and design of the new youth center. Until the grand opening of the youth center on May 8, 2010, Youth Dreamers' programs continue to run at the Stadium School, where they began.
One of those programs is Homework Club, which has been running for five years. Youth Dreamers hires 20 middle school students to tutor elementary school kids, and high schoolers serve as overseers. Another more recent program is Health Club, in which girls have a safe place to talk about dating, violence, and healthy eating.
Learning from responsibility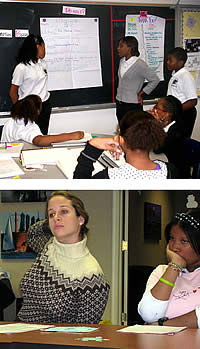 Like many other high school Youth Dreamers, Jessica, 15, joined Youth Dreamers in middle school and is still involved. She is particularly proud of her leadership with the Health Club.
"It was my idea to do [the Health Club] again this year...I got all the girls together, I started to lead the planning meetings, and I just made sure that everyone was committed and really wanted to do it again. I'm proud of how I took on that role."
When beginning Youth Dreamers, Kristina, now the organizations' Teacher-Director, knew the importance of giving the kids responsibility and ownership of the projects and tasks.

"As a teacher, I've seen that when you give kids any kind of responsibility and leadership and ownership, they just will totally amaze you."
She said kids would struggle to write well in her language arts class, but they would come after school to Youth Dreamers and write tremendous grants.
"It was because they knew the grant could not have mistakes; it had to be right if they were gonna get the money that they wanted for their youth center."
The Youth Dreamers students are also conscious of the benefits of having such big responsibilities at a young age.
"While I'm making the decisions I'm also learning," Jessica said. "Grant writing, that's something I learned in my seventh grade year and that I can take with me for the rest of my life."
Family atmosphere
Because the Youth Dreamers become involved in middle school and continue to participate through high school, they develop close friendships. High schoolers and middle schoolers look to each other for support and "seek out time together."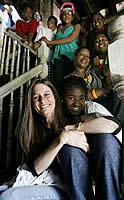 "Anytime you can get kids of different ages to actually want to be together," Kristina said, "it's a pretty amazing thing."
Additionally, when college students come back to help out, it reminds the younger kids that going to college is a real possibility. Chekana, a junior at Towson University and the current President of the Youth Dreamers Board of Directors, returns often to help out.
Hopes for the future
The kids' dreams for the organization do not end with the opening of the youth center. "It's kind of sad that it's only within this one [place]," Chekana says, "I think if other [places] had this type of community engagement for their students, the city schools wouldn't have a lot of problems...a lot of youth would be motivated to take on their dreams and goals."
The organization also hopes to increase the number of boys involved, as well as reach out further to the community who has supported their efforts in making the youth center a reality.
For seventh-grade Deja, her short time spent with Youth Dreamers has already affected her plans for the future. Though she has always wanted to be a nurse, Youth Dreamers has made her want to me a nurse more "because now I know how it feels to help someone out."