---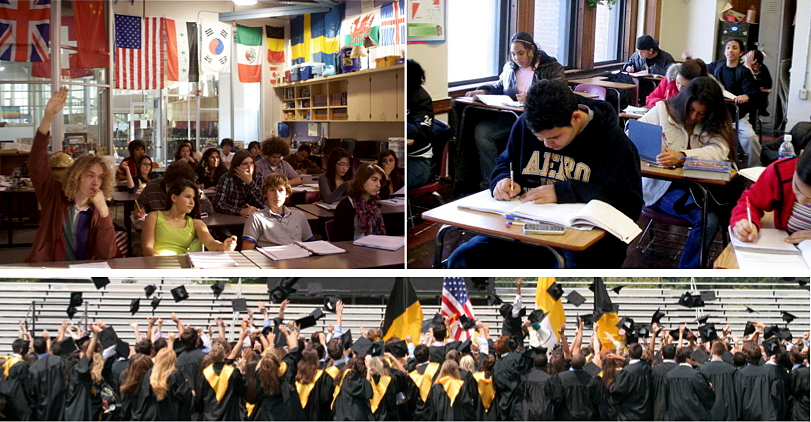 "You love school when it makes you feel smart. When you know the teachers care about you and your future, when they act like they think you'll be someone in life." — Veronica, Oakland, CA
In many classrooms across the country, neither students nor teachers feel very smart. The refrains are familiar. School is boring, students complain. It's hard to see a connection between what we're taught and the real world. Teachers don't explain things in ways we understand. What we think doesn't seem to matter.
We can't do everything, teachers respond. Students are unprepared. It's tough to reach kids whose backgrounds are so different from our own. Too much of teaching is really just classroom management. Students need to meet us halfway.
What if teachers and students became steady allies rather than frequent adversaries? What would it take for students to become stakeholders not just in their own success but also in that of their teachers and schools?
Eight years ago, with support from MetLife Foundation, WKCD explored these questions in an initiative called "Students as Allies in School Reform." In five cities, we helped students and teachers conduct survey research about their own schools, supported dialogue and constructive action around their research results, and nurtured youth leadership all along the way. In all, 21 high schools participated. They presented their results in all-day, citywide student-teacher forums, and a variety of new practices and structures took root: student advisory councils, student-led parent-teacher conferences, new transition programs, efforts to connect classroom learning with the real world, innovative ideas for strengthening student-teacher relationsips, and more.
Since then, the surveys we used in 2003-2004 have been downloaded more than 150,000 times from WKCD.org—by teachers, teacher educators, education students in college and graduate school, and student groups. Some call and ask for permission to use them, and we always say yes.
Given this remarkable interest, we've refreshed the surveys and offer them here. We invite students and teachers in schools nationwide to administer (or adapt) these surveys, then use the results as an occasion for thoughtful, data-based discussions about how to make their school better. In our ten years of supporting students as key stakeholders in school improvement, we've yet to encounter a school that didn't find such evidence-based student voice helpful, if not healing. And rather than providing a prescription—a program with all of the steps and "how to's" spelled out—we offer a platform on which you can build a structure best suited to your particular context.
If you take us up on this invitation, please let us know! We're happy to answer questions—info@whatkidscando.org—and eager to post your results on WKCD.org.
Students as Allies Surveys (2011 and 2004)

Remember that you only get answers to the questions you ask. Also, be sure to ask the same question in different ways. Be careful how you word your questions. Poor questions get poor answers. — Student, St. Louis, MO

We began the Students as Allies project by helping students and teachers design the surveys they would administer. Together, we identifed areas where more knowledge about perceptions would help students become actors in improving their schools and teachers better supporters of student learning. The areas we chose included school climate, student-teacher relationships, teaching styles, academic expectations, safety and discipline, student voice, and improving student learning. Then we drafted a core set of questions. To these, each of the 21 student research teams added questions that were specific to their own school and circumstances, typically developed after engaging classmates in focused discussions about what needed investigating.

STUDENT SURVEY (2011) | TEACHER SURVEY (2011) | SAMPLE CITY SURVEYS (2004)

Students as Allies Final Reports (2004)

For many teachers, it was a surprise to hear how strongly students yearn for good teachers and recognize good teaching when they see it, how they long to learn. — Teacher, Houston, TX

The final report on the 2003-2004 Students as Allies project included details about the five sites; the collaborative process through which we designed surveys that included a common core of questions along with school-specific questions developed by student-teacher research teams; and how students became involved in the project, gathered and analyzed their data, presented their findings at public "summits," and then turned them into topics for discussion and action. Over 6350 students and 466 teachers filled out SAA surveys. Looking at these reports should give you ideas on how you might present your own results. (We're aware that yours will most likely be school and not district-based).

FINAL REPORT | INDIVIDUAL REPORTS: Chicago, Houston, St. Louis



Taking Student as Allies to Scale: Vermont's "Youth and Adults Transforming Schools Together"

On a crisp fall weekend in 2010, 165 youth and adults from high schools throughout Vermont packed a large, renovated barn on the campus of Goddard College. They gathered to "Be the Buzz": to speak up, dig deep, and work together for school transformation in their schools and across the state. "This is what real youth–adult partnership looks like," one teacher remarked. A student added, "And what school change sounds like." Youth and Adults Transforming Schools Together (YATST) grew from frustration and opportunity. For years, the Vermont Principals Association (VPA) worked statewide to support student councils, hoping without success to increase student engagement in learning. The VPA consulted with the Vermont Department of Education and the Vermont Rural Partnership—each with its own interest in student voice and youth engagement in high school learning—and by 2008 it declared that the time was right to develop "authentic youth-adult school partnerships and collaborative decision-making."
Suppporting Action Research by Students | Bibliography | Other Student Reports

The ideas of student action research and students as allies in school reform are both relatively new ideas, stemming from a growing appreciation of the importance of student engagement and voice. There aren't many "how to" guides, but here describe several that have proved most useful. Similary, the academic research is just gaining steam and we offer a selected bibiogrphy. Finally, the question of how best to present the students' findings as arises, as it should. When Houston Students as Allies participants shared their survey and focus group results at an all day conference, which drew over 400 students and teachers, they translated their data into skits, multimedia pieces, and interactive exercises with their audience. Here we present three student-produced reports from Boston, Denver, and Oakland.
Related WKCD/Next Generation Press Books, Feature Stories, and Small Publications

WKCD has a deep commitment to school reform, especially high school, and since 2001 we have produced, often with student collaborators, a large library of books, feature stories, and publications that embrace students as knowledge creators and change makers. The first book, Fires in the Mind: Advice to Teachers from High School Students (The New Press, 2003), continues to win praise from teachers and teacher educators and has sold over 90,000 copies. The feature stories on WKCD.org, which give an close look at students and teachers wrestling to improve their schools, draw thousands of visitors.The small publication, The Schools We Need: Creating Small High School that Work for Us (2003), which WKCD wrote with students who attended small high schools in the Bronx, made it on to the Commissioner of Education's short list of summer reads.