---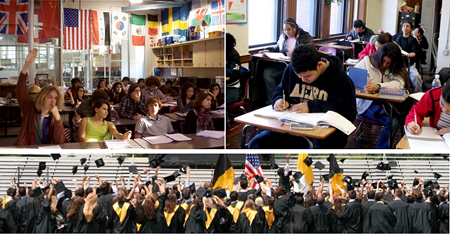 RELATED WKCD/NEXT GENERATION PRESS BOOKS AND PUBLICATIONS
Fires in the Bathroom: Advice for Teachers from High School Students (The New Press, 2003) by Kathleen Cushman and the students of What Kids Can Do, Inc.

In ten practical chapters from "Creating a Culture of Success" to "When Things Go Wrong," students from across the country give their unvarnished advice on how they can be engaged, motivated, and challenged. Starting with how to build mutual understanding and respect, they tackle crucial issues of classroom behavior, group work, language difficulties, and homework, offering insight on ways to improve classroom life and relationships between teachers and students. "Turns the tables on adults." – The New York Times; "A torrent of sensible, honest observations…If ever there we an authentic plea to make our schools human, this is it." – Theodore Sizer

Fires in the Middle School Bathroom: Advice for Teachers from Middle Schoolers (The New Press, 2008) by Kathleen Cushman and Laura Rogers and the students of What Kids Can Do, Inc.

What do middle schoolers wish teachers knew about them and how they best learn? This sequel to Fires in the Bathroom: Advice for Teachers form High School Students provides a much-needed window into the world of early alliance. Diverse student voices offer teachers insight into how their best practices actually play out as students change and develop, day by day, in the middle grades classroom. "We're starting to turn into adults, so we're not really sure what's expects of us." – Geoffrey; "The science teacher kept me after school. I thought it was for a bad reason, but he just wanted to get me more involved." - Kenson

Sent to the Principal: Students Talk About Making High School Better (Next Generation Press, August 2005) by Kathleen Cushman and the students of What Kids Can Do. Preface by Deborah Meier. With contributions by principals Teri Schrader, Olivia Ifill-Lynch, and Lynn Haines-Dodd.

We often think of adults as investing their time, ideas, and money in making schools better. If we took students equally seriously as investors, we might realize greater rewards: increased motivation, better communication, a more welcoming environment, and improved learning outcomes. How can school leaders make students allies in improving their schools? In this book, students offer some compelling answers.

First Ask, Then Listen: How to Get Your Students to Help You Teach Them Better (PDF) (September 2003)

What really truly counts is when we can talk about these issues in class, with the teachers and students we mix with daily, where the conversation can make an immediate difference. – Student, Oakland, CA

Perhaps more than anything else, the results from the Students as Allies surveys urged teachers and students to communicate more openly and regularly—about what helps and hinders teaching and learning, what concerns them, what they value. WKCD'S "First Ask, Then Listen: How to Get Your Students to Help You Teach Them Better" guides teachers through this process. It begins with tips for structuring respectful dialogues with students, then offers questions and exercises for prompting conversations with students in four areas: personal connections to the teacher, expectations and motivation, learning inside the classroom and out, classroom climate and management.

The Schools We Need: Creating Small High Schools That Work For Us (PDF) (May 2003)

What's so different about a small high school, compared to a large one? When school leaders decide to create more small schools in their district, how do students experience the change in their everyday routines, as well as in their sense of power and possibility? In this publication—a joint effort of WKCD, the Bronx New Century High Schools, and the Carnegie Corporation—two dozen students in Bronx, NY talk about their experiences planning and attending small schools and breaking down large high schools.
RELATED WKCD FEATURE STORIES
Youth and Adults Transforming School Together (2011)
On a crisp fall weekend, 165 youth and adults from high schools throughout Vermont pack a large, renovated barn on the campus of Goddard College. They have gathered to "Be the Buzz": to speak up, dig deep, and work together for school transformation in their schools and across the state ."This is what real youth–adult partnership looks like," one teacher remarks. A student adds, "And what school change sounds like."
Our Schools, Our Future: San Francisco Youth Campaign for Equitable College Access (2009)
It's lunchtime at Balboa High School, once one of San Francisco's most troubled schools but now on the rebound. Twenty-five students grab a sandwich and a seat. In six hours, the San Francisco Board of Education will vote on a policy these students have fought for all year long: to make the "A through G" course curriculum, required for admission to California's state universities and colleges, the default curriculum for all students in the San Francisco Unified School District.
History You Can Touch (2009)
"I'll be talking about courage and Common Sense with Thomas Paine," begins Carriola Chambers, 16, as she steels her nerves. It's presentation day at Facing History School (FHS) in mid-Manhattan and students like Carriola are demonstrating to small panels of teachers and peers how they have advanced their "habits of learning" over the quarter. There's a passion for self-discovery through history at FHS that you won't find at any other school.
Having a Say: Youth and Educational Activism (2009)
Ever since school was made compulsory for American children in the early 20th century, efforts at reform rarely included input from youth. But that is changing, as policymakers are beginning to value the opinions of youth, and as youth themselves have realized their collective power through new networking media. Ten years ago, it was hard for young people, or adults even, to know whom to lobby, to find which elected officials, let alone to figure out how to contact them.
We Are Change (2006)
With a video camera to her eye, Alice Giaccone, 18, moves through a buzzing high school hallway at lunchtime. She poses the same question to each person she stops: "What do you think of high school redesign?" Alice, along with seven other "youth mobilizers," spent the past year documenting what young people want—and don't want—from their high schools in Austin, TX.
Reflections on What Works: A Group of Teenage Classroom Observers Raises the Bar for Teachers (2006)
At Lexington High School, a large suburban high school outside Boston, a dedicated crew of teenaged students is visiting classrooms with an innovative vision of student-teacher dialogue. They go into classrooms not to learn what is being taught, but to look at how it is being taught, and to create a dialogue about effective teaching and learning.
Restoring Hope Where It's All but Gone (2005)
Students enrolled in Indianapolis public high schools face hard truths everyday. Indianapolis has the fifth worst graduation rate in the country; only 25 percent of black males earn a high school diploma. Student research teams at all five of the city's high schools have studied the problems and are adding their voice to the district's redesign effort.
Tough Talk about Student Responsibility: Growing Student Leaders in Oakland, CA (2004)
Several years ago at Oakland Tech High School Darrick Smith began a program called TryUMF (for Try and Uplift My Folks), a leadership class any student can take and re-take. Smith makes fierce academic and social demands on students, but they pay off. Recently WKCD interviewed Smith and his students about their push for responsibility.