There's a radical - and wonderful - new idea here . . . that all children could and should be inventors of their own theories, critics of other people's ideas, analyzers of evidence, and makers of their own personal marks on the world." - Deborah Meier, Educator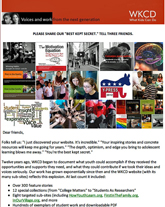 SUBSCRIBE TO OUR____ NEWS BLAST
OTHER WKCD WEBSITES
SPECIAL COLLECTIONS
Students as Allies in School
Reform
POPULAR WKCD PUBLICATIONS (PDFS]
A Guide to Creating Teen-
Adult Public Forums
Cultural Conversations through Creative Writing
Documenting Immigration Stories
First Ask, Then Listen: How Your Students Can Help You Teach Them Better
Making Writing Essential to
Teen Lives
Profiles of Politically Active Youth
Queer Youth Advice for Educators
The Schools We Need: Creating Small High Schools That Work for Us
Youth Research for Action Grant Competition
from WKCD| OCTOBER 9, 2014

This new initiative from WKCD will award, on a competitive basis, grants of up to $2,000 to youth-designed and -led action research projects across the U.S. Proposals are due November 26, 2014
"I liken most high school education to a donut. It's missing the center, the chance for students to apply their minds to issues that really matter, to practice skills they truly need to be successful, to turn their idealism into action." — Bernice Fedestin, Brighton High School '05, Brighton, MA
Absent from too much instruction in today's U.S. public high schools are the very things success demands in the 21st century workplace: problem solving, effective communication, informed opinions that take in diverse points of view, the ability to exercise independent judgment while working in groups and across disciplines. Missing, too, is a view of young people that encourages and welcomes their role as innovators, community builders, and contributors to social and intellectual capital.
Eleven years ago, WKCD launched a three year national initiative called Student Research for Action that aimed to send a different set of messages: that complex problem solving, independent judgment, and teamwork among students and teachers merit a place in every high school's curriculum; that what happens inside a school's walls should connect to the world outside; that young people have the capacity to reflect, analyze, and create new knowledge that can then improve their schools and communities.
With support from the Bill & Melinda Gates Foundation, we awarded 49 grants, in amounts ranging from $500 to $4,750, to student research teams in 52 schools across 17 states. The results were bountiful: books, videos, policy reports and position papers on topics ranging from the experiences of immigrant workers to inequalities between urban and suburban schools.
We're delighted to announce that this remarkable initiative is back! And we are opening it up to youth outside school as well, giving rise to a new name: Youth Research for Action.
How this initiative works
Youth Research for Action will award, on a competitive basis, grants of up to $2,000 to youth-designed and -led action research projects across the U.S. The competition is open to teams of public high school students nationwide, along with youth in community-based organizations.
Proposals are due November 26, 2014.
Winning proposals will be announced by December 12, 2014.
We anticipate we will award 10 – 15 grants.
We expect youth research teams will begin their work in early January, 2015 and complete their final projects by June 30, 2015. If necessary, we will provide appropriate extensions to insure that the work is of the highest quality.
Final products will be showcased on WKCD.org and reach a national audience.
To be eligible for consideration the project must:
Involve a team of students/youth (minimum of three), supported by 1 – 2 teachers and/or adult "allies" who can give the project their good attention and time.
Target a problem or issue meaningful to the youth/school/community and that shows promise of having real impact.
Lead participants through an extended period of research that includes a formulation of the problem, a research design, data collection and analysis, and the creation of a final product(s).
Put youth in a leadership role, including being the primary authors of the grant proposal.
Culminate in a community presentation and a plan for next steps.
DOWNLOAD THE PROPOSAL GUIDELINES

DOWNLOAD A GUIDE TO FACILITATING ACTION RESEARCH BY YOUTH

VIEW WINNING PROJECTS FROM STUDENT RESEARCH FOR ACTION (2003 - 2006)

Contact info@wkcd.org with questions
What Kids Can Do, Inc. | info@whatkidscando.org | www.whatkidscando.org

Copyright © 2015 What Kids Can Do, Inc.