---
Teens Help Teens Prevent Eating Disorders
BELLINGHAM, WA—It is a familiar scene at any high school: before the 8 a.m. bell rings, a group of girls crowds into the bathroom. They put on mascara, peer into the mirror, adjust their outfits, and talk about how they wish they were skinnier. But at Sehome High School in Bellingham, Washington, a different conversation is taking place.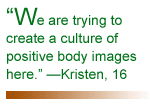 "You have to actually get inside your mind and change it," sixteen year-old Kristen DeRose says. "We are trying to create a culture of positive body images here. It's hard work, but it's so much better to respect and like your body."
What is a positive body image, exactly? Kelly Staves, 16, explains: "It's accepting that you may not be perfect, but you are who you are. Finding things to like about your body, rather than being critical of it. It's getting healthy and being aware of eating disorders."
This mission might be daunting at any high school—much less an affluent suburban one such as Sehome, where image and appearance are passports to peer acceptance. But Kristen, Kelly, and ten other sophomores at Sehome were motivated by the idea that teens teaching teens can transform even hidden problems. In January of 2004, they won a Student Research for Action Grant and formed the Eating Disorders Prevention Team.
Mining the research and getting results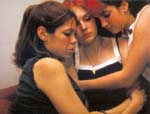 For months, the teens reviewed literature and researched the best eating disorder education projects nationwide. Upon finding that very few utilized peer education, they were motivated to invent a whole new curriculum. The team assembled an advisory group of counselors and professors, and went about crafting their own unique outreach presentation. "This is incredibly important work at the high school level, and one of the best curriculums I've seen yet," advisor Dr. Djuna Harper remarks.
Socio-cultural change and personal change are notoriously hard to measure, yet the team was determined to track the results of their efforts. To test the impact of the project, the team developed two surveys—one given before the outreach presentations, and another a month afterwards. "We worked hard to promote the message that each and every student can play a crucial role in creating a supportive environment that is respectful of body differences by valuing people for who they are and not how they look. After our intervention, 60 percent of students felt equipped to help a friend at risk for an eating disorder as compared to only 39 percent before. Seventy-one percent of them planned on acting," the Eating Disorders Prevention Team reports.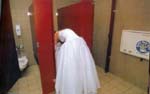 But the work does not conclude there. The team has provided the tools for girls in the bathroom to remind a friend how she is beautiful, ask whether she's been eating enough, or provide a counselor's phone number in case of distress. The words anorexia and bulimia are familiar in the lunchroom. They've got everyone thinking about the power of media images, and how to resist them—and along the way, have convinced their peers that having a positive body image is a cool thing to do.
They've also created space for the boy who puts on three t-shirts and two pairs of jeans to look more muscular, to bring his fears into the open. In this, the Sehome project is unique: most body issue projects focus only on girls. "It's a very obvious thing: you're missing out on this whole half of it when you just focus on girls. Boys are an untapped resource," says Kelly Staves.
Twin brothers Matt and Alex Curtis gave some of the informational presentations about where eating disorders come from, and found that the barriers quickly started coming down. "Boys feel like they need to be buff, and they don't talk about stuff much. But they will talk in the small groups. And then girls get to hear from boys that they'd rather their girlfriends be healthy than skinny."
Hungry for more
Along the way, the student team found their classmates hungry to discuss more issues than there was time for. Sexual health, drugs and alcohol, dating, and racism all came up as subjects that teens don't feel comfortable talking about with adults—but want a place to explore aloud. "I love hearing other youth teach me, and I love to teach others, so it's something I strive to do whenever I can. Peer education is the most effective way to get into the intense issues," team member Devin Majkut says.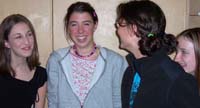 Eating disorders and body image were not on the Washington state high-school health curriculum when the students began, but the teenagers' work on the issue may turn that omission around. School administrator Peggy Taylor says, "It's been amazing watching the growth of their leadership. They don't fall into any false endings or barriers, and their energy is unlimited. Students are moving faster than the system, and then the system can look at it, take it in, and try to catch up."
For now, the Sehome students are focused on their vision—with or without a grant, they want to continue the work they've started. "I think it should be extended to the middle school level, too. And if I'm dreaming," Devin Majkut asks, "why not make this project city-wide?"

The work of Sehome High School's Eating Disorders Prevention team has yielded a wealth of final products. We include two below. One is a copy of the final report where students present their research, the curriculum they developed, their teaching approach, and the survey they used to measure the program's impact. The second is excerpts from the team's PowerPoint presentation, which will be made available on the Sehome website this fall.
When Abe Louise Young visited Sehome High School in June 2004, she spent an afternoon talking with the student team about the power of peer education, especially when it happens as part of a class. The students' reflections are honest and provocative. Click below for highlights (you will need Adobe Acrobat).
We Need A Space to Be Honest: Students Examine the Power of Peer Education