---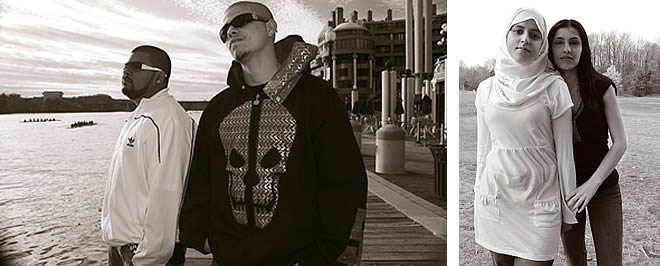 Photos by Courtney Wu: Oscar Amaya and Jeffery Obando (left); Malaya Maiwand and Rosa Khan (right)
By Joanna Klonsky
ALEXANDRIA, VA— T.C. Williams High School is best known as the setting for the 2000 film Remember the Titans, in which Denzel Washington plays a tough coach who unites a football team (and a community) that had been divided along racial lines.

T.C. Williams, or just "T.C.," as many of its students refer to it, is a real high school in Alexandria, Virginia. Though much about the school and its surrounding community may have changed since the 1970s storyline depicted in the film, the student population at T.C. Williams remains quite racially and ethnically diverse and integrated.
In 2007, a group of T.C. Williams seniors in teacher Taki Sidley's Photography and Documentary Studies class set out to illustrate that diversity in a 112-page, duotone book of photography. The outcome: We Are the Titans: A Profile of Diversity at One American High School.
Sidley decided he wanted the class to produce "something that would move outside the classroom—that would have legs." In Remember the Titans, Sidley says, "everybody at the school was either black or white, and today the school is so diverse." Sidley was also inspired by Democratic presidential candidate Barack Obama's autobiography, Dreams from my Father, "in which he's talking a lot about how visions of race in this country are changing and how it's had an impact on him," says Sidley. "I was thinking about how we could riff on that" in the book.
Early in the school year, Sidley says, "I kind of pitched the idea to my students about making a book, and they seemed excited about it." Sidley had envisioned creating a book focused on the "different ethnicities in the school," he says, but the students in the course "wanted to focus on diversity in a broader way. It became more about individuals' talents and backgrounds."
Picking Subjects
Sidley's students searched their student body for classmates with interesting stories or unique backgrounds to feature in the book.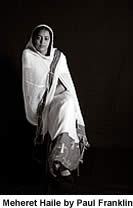 "We had to go find students independently," says Erin Sonoda, 19, now a freshman at Virginia Commonwealth University School of the Arts. "We'd make time and have a schedule to shoot. In class, we'd come and bring our best five photos in, and the class chose best photos."
Students chosen as subjects in the book include a student actor at T.C. Williams who recently emigrated from Cameroon, West Africa; a Lebanese student who was home visiting his family in summer 2006 when war with Israel broke out; and a girl from Mongolia who "regularly crossed the border into China to shop on weekends" before moving to Arlington.
The subjects are not only immigrants, however. The group of budding photographers also made a point of featuring students with exceptional stories, such as Kevin Garrahan. Despite a speech impediment, Garrahan has taken on several leadership roles in the school that demand public speaking, including reading the school's morning announcements over the P.A. system and heading the school's lacrosse team.
The class also chose to juxtapose students with similar interests. Williams student Alexi Von Guggenberg, a Christian rapper, is shown alongside a lyrical verse he wrote. On the opposite page are two African-American students, also rappers, who have formed a hip hop group called Street Legends. Elsewhere, two student-poets are shown side by side, their own verses projected across their faces in the photographs.
Focused on the Process
Creating a real, professional book of photography meant Sidley's class had to break with the typical format of a high school course. Students learned about the technicalities of photography, but they also had to construct, edit, and market the publication.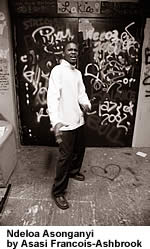 Sidley "introduced the students to some artificial lighting, technical photographical elements, but we spent a large part of the year going out and trying to get kids who were interested in being in our book," he notes.
"It was a much more difficult type of photography than I might have imagined," says Peter Smeallie, 19, a freshman at Northern Virginia Community College. "I had taken a photography course earlier, but this one was more advanced, because your shooting had to capture the subject's entire uniqueness in one frame."
The students did book signings at local bookstores, and, says Sidley, they "went out to some of the local businesses and got them to carry it." They also sent letters to alumni and other community members who might be interested in purchasing the book.
The project-based curriculum of the course was "a lot more like what I experience in college now," says Eva Lorenz. "It was more adult, I think. We were able to be more responsible, but also we could kind of do what we wanted."
The format of the course was "way different" from a normal high school class, says Sonoda. "The entire point of the class was to create a book, to create this one thing. It wasn't like we had to take tests and stuff. It was very goal-oriented, and to have a finished product in the end was really exciting." Part of the reason the course was so valuable, says Smeallie, was that the students chose to take it "because of the subject, and not because of a Virginia requirement."
Opening Circles
Creating the book of photography also helped break down some social boundaries within the school. Working on the book "had a huge impact on me," says Lorenz, now a college freshman. "I had my own little group of friends in high school, and the project really allowed me to branch out and meet, and talk to, and also photograph a lot of other types of people who I probably never would have even talked to. It also allowed me to broaden my circle of friends." For Lorenz, the project was really about "opening circles and allowing people to talk to each other that normally wouldn't."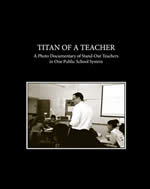 This year, Sidley's class is creating another photography book. This time, the students focus on teachers' stories. The book, titled Titan of a Teacher, is a "photo documentary of teachers in this public school system," says Sidley. The students have interviewed teachers and are writing a corresponding short narrative to accompany the photographs. "We are also asking the teacher to write something about education," says Sidley.
Many of the contributors to We Are the Titans have gone on to focus on photography or a related major in college. Sonoda is a photography and film major, and says working on We Are the Titans "helped a lot to point me in that direction." Likewise, Smeallie plans to major in "something in the media arts," with photography as "a starting ground," he says. Working on the book pointed him in that direction, he says, not just because of the photographic experience. In his year working on We Are the Titans, says Smeallie, "we weren't receiving the curriculum; we were sort of defining it."

Click here for a PDF of excerpts from We Are the Titans.
Click here to read the introduction to A Titan of a Teacher (forthcoming, June 2008)