---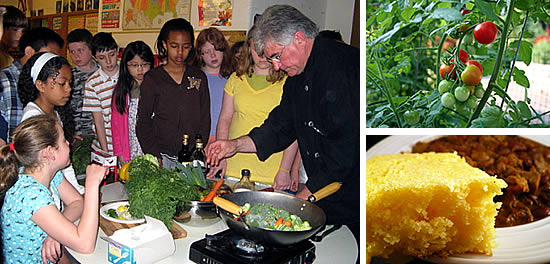 by Mary Beth Lambert, CES Northwest Service Learning Network
FRIDAY HARBOR, WA—Cheese ravioli with homemade marinara sauce; oven-roasted lemon rosemary chicken breast and vegetable medley; chili with local ground beef and cornbread. These are just a few of the homemade lunch entrees on the February menu at Friday Harbor High School.
And the students, teachers, and staff will tell you—it tastes as good as it sounds!
The delicious menu is just one result of an innovative new program, the Experience Food Project, launched last fall at Friday Harbor High School in the San Juan School District. Students and teachers alike have embraced the project, integrating it into classroom curriculum—including English, science, art, and social studies, as well as service projects and clubs.
The Experience Food Project, led by Chef Tom French, approached the San Juan District last summer after it was announced that a budget shortfall would force the district to shut down its hot lunch program and replace it with sack lunches. Twenty-five to thirty percent of students in the district qualify for the free and reduced price lunch program.
Created in 1999, the Experience Food Project proposes a systemic change to school lunches, including a focus on fresh, nutritious meals created from produce and agriculture grown by local farms. The project's motto is "Experience Food Project: Eat, Live, Learn."
Everyone wins
Experience Food Project:
Eat, Live, Learn
Chef Tom French knows food. As a member of a restaurant family who lived on an Arkansas farm, Tom learned first-hand at a young age about food production and its impact on a community.
"I grew up surrounded by fresh produce grown locally by families in the community. Meals were enjoyed with others at a multi-generational table with lots of talking and sharing."
As an adult, Tom worked for 20 years as a chef in New Orleans before moving to the Pacific Northwest. In Seattle, he joined FareStart, nonprofit organization that provides job training for homeless and disadvantaged individuals in the foodservice industry.
Five years ago, Tom created the Chef in the Classroom program in response what he saw as alarming trends in child health—rising diabetes rate and the early onset of obesity.
As Chef Tom saw it, a partnership with the San Juan Island School District could be a win-win for everyone.
The district would see improvements in the quality and content of the school food, reduce costs and improve revenues, as well as introduce new learning opportunities and enrichment programs for students and their teachers. Chef Tom would partner with a community that has no fast food restaurants, pilot his food program, and collect valuable data to share with other Washington districts.
With support from the San Juan Island Community Foundation and Microsoft CEO Steve Ballmer and his wife Connie, the Experience Food Project was launched in the fall of 2008, serving 650 meals daily throughout the San Juan Island District. By all accounts, the one-year project has energized Friday Harbor High School and received universal praise.
"We have established a sense of community during mealtimes," says Principal Fred Woods. "You see 130 students, instead of 40, going through the lunch line, sitting together, and talking for the entire lunch period."
"And the sense of community extends beyond just the students. We have more visitors to the school and they are eating in the cafeteria," says Woods.
Principal Woods also believes that the Experience Food Project has altered the culture of the school. "The project shows students that they are valued and respected as people. They are offered amazing meals prepared by an incredible chef."

And while Woods doesn't yet have the data to support his claim (it is being collected by Chef Tom's researcher), he believes that the new positive eating experience encourages reciprocal respect between students and their teachers.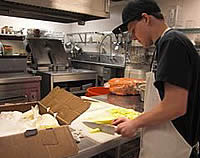 Senior Toni Mollica says before this year, she never ate in the cafeteria because the food resembled "prison food." This year, things are different. "I think it's really great that someone is taking an interest the food that we are putting into our bodies."
Junior Parks Barnard has documented the Experience Food Project as part of his required junior year community project. He conducted interviews and wrote a story that he hopes will air this spring on the local National Public Radio affiliate. "Kids now have an awareness and appreciation for fresh food and what it looks and tastes like. They are more tuned into the cost of eating off campus versus the benefit of eating in the cafeteria."
Curriculum connections
One of a Kind Breakfast
by Josh Boudreau, Senior
Here is a breakfast fit for a king
Yet I could eat it at age sixteen
You will need a jet speed metabolism
For it holds a great burden
First, the huge Belgian waffles
Fluffy and warm, full of blueberries
With ten ounces of maple syrup
Enough to smother all in stickiness
Next four eggs arrive with solid yolks
Nice and hot, ready for a heated war
Coming along are the four sourdough slices
Two for each sandwich that I will devour
From The Future of Food – Now!, a blog developed by Friday Harbor English teacher Jane Weil and her creative writing students.
The Experience Food Project is also impacting the teaching and learning happening inside Friday Harbor classrooms.
"As a staff, we could have decided that the Experience Food Project was going to remain separate from what we do in our classrooms," says Ruthie Paull, a culinary arts teacher who also serves as the school's service learning grant coordinator.
"But instead, the staff made a choice early on. We decided to come together and educate kids and the community about the impact of food on our health and environment. The project was seen as a great vehicle for teaching and engaging kids," adds Paull.
For English teacher Jane Weil-Smith, the idea of creating a blog for the Experience Food Project sounded like a good one. But Jane admits, she was a bit nervous about the technology aspect. She quickly realized that she didn't need to worry. Many of her students were sophisticated bloggers and they welcomed the idea of collaborating with their teacher and each other to create the blog.
And today, Weil-Smith is known amongst her teaching colleagues as "The Queen of Blogging."
"The blog format is engaging for students," explains Weil-Smith. "Students who might be nervous about writing a piece feel more comfortable sitting down at the computer and writing in a way that they are used to."
For Weil-Smith, integrating the Experience Food Project into her English curriculum extends beyond the blog. Describing it as "English in action," she says "it has gotten kids out of the classroom, into the school and community, researching and working together to develop a product."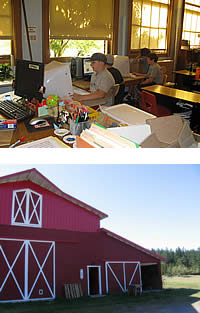 "Students feel powerful getting to design the pages and having their work publicly displayed with credit," she adds.

This spring, Weil-Smith plans to have her students research and visit local farms that supply food to the cafeteria and write profiles about the farmers. She is also working with the school's photography teacher to have students take more photos to add to the blog. The students have also expressed interest in creating a board of reviewers who will provide regular reviews of the cafeteria fare.
"I don't have to look for assignments; I just have to keep my ears open," Weil-Smith says.
Biology teacher Marc Vermeire says the Experience Food Project has impacted not only what he teaches, but how he teaches. "I'm tying large concepts together in a way that I haven't in the past."

During his fall biology class, students studied the molecular components of food, including examining labeling and ingredients. They also completed an analysis of a school cafeteria menu, comparing a menu from this year to one from last year. The unit ended with the high school students teaching a class on food at the local elementary school.
While the future of the Experience Food Project is under negotiation between Chef Tom and the San Juan School District, To says the project has turned him into a service-learning convert. "It is one of the most effective and innovative teaching strategies that I've seen. The design of service learning enables teachers to tap into contemporary issues. It gives students the opportunity to get excited and involved in something that they care about."
Chef Tom adds: "Our ability to contribute is what makes us human. If we don't find ways to foster and grow that in young people, we've missed a huge opportunity."
Coalition of Essential Schools NW Service Learning Network

The CESNW Service Learning Network was created during the 2006-2007 school year and funded by a three-year grant from The Corporation for National and Community Service. The Network's goals include:
Implementing service learning across all of the core disciplines
Developing formal partnerships with community groups to address real community needs
Increasing the academic engagement all of students
The eight schools below were invited to join the Network because of their previous success creating strong community partnerships and/or their commitment to the CES Ten Common Principles.