---

by Joi Officer, 15, Laura Cockman, 17, and Rebekah Taft, 17 of Y-Press
Young people have a unique relationship with the environment: They are often the first affected when something goes wrong, yet the least represented when decisions are made.


They, more than any other generation, have been raised to feel a responsibility toward the environment. And that's important because they will be the first generation in charge of correcting the problems caused by the widespread pollution of the atmosphere and rampant misappropriation of natural resources.
Youth today feel the "clock is ticking in terms of the amount of time we have to deal with the major issues like clean air, clean water and global warming," says Sharon Smith, program director of Brower New Leaders at the Earth Island Institute, a support group for youth environmental campaigns and initiatives.
Growth in activism
Smith has seen firsthand the growth in environmental activism. "I graduated from college in 1999, and right in my first year out of college I went to an eco conference, which at that time was held in the Northeast. It was one of the largest environmental youth conferences held to date, and it had about a thousand people."
Contrast that with a 2009 conference that drew 12,000 young people from all 50 states, she said. "You can really see the growth of the environmental movement even over the past decade by looking at these conferences and the trainings designed and led and initiated by young people."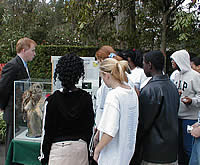 Canon Envirothon has seen similar growth in youth activism. A nonprofit specializing in the delivery of environmental education for high school students, the program has grown from three states in 1988 to 54 states and provinces in North America today.
Young people are "looking for avenues where they can make a difference and become knowledgeable, and then they can take and share that knowledge and experience," said Clay Burns, executive director of Canon Envirothon in Mississippi. They need to be "willing and prepared to work toward achieving and maintaining a balance between the quality of life and the quality of the environment."
Raising new leaders
But an increase in youth activism is not enough to stave off environmental peril – we need new ideas and new leaders, according to Eban Goodstein, economics professor at Lewis and Clark College in Portland, Ore., and co-director of the 2009 National Teach-In on Global Warming, a nationwide network of teachers at all educational levels that, on Feb. 5, engaged more than a million Americans in a "solutions-driven dialogue."
Eban says the U.S. must act aggressively in the next year or so to reduce global- warming pollution and invest in clean energy technologies or "you guys are going to be looking at a very different world in 2050," when the world will be 3 to 10 degrees Fahrenheit higher.
"To put that number in perspective, during the last Ice Age, it was only nine degrees Fahrenheit colder than it is on average today," he explained.
Goodstein says youth need to move beyond being the front lines of environmental activism to being the visionaries. Both the Brower New Leaders and Canon Envirothon have devoted more than two decades training them to do just that.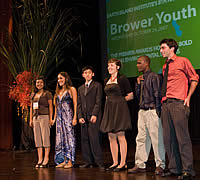 Earth Island Initiative was founded in 1982 by renowned environmentalist David Brower to support young people who have new strategies for saving the earth. In 2000, the organization started the Brower Youth Awards, which honor six youth ages 13 to 23 each year for their leadership and activism with a gala ceremony, campout and $3,000 prize.
"We felt like young people so often are sort of the workhorses of these campaigns and aren't always recognized, aren't always supported at a critical time in the development of their careers, in the development of their activism," Smith said.
The Canon Envirothon also honors young environmentalists in a yearly competition that engages more than 500,000 high school students throughout North America. The Envirothon works in partnership with local conservation districts, forestry associations, educators and natural resource agencies to organize and conduct competitions on the local, regional, and state and/or provincial level. This year's hands-on problem-solving competition is Aug. 2-6 at the University of North Carolina at Asheville, where local finalists will compete for recognition, scholarships, and prizes.
Issues addressed
While recycling clubs abound at all age levels, more and more youth are expanding their efforts in other directions. In Massachusetts, young people involved in Gardening in the Community promote organic gardening and bicycle use. In Florida, a young man developed an interactive curriculum to educate youth about the plight of loggerhead turtles. In California, youth helped pass a bill requiring cosmetic companies to alert the Department of Health if their products contain carcinogens.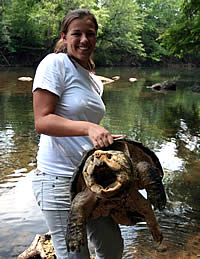 These are just a few examples. Youth across the country are cleaning up local wetlands, shutting down toxic waste sites, promoting clean energy and combating landfills. They have educated their peers, parents and the public on carbon emissions, reusable goods and conservation of resources.
Brower New Leaders have dealt with many such issues, and the Earth Island Institute currently oversees 60 projects, ranging from "Project Coyote" to the "Sacred Land Film Project," in 26 countries worldwide.
Students involved in Canon Envirothon pay special attention to natural resources, specifically those related to soils and land use, aquatic ecology, forestry and wildlife.
"Conservation is the big thing that we're involved in," Burns said, explaining that such work is more grassroots, and thus a more viable venue for youth activism.
And while most youth activism is local, many are entering the political realm to effect long-lasting change.
"There's a recognition that this is a time when we need major action from government if we're going to sort of lay the foundation and give you guys the tools that you're going to need to transform the world," Goodstein said.
New worldview coming?
Goodstein envisions a day soon when people automatically think about the environmental impact of their actions before they act. "We'll move on to a phase where we just sort of naturally mimic nature and create things that are in harmony with nature and don't produce waste and pollution."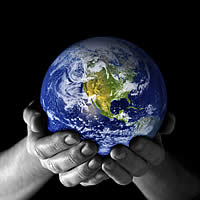 Smith shares his optimism because she's seen the changes enacted by the youth involved in her program. "Just this year we were looking at the past 10 years of awardees, and at least 87 percent of our award recipients are still in leadership roles in the environmental movement. So it's a great sign that these young folks were committed when they applied to do this work and that hopefully the support we provided ensured they could stay committed and rise as leaders," she said.
The presidency of Barack Obama gives more reasons for hope. "It's rejuvenated the environmental movement in a number of ways," Smith said. "People have been really hitting their heads against the wall for eight years trying to push forward environmental initiatives."
Click here to read these Y-Press profiles:
Grind for the Green, San Francisco, CA
Urban Roots, East Austin, TX
West Oakland Urban Students Uprising against Pollution, Oakland, CA
Click here to read how students at two high schools are recycling and promoting environmentalism.