---

by Barbara Cervone
"I faced history one day and found myself." - Facing History and Ourselves student
NEW YORK CITY—"I'll be talking about courage and Common Sense with Thomas Paine," begins Carriola Chambers, 16, as she steels her nerves. It's presentation day at Facing History School (FHS) in mid-Manhattan and students like Carriola are demonstrating to small panels of teachers and peers how they have advanced their "habits of learning" over the quarter.
"Courage is the ability to take a stand and talk about what is right," Carriola continues. "When Thomas Paine traveled from England to America and saw how Britain was treating the colonists, how they had no rights, he told them they shouldn't have to live like this. He told them to live free and fight. He wrote Common Sense to carry his words."
Carriola leads the panel through a Powerpoint and an analysis of a passage from Paine's treatise. Then she fields the panel's questions: Why did some colonists resist independence? What are the connections between how the British treated the colonists and how the colonists treated Native Americans—and slaves? How did Paine's thinking influence the Bill of Rights? She works hard to make the historical connections asked of her.
Later, Carriola critiques her own performance, giving it mixed reviews. "I gained confidence, then lost it again," she says. "I should have known the questions better and had more examples of what I was talking about."
Asked what she would have done if she had been a colonist in 1776, however, she replies without hesitation, "I would have fought."
Embracing the human story
Started in 2005 with support from the Boston-based Facing History and Ourselves, the Facing History School (FHS) boasts an idealistic group of students and faculty, a coherent vision, and a passion for the human story. Four themes guide the learning in every class: identity, caring and responsibility, decision-making, and choosing to participate.
The school encourages its roughly 400 ninth through twelfth graders to look at events in history as a basis for making decisions in their own lives. When studying the Holocaust, for example, students identify the various roles participants took—"bystanders," "perpetrators, "victims," and "upstanders" (the resisters)—and consider what role they might have played, themselves, had they been alive at the time. They examine values as old as humankind—tolerance, humility, indifference, and hatred—and take their measure in today's world. They study exemplars of courage and compassion in the face of injustice, and weigh how their own daily choices might contribute to a safer and more just future.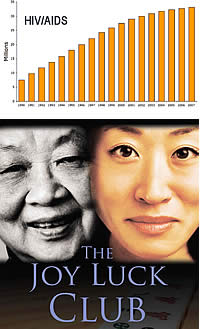 "It's history you can touch," says eleventh-grader Shanequa. "It's history you can feel."

The human experience seeps into every aspect of the curriculum. In math, students examine the incidence rates, over time, of HIV and AIDS and learn how those numbers illuminate relationships and guide prevention efforts. In English, students read the novel The Joy Luck Club, considering the difficult interplay between traditional family values and change and how it shows up in their own lives. Like the two protagonists in Amy Tan's book, many FHS students are immigrants, with parents and siblings split across continents.
"We study hard here, very hard," says Jose, a senior. "You gotta be seeing the connections. You gotta be stepping out of yourself and taking risks."
Listen to students talk about what makes FHS different.
Inspired teaching
Helping students make connections across time and subjects, and with their teachers, demands much of the FHS faculty. A visitor reviewing the school for www.insideschools.org writes:
"A humanities teacher engaged students in a discussion of ancient Greece that used their own leadership experiences—such as organizing a party or working as a camp counselor—as a basis for understanding autocratic, democratic, and other forms of government and 'leadership styles.' An English teacher took students to the auditorium to practice 'Shakespearean insults,' encouraging them to put together obscure adjectives and nouns from Shakespeare's plays and hurl them at one another. Among the results: 'You paltry lily-livered popinjay.' Another English teacher helped students write poems inspired by Langston Hughes' 'A Dream Deferred,' teaching them the basics of similes, nouns, and verbs while encouraging them to articulate their dreams."
WKCD sat down with five FHS juniors to hear how their school has reshaped not just their views of history, but also their views of themselves, the world around them, and schooling itself. Here are excerpts.

"History You Can Touch"
Nicholas: At a regular high school, you take an English course, study for the Regents [exam] and so on. Here, it's pretty unique. In your English class, you tie it to history, like Native American studies.
Daniel: That's right. Here, you don't just "take" an English class, read a book, then do a report on it. No, we don't do that. We're juniors, we're taking an English class called "Home and Exploration." We learn what it means to have a home, plus what it means to have a transcultural identity. It's not only about learning literary terms, grammar, and vocabulary, the basic stuff. It's about going further on, and knowing how what you're reading connects to history. For example, I bet you've read the book Romeo and Juliet. When we read that book, we didn't pull out questions like, "What did Romeo do? How did he die?" No. The theme of Romeo and Juliet is rebellion and reconciliation, and how their families came together in the end. We read the book for the important messages that come with it, messages we then apply in our daily life.
Shanequa: Like its name, this school teaches you history and the values and morals that you learn from history. You're always like, "Be an upstander! Be an upstander!" You learn how to be a leader, even to make your own history. This year, I actually don't like my history class, itself. I prefer the references back to history in my other classes.
Daniel: I agree about that. We're taking U.S. History now, and as much as they try to make it interesting, it still seems like the same old thing: wars, presidents, events, and dates. Like Nicholas said, maybe it's because of the Regents tests and having to memorize all the facts. The testers want to see if you know when such and such war was fought, not what you know about values like tolerance. But in your English class, your math class, there's a chance to come at history from a different angle. You can relate and analyze. In my math class right now, we are doing social justice issues, and I'm studying abusive relationships from a numerical point of view. I'm not just learning the mathematical concepts, but how social change shows up in numbers and the trends over time.
Nicholas: I'm on the flip side of this debate. I'm U.S. history obsessed—with how our government has worked, how society is structured, what happened years ago. I like to look at the past in the U.S. and find the parallels to today, such as the Great Depression and today's recession. The fact that history repeats itself, to me, that's interesting, not boring.
Daniel: What he says about history repeating itself, I see it two ways. It's amazing how
history always comes up in history. Like in the government of George W. Bush and the Iraq War and the fight for oil. The history there is that his father, Bush Senior, fought the same war and lost. I think the son, George W., thought he was writing a new chapter, but it looks like he basically tried to rewrite the same chapter. The unique thing about history—which we don't see enough of in this country—is how it gives so many chances to learn. Events happen and then you learn from them. You don't just make the same mistakes, fall and pick yourself up to do the same thing again. No, you can learn from them. You need to look at yourself and say, "How do you keep doing this and how do you stop doing that?" In the end, what counts with history is the ideas we take from the facts.
NIcholas: And what we do with those ideas, like stopping genocide.
Shanequa: What I like most about learning history, at this school, is that I can almost touch it.
If you just stick to the seventeenth century history, well that's already done. If you want to make change, if you have an opinion on that topic, you can't touch it, it's happened and it's gone. But here, like in my math class, I am doing statistics on race, HIV, and AIDS, looking back at how it started and spread and ahead at how it may be conquered. HIV and AIDS, those are real issues, especially for teens. I know we're not going to fix these diseases today, but we will one day, and I want to have a part in that change. That's history you can take a hand in, history you can touch.