---

by Joanna Klonsky
CHICAGO, IL—Gabrielle Lyon knew there was a problem. A school reform activist and part-time paleontologist, Lyon looked around Chicago and saw a glaring lack of science-oriented programs for young people. Sure, there were the university-affiliated programs for elite students with high test scores and high family incomes.
So she created Project Exploration, a science program for Chicago kids, hope to "bridge that gap and to create highly personalized experiences with science that would bring kids together with scientists, and most of all try to reach kids that were not academically successful or who would never have the chance to do something really fun and meaningful with science," she says.
Now, the program reaches over 300 Chicago Public Schools students in any given year. "Project Exploration really wants to help minorities and girls exceed in science, and get more exposure to science," says Jessica Ramirez, 17. Eighty-five percent of Project Exploration students are from low-income families; 73 percent are female, 65 percent are African American, and 25 percent are Latino. The program is free for students, and relies on donor support as its main funding source.
'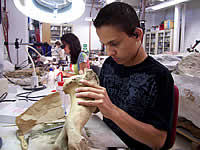 Junior Paleontologists
Every summer, a group of students in Project Exploration's Junior Paleontologist program spend two weeks on the University of Chicago campus, learning about the fundamentals of geology and paleontology, working with professional scientists, and "developing their own questions of things they're curious about," says Lyon.
At the end of the two weeks, students head to mammoth sites in Montana, South Dakota or Wyoming for a week of working in the field.
Students on the expeditions "see a paleontology project from start to finish," says Lyon. They find fossils and excavate, clean, repair them. Then, they make replicas.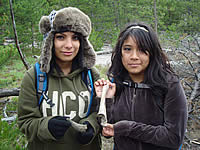 "I really loved it," says Jehad Broderick, 15, who went on the Junior Paleontologist trip to South Dakota this summer. "We would spend the day digging at the site, and then we would go on fun hikes in the Black Hills in South Dakota. That was my favorite part, seeing all the nature."
"I'm a city kid," says Ramirez, who is going into her senior year at Chicago's Rauner College Preparatory High School. Ramirez is planning to apply to colleges with good archeology programs. "The closest I've gone to nature like that is going on vacation to Puerto Rico, but I just visit family out there. I got out of my comfort zone this trip," she says.
The Best Science Program Ever
Broderick is one of six young people helping to design what he says will be called "The Best Science Program Ever." As part of Project Exploration's Advanced Science Field Program, Broderick and the other students gathered this summer to imagine what the ideal science curriculum would look like.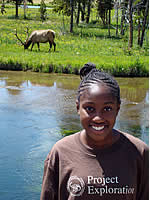 Then, they traveled to the Indiana dunes along the coast of Lake Michigan to catalogue all the wildlife they could find. "That was supposed to help us in our expedition that we would end up going on in Montana," says Broderick, who will be a junior at Chicago's Amundsen High School next year.
The group spent five days digging and living at a lodge on a ranch in Montana earlier this summer. "The ranch was beautiful. It was amazing—a huge piece of property the size of Chicago," says Broderick. "I'm really glad I joined this program. I could never see myself going to Montana or South Dakota in my life if it wasn't for Project Exploration."
Broderick has also found a passion for writing through Project Exploration. He's become one of the program's resident youth bloggers, getting paid to write about "our adventures," he says. "I was never really interested, or thought about journalism before, but after this new assignment it's a possible career choice."
All Year Long
Project Exploration programs are not limited to the summer. "Once you're in this active school of students, there are ongoing opportunities to do science and get academic support all the way through high school," says Lyon.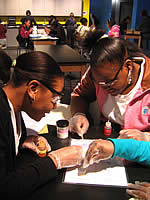 In addition to the Junior Paleontologists, female students can join Sister4Science, an all-girls after school program that combines science exploration with leadership development.
Students can also get involved in Dinosaur Giants, a service learning program in which Chicago Public Schools students receive training to become docents to the public at science exhibits around the city.
Once students get involved in Project Exploration, they tend to stay involved in the program's ongoing science opportunities, and through mentorships. "One really great thing about Project Exploration is how they keep bringing their kids back to do projects with them," says Broderick.
"Because we know our students for so long, we're actually seeing what happens after they graduate high school," says Lyon. Two-thirds of students coming through the Project Exploration field programs consider science as a major in college. "That is very different from the national picture, in which women and minorities are extremely underrepresented, and low income, first generation college-bound students almost never go into science," Lyon notes.
Lyon and the Project Exploration youth are not the only ones who recognize just how exceptional the program is. In July 2009, President Obama named Project Exploration one of the 2009 recipients of the Presidential Award for Excellence in Science, Mathematics, and Engineering Mentoring, recognizing "the crucial role that mentoring plays in the academic and personal development of students studying science or engineering and who belong to minorities that are underrepresented in those fields."