---

by Tommaso Verderame, 15, Y-Press
If you're looking to volunteer in service work with people who share your faith or values, you might take a look at your high school. Most offer a long list of clubs, and one can usually find a Bible study group and maybe a faith-based social services group.
Of course, most youth yearning to serve turn to their church, synagogue, temple or mosque. According to the Center for Information & Research on Civic Learning and Engagement at the University of Maryland, which researches the civil and political activities of Americans ages 15 to 25, nearly 40 percent of youth looking to engage in community service turn to religious or faith-based organizations.
Dr. Eboo Patel, executive director of the Interfaith Youth Core service organization based in Chicago, says youth involvement in religious community service and activism is to be expected. "If you look over the heroes of the 20th century, people like Martin Luther King, Jr. and Dorothy Day and the Dali Lama, you will find a religious inspiration that sparked them," he said.
Dr. Christian Smith, a researcher at the University of Notre Dame, and the Rev. David Scheuneman, director of the youth arm of the Unitarian Universalist Church, agree that faith-based youth activism is a huge force in the United States. Not only do hundreds of thousands of congregations gather together every week to minister to their own members, they also try to minister to their broader communities as well.
"Religious congregations are a huge part of the nonprofit sector," said Smith, who has directed the National Study of Youth and Religion since 2001. "They're just great places for activism mobilization to take place."
A natural fit

Religion and service are a natural fit. Smith explained that simply doing service for others is a religious duty in many faiths. "And most religious groups want to see young people learning how to serve other people as part of their faith," he added.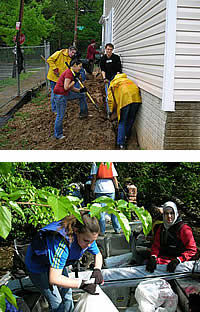 Service conducted through and with religious groups is particular fulfilling because it addresses the spiritual as well as emotional self. "There's something about our nature that gathering together for a higher purpose leads to an experience of community in which the people that are experiencing that together experience something larger than themselves," Scheuneman said.
Faith-based youth activism takes several forms. "A lot of youth go on service trips or mission trips through their youth groups or religious congregations," Smith said. "Sometimes those are strictly evangelistic, and sometimes they are much more service-oriented, volunteering or helping people repair a house or whatever."
Other kinds of religious activism involve reaching out to the local community through venues such as soup kitchens and summer camps. Many youth also get involved in faith-based activism at their places of worship by teaching Sunday school or providing child care services.
Despite already having such a large following, faith-based youth activism seems to be on the rise. Patel credits the increase to two factors: the advent of social-networking technology and interfaith cooperation.
The influence of technology
Technology has played a crucial role in the growth of all youth activism, not solely faith-based service. "The people who understand iPhones and Twitter the best are 15-year-olds," Patel said. "Young people absorb the ethos of an era first." With better communication comes a faster and more effective way to spread religious messages to a wider audience and to organize activism.
The impact of technology on organizing activism is visible every day. Patel pointed to the widespread broadcast of demonstrations in Iran with raising global awareness of events in that usually cloistered country. Similarly, "Witness what happened with the Uighur Muslim community in China," he said.
Technology allows youth throughout the world to witness the injustices that take place everywhere. And social networking technology enables them to spread their concerns not only to their friends and acquaintances, but throughout the world.
The rise of interfaith organizations
Apart from technology, Patel says the rise of interfaith organizations has helped fuel the growth in faith-based youth activism. In the past, most faith-based activism groups had been comprised solely of members of one faith. Today, an increasing number of youth are joining interfaith groups.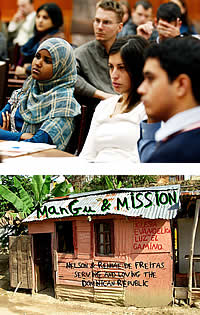 "A lot of faith-based activists are increasing understanding the importance of working across faith lines," he said.
As youths of different faiths are able to reconcile their differences, faith-based activism will be even more productive, Patel says. "Religion is an inspiration for many people to go into positive change," he explained. "We have a lot of young people in the world. Why not leverage that energy?"

Simlarly, Scheuneman says the increasing diversity of society has fueled youth activism by creating "a growing sense of confidence among youth in our culture."
"The world that they see every day is much more diverse, people from all over the world, and that leads them to more of a global perspective and less of having just a racial identity or the notion that the world only has one truth," he said.
"Their friends are from all these different world cultures, and I think they're more comfortable with diversity and get [from that] a sense of empowerment," he added. "It's getting to the point where youth are a lot wiser."
The effects of today's faith-based youth activism will reverberate for years to come. As Patel mentioned, religion has inspired many of the world's greatest social activists. And Smith, who has interviewed more than 3,000 youth during the course of his study, sees similar promise.
"What we have found is that the more religious kids are more socially active and involved in different groups and volunteer more and give more money and so on. So there's a correlation between being more religious and being more socially engaged," he said.
Assistant editors: Jeff Hou, 15; Jake Thornburgh, 16.