---

by Barbara Cervone
PROVIDENCE, RI­—Just a week before the Super Bowl, almost a hundred high school students pack two rooms at the downtown campus of Community College of Rhode Island (CCRI). On this last Sunday in January, as they huddle around computer monitors, they are hoping to score their own touchdown: paying for college.
These students have come here to navigate the most complicated maneuver that many have yet faced on the path to college: filling out the "Free Application for Student Financial Aid," otherwise known as FASFA. Many arrive with a parent or guardian in tow. All are apprehensive, students and families alike. On every screen the online form is waiting, and everyone knows it could determine their future.
"I'm okay on the prep—you know, keeping my grades up, taking the right classes, researching the colleges," says Khent, a Providence high school senior. "But without financial aid, I'm going nowhere. They tell me, 'You gotta complete the FAFSA!' Then they roll their eyes. That's why I'm here."
"I've been thinking about college since sixth grade," says Jane, with her Cambodian mother proudly smiling at her side. "This is the last step."
Required each year of every applicant to higher education who wants to be considered for financial aid, filling out the FASFA challenges even the most savvy. For families without a college-going tradition—or with complicated financial circumstances—the FAFSA can be daunting, despite the federal government's efforts to simplify the form.
For two decades, the nationwide program College Goal Sunday (CGS) has been helping students like Khent and Jane wend their way through the online version of FAFSA. Starting on January 1 each year, the federal government makes the form available and worries start piling up for baffled applicants.
Here at CCRI, one of six College Goal Sunday sites across Rhode Island, winter jackets may remain zipped, but questions fly.
"What's a PIN?"
"I live with my aunt. Do I use her income in filling out the form?"
"My parents are divorced. Whose information do I need?"
"What's an automatic signature?"
"My father lost his job, so our family income this year is real different. Where do I explain this?"
"I help support my family. Am I still a 'dependent?'"
Doing the calculations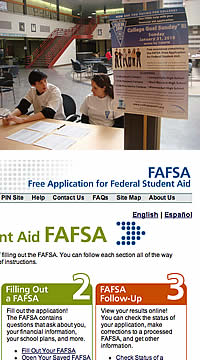 This is Rhode Island's third College Goal Sunday and the biggest so far. The Rhode Island Association of Financial Aid Administrators and Lumina Foundation for Education are the sponsors. Noel Simpson and Wynette Richardson, state coordinators for CGS in Rhode Island, have planned hard for the day, recruiting and training 94 volunteers, coordinating with three state agencies, and orchestrating the logistics at each of the six sites. "There are so many angles to this story," says Simpson. "But one thing is clear: the need."
Research shows that families often cite high cost as the biggest barrier to college attendance, even though tens of millions of dollars in various forms of financial aid are available. For low-income families with no experience in education beyond high school, paying for college can be a deal-breaker. "These students and their families need two things," says Simpson. "First, more information through a variety of channels about the availability of financial aid. Second, expert assistance in filling out the paperwork required to qualify for that aid."
The FAFSA paperwork, now routinely completed online, consists of numerous questions regarding the student's finances, as well as those of his or her family (in the case of "dependent" students). The answers—about household size, income, number of students from the household in college, and assets—are entered into a formula that determines the Expected Family Contribution (EFC). FAFSA assumes that parents will contribute to their child's education, whether that is true or not.
Students then receive a Student Aid Report (SAR), which is a summary of their responses. The same report is sent to state agencies that award state need-based aid. The colleges or universities the student selected on the FAFSA can also download the student's report, for use in their own financial aid decisions.
Since so much financial aid is awarded on a first-come, first-served basis, College Goal Sunday staff and volunteers push local guidance counselors and news media to promote these once-a-year January workshops, timed to help students get a head start. "Too often, students miss out on financial aid opportunities because they're way late with their FAFSA," says Allison Hand, who works with Simpson. And with a national student-to-guidance counselor of 488:1 (The National Center for Educational Statistics), few high schools are equipped to give students a hand.
Giving back
"How do I save what I've entered on the computer and go back to it later?"
"How do I estimate my family's income tax for the coming year?"


Wearing yellow tee shirts emblazoned with "College Goal Sunday," the 32 volunteers shepherding students and families at CCRI bounce from question to question, from one computer screen to the next. Many are from the Brown University chapter of the National College Advising Corps (NCAC), a nationwide consortium of colleges and universities that aims to increase the number of low-income, first-generation, and underrepresented students entering and completing higher education. Corps members, who work alongside undergraduate volunteers, are recent college graduates—often themselves the first in their family to go to college. They work as college advisers in low-income high schools and community colleges.
For these NCAC undergraduates and recent graduates, helping younger students and their parents or guardians negotiate the intricacies of FAFSA is as rewarding as it is demanding.
Marie Ripa, a Brown University sophomore, tells of one father and son she befriended at College Goal Sunday who were struggling with entering the required tax information. "They were a family who was on top of every piece of information they needed for the FAFSA," Ripa says. "But my reassurances that they could enter their 2008 tax information and later update it with their 2009 information were hard for them to process. I was able to stay with them until the last button needed to be pressed."
Ashley Greene (Brown '09) recalls two students who had come for help together, but without a parent and guardian. They stick in her mind because they were missing work to attend CGS. They mirrored many of the students she advises, where students and parents alike work many hours to sustain the household. Attending an event like this involves financial sacrifice. "Yet these are the families," Greene points out, "for whom it is essential that they complete and submit these forms on time to get the best possible financial aid package."
For many NCAC volunteers, the chance to give back adds extra fuel. Miranda O'Hayer (University of Rhode Island '07) says that as a college student, she was keenly aware of the financial help she received. She had earned a small scholarship from the College Crusade of Rhode Island, as well as getting a merit scholarship, a Pell grant, and subsidized loans. This steady support, she notes, was critical in helping her "stay focused and finish my studies."
"I was in a college awareness program in high school," says Marie Ripa, "and when I saw I could participate in a similar program at Brown, I jumped on the chance. I had always wanted to be on the other side of the college process, giving help like the wonderful help I had received."
Staying positive
By the time the last question had been answered and the last student had pressed "Save," 150 students and their families had come and gone from CCRI, yards closer to their finish line of assembling the information they need to win financial aid.
Outside, two students from one of Providence's small new high schools compare notes.
"My goal was to do as much as I could here," says Paris-Kyle, "and then complete the rest with my mother. I've applied to colleges in Massachusetts, one in Connecticut, and a lot in Rhode Island. I plan to study elementary education."
"My sister went to cosmetology school and my mom took a course at MTTI [Motoring Technical Training Institute]. That's about it," says Stefany. "I'm hoping to join the Coast Guard and go to the Academy, but if that doesn't work out, I want to try the Air Force, and if that doesn't work out, I want to go to college for athletic training. Financial aid is so important to my dreams. It's only me and my mom. My job doesn't pay much and hers, she's always working."
Paris-Kyle advises Stefany to be confident: "Everyone wants to go to college and it costs so much. But that's not a reason to be afraid of the price. Do your financial homework and stay positive."
Since 2000, Lumina Foundation for Education has been a major funder of College Goal Sunday. In April 2009, YMCA of the USA officially assumed management responsibility for College Goal Sunday.