---
by Barbara Cervone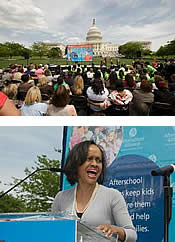 WASHINGTON, DC— Under a warm April sun on the West Lawn of the White House, 600 parents, students, educators, and youth advocates from Vermont to Texas took their seats. They had gathered with one goal in mind: to rally against proposed cuts to federal funding that would shrink afterschool options for youth nationwide.
Whether they spoke out as legislators or from more ordinary perspectives, all knew the power of afterschool programs to change young lives.
"Our children are being flat lined and that is wrong," declared Senator Barbara Boxer (D-CA). "Learning doesn't end magically at three p.m. Afterschool is an investment that pays endless dividends."
"It is education that makes opportunity real for kids," said Connecticut Representative Rosa DeLauro, a member of the House Appropriations Committee. "And nowhere is this more true than with afterschool programs. Let's not take funding from what we know works."
"Let me be real clear," proclaimed Judge Glenda Hatchett, star of the Emmy-nominated television show Judge Hatchett. "I don't have to read about it. I don't have to theorize about it. I k-n-o-w. As a result of the work in the trenches, day in and day out, that you are responsible for, there are children who will never get to judges like me--because they are in afterschool programs."
The teenage speakers, however, brought the audience to their feet.
Ebony Moore, a high school junior from Birmingham, Alabama, testified about her city's YMCA Youth and Government program. There she writes and debates bills and goes to the state's Supreme Courthouse to take part in mock trials. "It's made me feel that I can be successful at whatever I do," Ebony told the crowd.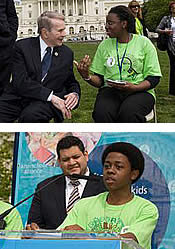 David Johnson, a leader in an Indianapolis afterschool program called Net Literacy, described accomplishments far beyond his age. At 15, he has already repurposed computers for use in low-income schools, created a financial literacy website that also netted $100,000 in additional grant funds, helped senior citizens gain computer skills, and served as a electronics technician for his church and a library assistant at school. "We thank you for believing in and empowering America's youth," he said.
Judge Hatchett grabbed the microphone in response. "Everybody ought to be up on their feet, everyone ought to be cheering," she shouted. "This is what good news looks like!"
The funding conundrum
Two powerful national organizations, the Afterschool Alliance and the National Afterschool Association, orchestrated the afternoon rally and that morning's meetings with individual members of Congress. Established in 2000, the Afterschool Alliance began as a public awareness campaign and has grown into an unprecedented public-private partnership between the U.S. Department of Education and 25,000 local afterschool partners.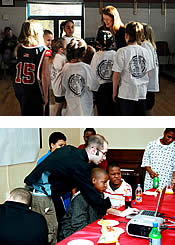 The evidence supporting the need for afterschool programs continues to mount. More than 15 million school-age children (26 percent) are on their own after school. Just 8.4 million children are in afterschool programs—but the parents of another 18.5 million children say their children would participate in afterschool if a program were available. More than 70 studies show afterschool programs provide multiple benefits for youth: improved attendance and engagement in learning, improved test scores, improved social and physical health, with the greatest gains among youth most at risk.
Public support is broad-based. Surveys suggest that nine in ten Americans want all children and teens to have some type of organized activity or safe place to go after school. Three out of four (76 percent) agree that members of Congress and state and local elected officials should increase funding for afterschool programs. People respond to the finding that three to six p.m. are peak hours for juvenile crime and experimentation with drugs, alcohol, cigarettes, and sex.
Yet the federal government currently contributes only 11 percent of the cost of afterschool and is poised to spend even less. As part of the re-authorization of the Elementary and Secondary Education Act (ESEA), the Obama Administration is proposing making non-afterschool programs eligible for the already limited dollars available through an initiative called 21st Century Community Learning Centers (21st CCLC), the principal federal funding stream for afterschool.
While afterschool advocates welcome scrutiny about program effectiveness, they sense danger—a zero-sum game in which they stand to lose.
"That is why advocates are speaking up and speaking out to ensure that every child who needs afterschool has access to the programs that keep kids safe, inspire them to learn and help working families," said Afterschool Alliance Executive Director Jodi Grant.
Personal stories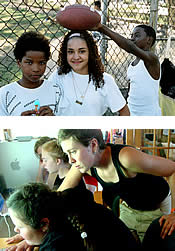 For young people who count on local afterschool programs, the pleasures and gains can be immense. Jasper, a rising senior in Milledgeville, Georgia, belongs to High Achievers, where by his account he learns "communications, patience, how to be a follower before you are a leader." What he likes most is the summer camp that he and other High Achievers run for local elementary kids. "I didn't get a chance to go to summer camp when I was a kid, and to see that I can make these children happy brings me joy," he said. "It's not there to be there, it really has an impact."
Seventeen-year-old Paloma from Houston, Texas credits her afterschool program for taking her to new places. "I live in the ghetto," she says. "My afterschool program has given me the opportunity to see a new world, not just going home, doing chores, taking care of kids, helping my mom. It allows me to be creative, to explore, to imagine something different for myself."
During their lobbying visit to New Hampshire Senator Gregg Judd's office, an aide quizzed tenth graders Annie and Lynn about their afterschool program in Franklin, New Hampshire. The girls described the community service they carried out and, as an example, told the story of two families who had lost their house and all of their belongings in a fire. "We raised money, we convinced a furniture store to donate thousands of dollars of furniture," explained Lynn. "We not only helped put these families back on our feet, we showed our community what generosity and action can do in a town where everybody needs everybody."
Across the country, afterschool programs provide a cornucopia of activities for youth of all ages, skin color, and backgrounds. Kids go there for sports, music, art, homework help, community service, media training, debate, leadership development, academic enrichment, tutoring, performance, cooking, cheerleading, chess, computer literacy, positive relationships with adult role models, and so much more "If it weren't for afterschool, there'd be nothing" said Milia, 15. "Just plain old school."
Uneasy questions
Why is federal funding for afterschool programs so limited? Why may it become more limited still?
"I really don't understand why kids—that is, education and afterschool programs—are under-funded when we're spending on a war that's very costly," said Ebony, 17, who studies government in her Alabama afterschool program. "If only the lawmakers and politicians knew what their decisions were actually doing to kids around the nation, how we're suffering."
"Their ear is not to the ground as it should be," she concluded.
Like many other youth, Ebony questions why government would limit the ability of afterschool programs to provide help to young people at critical junctures. "Teens in this country are left unattended," she noted. "We need mentors who can possibly set us up for life. We're growing, but we're not grown yet."
SEE ALSO:
Strengthening Afterschool for Older Youth through Policy and Practice: A Policy Brief (American Youth Policy Forum, June 2007)
Afterschool: Providing Multiple Benefits to Middle School Students (MetLife Foundation, June 2010)
Afterschool: A Place for Older Youth to Mentor and Be Mentored (MetLife Foundation, June 2009)