---

Editor's note: In 2006, WKCD writer Abe Louise Young, a New Orleans native, introduced us to the amazing, moving work of the Neighborhood Story Project and the books six African-American teenagers had written about their city, just weeks before Hurricane Katrina hit. Recently, Young returned to New Orleans to speak with a new group of young writers.
by Abe Louise Young
NEW ORLEANS, LA—Every person in America should read the four newest books from the Neighborhood Story Project, autobiographies by five teenagers in post-Katrina New Orleans. Their authors are heroes. Heroes of writing, because they've made books no one else on Earth could have made. And heroes of living, because the ways they survive poverty and violence are wildly creative and fresh; the love they show for their kin and communities literally leaps off the page.
Told in a rich collage of first-person essay, interviews, ethnography, and photos, each of the four books "documents the now" in unique ways. Their intimate stories reveal the resources their authors use to meet sometimes brutal challenges, and paint a lively portrait of a New Orleans that is still inventing new forms of culture, music, design, and dance.
In Beyond the Bricks, Daron Crawford and Pernell Russell document growing up in New Orleans' large housing projects—as those projects are fenced off and torn down. From recording rap music in a handmade closet studio and selling CD's by hand, to designing and sporting identical fashions, Crawford and Russell tell how they gain respect and make names for themselves in school, on the streets, in clubs, and in their large families.
In From My Mother's House of Beauty, Susan Stephanie Henry charts her course as her mother's daughter. Growing in the beauty salon her mother ran out of the family home, Susan learned to make an art form of style. Her experiences as a Caribbean girl of African descent who came from Honduras to New Orleans brings an international perspective to Susan's story.
In Aunt Alice vs. Bob Marley: My Education in New Orleans, Kareem Kennedy describes his quest to get educated, grow up, and find his way in a world that's thrown him many losses. He describes intimately what it was like to be raised without a father present, and with his mother often unavailable, and how—grateful for each person who showed him care— he found his way without a map.
In Signed, the President, Kenneth Phillips talks to a wide variety of relatives about their life choices, and memories from living in the St. Bernard Public Housing Development. He probes the meaning of being a black man, his personal take on gender fluidity, and the confident freedom with which he experiences his own identities.
* * *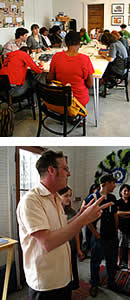 The Neighborhood Story Project is a tiny nonprofit located a few blocks from John McDonogh Senior High School in the Mid-City neighborhood. Inside a wide-open space, the writers gather around a table several times a week after school. They can earn high school and early college credit in Journalism and Creative Writing for the last class period, and spend many hours working into the evening over pizza and soft drinks. There's a big table, shelves of books, and a soundproof interviewing booth.
At John McDonogh Senior High, a huge, crumbling brick building that takes up an entire city block, 99 percent of its almost 1100 students are African-American, and almost eighty percent receive free lunch. In New Orleans, "John McDonogh" schools are named for the man who donated half of his fortune for public education in the city—but was also a major slaveholder. With racial Catch-22s still infusing much of the city's institutions, liberation and social change impulses are built into the work of NSP.
The writers read House on Mango Street by Sandra Cisneros; Life and Death on the South Side of Chicago by LeAlan Jones and Lloyd Newman; The Time Before Crack by Jamel Shibazz, and the Collected Poems of Langston Hughes, among others. They discuss personal and civic issues, hear from local authors, do writers' workshops, and learn documentary skills. All along, they learn the process of writing, compiling, editing, publishing, and promoting their books. After publication, as full-fledged literary mentors, they participate in panel discussions, readings, and literary festivals.
Co-Director Abram Himelstein describes his job as "heart and soul work: part teacher, part counselor, part friend." The project leases an old corner store with creaky walls and wooden clapboards, and emblazoned on the blue wooden shutters, their motto stands out in yellow paint: "Our Stories, Told By Us."
* * *

Kareem Kennedy graduated from McDonogh High and attends a local community college, but keeps coming back to hang out at the big table where the books get written. I ask Kareem if he feels like the same person after making his book. He ponders the question.
"I feel like I'm the same person, that grew. Like a snowball that grew," he says. "I used to write stories that didn't matter, that didn't count, and then…"
Abram finishes his sentence: "And then you started writing stories that did."
Kareem, Susan, Daron, Pernell, and Kenneth kept ear to microphone, and eye to aperture, and pen to paper. As their lives changed—loved ones lost and found, neighborhoods convulsed by violence and unified in celebration—they documented. They did write stories that matter, and I'm hungry for the chapters that will follow.
* * *
In 2006, WKCD featured a story about the first five teen-written books from the Neighborhood Story Project. Read more about them here.
Read about the tremendous improvements in John McDonogh Senior High's graduation rates in post-Katrina New Orleans here.
Read a New Orleans news story about how John McDonogh Senior High students feel the school climate has changed after episodes of fatal gun violence here.
Read a guide for teachers on the La. Civil Rights movement:
A House Divided: Teaching Guide on the History of Civil Rights in Louisiana