---
INDIANAPOLIS—At 14, Jonathan Gainer already has a few major notches on his journalist's belt.
As an editor for Y-Press, an Indianapolis-based youth news bureau, he has interviewed a former U.S. president and traveled to West Africa to talk with young people about democracy and poverty. When former Vice President Al Gore comes to Indianapolis for a speech in a few months, Gainer aims to interview him, too.
Gainer is one of some 120 young journalists from metropolitan Indianapolis who show up for work at the Y-Press offices, housed at The Indianapolis Star, the state's largest newspaper. Reporting with a youth angle on subjects of their own choosing, they see their work published in The Star every two weeks, as well as online and in other media outlets.
Most Y-Press reporters begin before they enter their teenage years, and can continue right through high school. Through age 13, they serve as reporters; from 14 to 18 they step up to editorial duties. Three young managing editors serve on a six-month rotation.
Angles others might not see
"Because today's world is even more complicated than the one of past generations, tomorrow's leaders will need those skills and then some. Y-Press engages youth in honest, professional real work—at the same time that it hones their communication, leadership and teamwork skills.

"It exposes kids to other youth who may be very different from them, gives kids access to our country's leaders, and even takes them to other continents. Y-Press is a catalyst for developing the community's greatest asset—its young people." — Lynn Sygiel, bureau director
Y-Press began as part of the national youth news organization Children's Express. The Indianapolis news bureau was founded in 1990, and in 1999 it became an independent news bureau.
Members of Y-Press have written stories on hundreds of topics, from the changing culture of Latino youth, to the experience of having an autistic sibling. They have interviewed Israeli teenagers about military conscription, and Hmong girls, living in Minnesota who were fighting for their father's U.S. citizenship.
Gainer and two fellow Y-Press reporters landed the interview with former President George H. W. Bush. "You're a 12- or 13-year-old kid," remembers Gainer in wonder, "and you're making calls to the ex-president."
They prepared for the meeting with Bush for several months. In the interview, Gainer says, they asked challenging questions about the government's response in the aftermath of Hurricane Katrina and its relationship to young people.
For another story, Gainer traveled with five Y-Press colleagues to the West African country of Benin. Returning with 72 hours of taped interviews, they were determined to bring alive the poverty and the resilience of the youth they met there.
From idea to byline
Y-Pressers propose stories at a monthly meeting, called Storyboard. Typically, seven or eight article ideas come up for consideration.
"We either pass them, fail them, or send them back for more research," says Christine Beyer, who just finished a half-year stint as a Y-Press managing editor. Ideas are normally only rejected, she says, if Y-Press has covered them in the past or if they don't have a youth angle.
"Do you have contacts for this story?" Beyer asks her younger colleagues. "Who would you want to interview for this story?" If no good candidates come to mind, Y-Press has years of story logs and active leads that can help out apprentice reporters.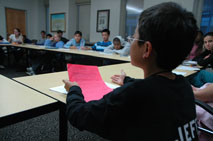 Once a story passes Storyboard, kids who are interested in it form a team including both reporters and editors. (Unlike most news bureaus, Y-Press does not assign stories.) The team will research background facts, investigate possible angles, and conduct the necessary interviews. Reporters do much of the legwork; editors write the piece.
At a briefing with reporters and editors, the team presents its interview questions for critique. One by one, the more experienced Y-Press editors prod younger reporters to reframe questions so as to get the best story they can.
"They don't want reporters to ask questions like, 'What is your favorite color?'" says former managing editor Beyer. "They know that won't produce good quotes for the story."
Equipped with good questions and a tape recorder, the team then heads out on interviews. Reporters do most of the asking, but editors add an occasional follow-up question. They are training reporters what to do when someone responds to a question with a blank look or a slippery dodge. On the spot, the younger staff learns to rephrase and probe deeper.
Once they have transcribed their interviews and chosen the best quotes, Y-Press editors create a first draft of their article. They meet with Y-Press's writing coach or bureau director to talk through the piece.
"Sometimes they'll suggest a change that you don't like," says Beyer. "If you think your way is better, you explain your views, and they'll say, 'Okay, it's your story.'" Once the piece is finished, Y-Press managing editors schedule the story for publication in the half page reserved biweekly for Y-Press in The Indianapolis Star.
"That's the hardest part for me—getting the right lead, the one that will catch your readers' attention…"
"Autism becomes a part of daily life in families"…"Abusing drugs for A's"…"Censorship in schools"
Learning the trade, and more
Researching a topic, asking good questions, finding a snappy lead, and writing efficient prose are among the main skills that get Y-Pressers into print. For some, it's a natural fit.
"I've always liked to tell stories, I've always liked to write, and I've always been interested in world events," says editor Keisha Mitchell, 18. "Whatever the field, I was going to be the kind of person who talked about things that needed talking about." Next year Mitchell will pursue a degree in journalism at Clark University.
Izaak Hayes, who joined Y-Press at age 11 and is now 16, has 29 bylines to his credit. "I want to tell the stories you wouldn't hear otherwise," Hayes says with undiminished eagerness.
For others, Y-Press requires a stretch. Jonathan Gainer, who interviewed former President Bush just months after he joined Y-Press, says it was parental pressure that made him sign up. "I was skeptical, but I went," he says.
Passionate or hesitant, youth who join Y-Press say they learn something new at every step.
Often they finish a story with new insight. Robin Wetherill, 17, who took the lead on a recent story about Adderall abuse among local high school students, says that story up-ended the stereotype of "kids on drugs."
"We have an image in our mind," she says, of "some kid who doesn't care about school, who's not responsible, who hangs out with the wrong crowd." Instead, she found high school students who "are so afraid of not doing well in their classes that they would illegally take someone else's prescription medication."
Y-Press reporters learn about opposition. At the 2004 Republican National Convention, a Y-Press crew quizzed former House Speaker Dennis Hastert, R-Ill., about the federal No Child Left Behind act. The Senator rejected out of hand the students' suggestion that the law had negative impacts that tempered its benefits.
Y-Pressers also say they appreciate the value of teamwork. "You learn that your way is not always right," notes Christine Beyer. "People may have amazing angles to a story that you would never have thought of."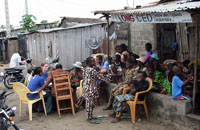 These journalists in training learn about the world. Each year, Y-Pressers vote on an international story to cover, relating to youth issues. As well as the recent one in Benin, Africa, they have gone after such articles in Kuwait, Cuba, Bangladesh, Northern Ireland, Puerto Rico, Russia, Hong Kong, and Brazil and refugees in U.S. and Canada.
As students move stories from start to finish, they gain a growing sense of their power as members of the media. Older Y-Press members teach younger ones the tricks of the trade. Y-Pressers sit on the organization's board of directors. They also participate in the creation of artwork, radio pieces, and Web design.
"From top to bottom, it's really youth taking full charge," high school senior Keisha Mitchell concludes. "So much of the time as a young person, you are being dictated to: 'You can't do this, you can't do that.'… So it's really important for youth at Y-Press—or any organization—to feel they have a voice, that they have control over things that are important to them."
Mitchell also credits The Indianapolis Star for taking their work seriously. "They respect us as real writers, real journalists. It's never condescending, like, 'Oh look at those kids, aren't they cute.' It's great, it really is a blessing."