---
By Joanna Klonsky
"Because you are a child of immigrants. Because you've been told to go back home. Because America is your home. Because you know it's about more than folkdances and food. Because you are more than just a member of an Asian Club. Because you're not sure which box to check. Because being Asian American is not solely kung fu, Chinese takeout, and dry cleaners. Because you've been called a dothead, chink, jap, mutand terrorist. Because you are not a stereotype. Because it's not in the textbooks. Because you want to know about your history. Because it isn't always about a war-torn, ravaged land. Because you are an artist. Because you do not want their sympathy. Because you are a writer."– YAWP!
CHICAGO, IL—You might hear the YAWPers before you see them in the back room of Chicago's Japanese American Citizens League on a summer Saturday afternoon. At the end of every meeting of Young Asians with Power (YAWP!), a writing workshop for Asian American youth, the participants stand in a circle, and in unison, they holler as loud and as long as they can:
"YAAAWWWWPPPPP!!!!"
The yell is both a battle cry and an exercise in silliness. YAWP! alumna Helene Achanzar, 20, explains, "It's supposed to be cathartic." According to Achanzar, a Filipina American sophomore at the University of Iowa, the closing yell "is in a way a sign of power, also. Asian Americans in the media and elsewhere have been really underrepresented and to sound your voice that way is just a really powerful act."
A conscious, creative community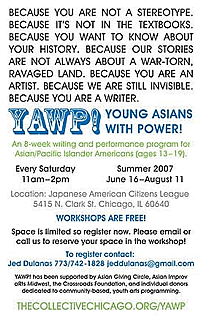 Achanzar's point reflects a larger theme in the ideas behind YAWP! Chicago-area Asian American poets Anida Yoeu Ali, Marlon Esguerra, and Vanessa De Guia founded the creative writing group in 2002 "to address the need for a conscious, multi-disciplinary, for-youth-by-youth arts program for Asian/Pacific Islander American (APIA) teens in the Chicagoland area," says its website. Each Saturday, the group of teens meets, writes extensively, and discusses their society and politics. In its mission statement, YAWP! emphasizes a commitment to a hate-free, anti-racist, anti-sexist, anti-homophobic existence. The participants are serious about exploring issues related to identity politics.

Somewhere in there, though, the group still finds ways to avoid taking itself too seriously. In addition to their notable self-awareness and creative energy, the YAWPers are funny. They've got jokes. They scream "YAAAAWWWWP!" They guffaw. They have "silent dance party" fundraisers where people pay to dance together to the music in their own individual headphones.
But the youth who have been around YAWP! for a while know how to articulate just what an important affect that sense of community has had on them. "For me personally," says Achanzar, "YAWP! has been a place for artistic growth and also a place for support and nurturing. Starting off as a youth in YAWP!, I mean, it's really cliché but it was kind of like a home. Because you had people who were of similar experience that did similar art."
The formation of a community based on those similar experiences and a shared interest in writing has proven crucial for many YAWP! participants. YAWP! "gives us a space to be who we are," says 20-year-old Johnny Yoeun, a second-generation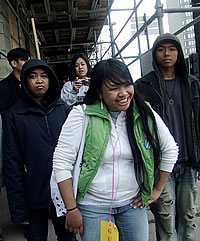 Cambodian American. "Growing up in America can be hard. You don't really know to be American or Asian. The space really helps you identify that. It's not about choosing either/or, it's just about being yourself. YAWP! has really helped me get that down."
Achanzar, who joined YAWP! in 2004 during her junior year at Chicago's Whitney Young High School, also stresses the importance of having something of a ready-made Asian American peer group. "The camaraderie at the time was really a new thing to me, because before YAWP!, I had never spent a good amount of social time with Asian American youth," she says. "In high school, I was not in the school Asian club. And talking about things like stereotypes and oppression and representation and different aspects of identity outside of being Asian American really gave me a better understanding of my own internalized racism and fear of Asian Americans, especially young Asian Americans."
Fourteen-year-old Kevin Dau will already have been introduced to this peer group and this sort of dialogue as he starts high school at Lane Tech in Chicago this fall. "The cultural norms are kind of the same, so we relate our experiences," says Dau, a YAWP! rookie. Achanzar agrees. "Primarily, it serves as an outlet for people to not have to explain certain things. There's a real beauty in developing one's identity with folks of similar identities," she says.
"Intersection of art and activism"
In a city brimming with creative-writing workshops and classes, YAWP!'s distinct focus on identity politics makes the artistic process innately political. "Even if we're writing about experiences at home or in the neighborhood or hate crimes, some things are blatantly political and some things, because they are personal narratives, are inherently political," says Achanzar. "What I like about YAWP! is that it works at the intersection of art and activism."
As for the writing itself, a team of YAWP! facilitators has developed an extensive writing curriculum. It does not force a political agenda on the youth, says Achanzar, but the themes tend to deal with issues of societal importance, from home and neighborhood, to violence, hate crimes, identity and stereotypes.
The specific writing interests of the youth also vary. Some are more focused on the spoken word. "I love to rap," says Yoeun, "so I'd been writing rap pieces and poems before I even joined YAWP! But through YAWP!, I was able to improve, due to the fact that I was able to express myself more freely." Dau appreciates the chance to just write. "I didn't have much opportunity do writing or workshops" before joining YAWP!, he said.
Blossoming into leaders and organizers
"It can be harsh growing up in America not knowing who you are," says Yoeun. "YAWP! really focuses on building young leaders. To be a good leader, you really need to first identify yourself."
Indeed, YAWP! participants tend to become activists and organizers within and beyond the Asian American community. "Seeing folks doing real hardcore community work—working within prison systems, organizing APIA conferences—that stuff is so awesome to me," says Achanzar. "To be like, 'these are my peers and these are folks with whom I've shared a very sacred space and they're doing amazing work'—it's a really good feeling."