---
Last spring, students in Julie Kasper's ESL classes at Catalina Magnet High School in Tucson, Arizona—all refugees and immigrants—received an unusual assignment. They were asked to explore the concept of "Home," through photography and writing. Coached by professional photographer Josh Schachter, the students captured daily life in their new neighborhoods—a boy sitting alone outside his house, a Sudanese family eating dinner, a neighbor sleeping after a hard day's work, a young girl hanging upside down at the playground.
With Kasper, the students wrote essays or poems to accompany their photos, comparing their lives in Tucson to those in their home countries. More often than not, they spoke about the isolation and loneliness they felt in their new neighborhoods: "The lonely neighborhood, the place / With barren streets, with bored kids / And the sadness inside our veins. / The yelling of a manager, the crying of a kid / Which always is afraid of losing his grin." (Daninza Bautista, age 17)
At the end of the school year, the students' work was exhibited at the City of Tucson's Ward Six office. A book of the students' photos and writing will debut this April. In June, the exhibit—and some of the students—may travel to the Senate in Washington DC. Meanwhile, a new group of ESL students at Catalina Magnet High School has spent the year documenting, through images and text, their lives across two worlds.
| | |
| --- | --- |
| | |
| Photo by Daninza Bautista | Photo by Joseph Thal |
Introduction by ESL teacher Julie Kasper to the public exhibit of "Home" at Tucson's Ward Six office:
"Young people who have moved to a new country for political, social, or economic reasons come with a unique awareness and sensitivity to place. The refugee and immigrant youth of Catalina Magnet High School see and feel Tucson in ways which only they can, given their past lives and their future dreams.
Read WKCD interviews with Julie Kasper and Josh Schachter about how they helped their ESL students master creative skills and produce exemplary work.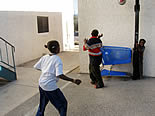 "Another difference between my new neighborhood and my old neighborhood in Somalia was we didn't have basketball courts. In the U.S., we have basketball courts, but where I live it doesn't have one because the kids are not good. If the basketball court was there, they would break all the windows of the apartments. So, the kids use the carts from Fry's as a basketball court in order to play basketball." –Mohamed Iman, 19.
"This semester I decided to have the refugee and immigrant students in my three ESL (English as a Second Language) classes explore their unique experiences in Tucson through words and images. Josh Schachter, the guest photographer on this project, and I worked with forty-six students from Afghanistan, Ghana, Honduras, Ivory Coast, Liberia, Mexico, Republic of the Marshall Islands, Sierra Leone, Somalia, and Sudan to develop their writing skills, their understanding of the language of photography, and their ability to critically analyze their own and each other's images and words.
"The power and synergy of writing and photography were critical to the success of this project. There is much talk about the arts in our schools, and unfortunately they are often sacrificed for what is referred to as "back to basics." This is tragic given that most language development comes through the process of finding an authentic connection and purpose for learning, of finding a way to read, write, and speak about what matters to you. For many students, taking photographs of their lives helped them to explore and determine what matters most to them. For others, photography provided a motivation to revise and develop their writing so that it more accurately reflected the reality they had captured photographically.

"The process of working collaboratively on this project has been one full of learning, on many levels. Josh and I were given an opportunity to question our own positions and roles as Tucson residents and educators in working with refugee and immigrant youth. The youth challenged our assumptions and ways of seeing and interpreting Tucson and the world. We learned about the countries and cultures the students came from, as well as their dreams and aspirations. The students were very generous in welcoming us into their worlds and through this process we began to understand their challenges and triumphs as well as what work yet needs to be done to meet the needs of our wonderful multilingual and multicultural Tucson youth.
"We welcome you to become involved by viewing this exhibit on a personal level. Consider your role in the community and your interactions with our youth. Connect with the stories and let empathy guide your words and actions after viewing this exhibit. Share what you find and learn with others and invite them to experience these powerful youth stories. Let this be a step in coming together as a true Tucson community, a plea that resonates through many of the images and words on display."

Click here for a downloadable PDF of all of the students' photos and writing. (7.7 MB)
Click here for a downloadable PDF of high resolution versions of some of the students' most striking photos. (9.6 MB)
Click here for a media clip about the project, produced by Arizona Public Media.