---

by Barbara Cervone
SEATTLE, WA—On a grey April morning, more than 75 eleventh graders fill the library at Seattle's Ingraham High School, defying its rule of quiet with animated conversations. They huddle in small groups, led by undergraduates from the nearby University of Washington ("U-Dub''), who are here on their weekly visit to help Ingraham students prepare for college.
The UW-Seattle undergraduates, sporting purple "Dream Team" T-shirts, have given every student a workbook that traces the college application process from spring of the junior year to high school graduation. Today these juniors—many the first in their family to dream of college—are taking stock of where they stand.
At one table, students create their own course transcripts, subject by subject, from ninth grade on. "It's critical that in your senior year, you take the courses and earn the credits you need for college. You need to own your transcript," their UW mentor tells them. "This is your last chance to get it right, to look at what you've done and figure out where you need to be a year from now."
"How do I indicate that I've taken advanced math classes beyond the regular sequence?" a student asks. She gets her answer: "Note that they've been IB classes."
"Do I still need to take math as a senior?" the student persists. Back at her: "Absolutely, unless it makes you ill."
At another table, a UW mentor pushes students to think about their out-of-school activities. "Colleges are looking for commitment and continuity, as much or more than quantity," she explains. "What are your summer plans?"

"I'm volunteering at a senior center," a male student quickly answers. "It's my second summer there." "Perfect," his college mentor says.
Several students wonder out loud how much community service "counts." One student confesses she has only done a few hours. "You gotta step it up!" the other students tell her. Another gets high-fives: she has completed more than 100 hours of service. "Be sure to write down that number on your application," her UW mentor advises. "Don't get me wrong—community service is important in its own right. But it's also one of the things colleges look for."
At a corner table, a mentor quizzes students about foreign languages they may speak at home. One girl says that she is fluent in Vietnamese. Her mentor's advice: take the Vietnamese test and fulfill your foreign language requirement. "I can really do that?!" the girl says, astonished. "I thought I had to take two years of French." A boy who has said nothing up until now says he speaks Cantonese at home. But because he doesn't read and write the language, his adviser tells him that testing out is not a possibility.
Even when the bell rings, the conversations continue. "We have to stop," the UW undergraduates tell their mentees. "Good work." And the library hush descends as the students part ways.
The Dream Project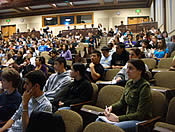 A full-fledged course in the University of Washington's academic schedule, the Dream Project lives up to its name.
Started by UW students in 2005, it pairs undergraduates—freshmen through seniors—with first-generation and low-income Seattle students who are aiming for college. The UW students meet weekly with their high school mentees (called "Dream Scholars"), teaching them how to tame every blank in a college application and giving them hard-earned lessons on perseverance. Back at UW, the college students engage in weekly reading, lectures, and discussions about educational opportunity and social mobility. They carry these ideas and theories to their work with high school mentees, as well as into their own experiences.
Undergraduates who join the Dream Project are often first-generation students themselves. They acutely feel the challenges faced by high school students who cannot rely on their families (or strapped counselors) for college guidance. Some were Dream Scholars in high school themselves, and join the project to become mentors to those who follow.
"I'd been a Scholar my junior and senior year in high school, and I gained a world of help," said Nancy Tran, who has taken the Dream Project course for six quarters at UW. (Students may take the course repeatedly.) "It's given me a chance to return to my high school and give back every bit of what I received as a Scholar."
Tran is one of a team of experienced, passionate Dream Project participants who are selected each year to lead and teach the next year's crop of undergraduates and to staff a variety of committees. Enrollment in the credit-bearing course has grown from 60 to 300, and in spring 2011, the Dream Project reaches more than 500 juniors and seniors in sixteen area high schools.
Building sturdy relationships
With mentoring at its core, the Dream Project draws its power from relationships, on campus and off. At no time are these relationships more fragile, though, than when mentors and mentees first meet. Five mentors who were Dream Scholars in high school shared their experiences in a short video meant to help orient new mentors.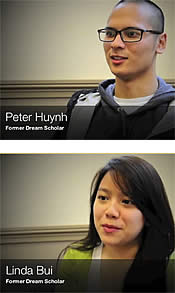 "The first time I met my mentor, it was really awkward," said Peter Huyhn, recalling his experience as a high school junior. "It seemed like he was really interested in getting to know me, and I was, like, 'This is weird.'"
"I was really nervous—I didn't know if he'd like me or not," Jeremy Perez said. UW freshmanLinda Bui recalled, "I remember thinking to myself, 'What's going to happen, how is this going to help me?'"
It didn't take long to turn discomfort into trust, these students said. "What made me trust him," Perez continued, "was when I saw how much he cared. He asked me about my home life, my school life, about my friends. He'd talk to me not as a person above me. We'd talk about feelings. He'd ask about mine and I'd ask about his. It was an exchange."
Students appreciated how the college advice that mentors offered grew from these personal friendships. "He incorporated checking up with me on the application process in a really subtle way," Huyhn observed. "He'd start by asking about my weekend and other things, then slowly bring the conversation around to the application instead of making it a 'to-do list' kind of thing."
The mentor of Rahul Mehan, another former Dream Scholar, helped him with other things than his college application, including applying for an internship at Microsoft. Once his college application was done, Rahul remembered, his mentor turned to helping with financial aid and estimating his expenses at UW: the cost of books, of living on or off campus, his food expenses, and where he'd eat. At the same time, he was giving Mahul a feel for college life—and beyond. "He wasn't just a mentor for college," said Rahul. "He was a mentor for my future."

Going the whole way

The Dream Project's "arm around" its high school scholars does not stop with personal relationships. Each spring, it brings junior mentees on campus for the day, where they take a tour, sit in on classes, and enjoy a barbecue. Twelfth graders come to UW in the fall for an Admissions Workshop Weekend, where they work on college applications and essays with help from campus writing tutors, project members, and UW admission counselors. In the winter, the project organizes a comparable scholarship workshop weekend; participants leave with the FAFSA completed and other scholarship applications well in hand.

Dream Project students also raise scholarship funds—dollar by dollar—for mentees who win admission to UW, confront financial hurdles, and show exceptional promise. Last year, twelve Dream Scholars received $1,000 each. (In the same year, the telecommunications giant Comcast awarded nine Seattle seniors one-time scholarship awards of $1,000.)
Every Scholar receives the program's participant workbook (at 80 pages in 2010 and updated annually). "This is the next best thing to the Bible," one Ingraham student gasped when she opened it. Breathtaking in its detail and clarity, the guide includes an exhaustive list of terms and definitions; worksheets for college entrance requirements; interactive flowcharts to see if a student has met core requirements; practice guides for the SAT and ACT; brainstorming activities for writing personal statements; and hard-to-find scholarship tips. Its advice lines up with the intricacies of the Washington State higher education system as well as with college applications nationwide.

Boosting college success, too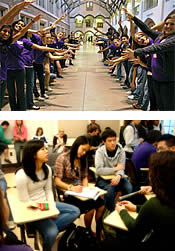 Both from course readings and firsthand, Dream Project's mentor students know that college admission does not mean college success. Low-income and first-generation students often experience an academic as well as a culture shock. Nationwide, nearly half of students who enroll in college do not finish; for low-income students, the completion rate drops to between 25 and 30 percent.

In keeping with research on what helps students persist, the Dream Project has forged a learning community—a "community in waiting," as one student put it—for UW students whose background puts them at a disadvantage academically, socially, or both. The students form study groups, mentor one another, and mix socially. On a huge campus of 27,500 undergraduates, these connections are another reason some UW students sign up for the Dream Project quarter after quarter."
Students also get advice they wouldn't find elsewhere. Before new course sign-ups each quarter, the project's faculty adviser points students towards classes with professors who earn high marks, and away from those who fall short.
"One of the keys to making your way in college is to pick courses with the best teachers rather than for their content alone," explains Stan Chernicoff, a UW faculty member. Students "in the know" routinely swap intelligence on faculty performance via informal networks. "Underrepresented students, some used to poor teaching as a fact of life, may not know what to look for or how to find it when it comes to teacher quality," says Chernicoff. "They don't realize how much their college success depends on this knowledge. We try to bridge that gap."

Scale up
To date, the Dream Project has assisted more than 1,000 low-income Seattle-area high school students, achieving an 84 percent college-going success rate among its members. That percentage increases to 92 percent for students who participate consistently in program activities. [See 2010 Project Update.]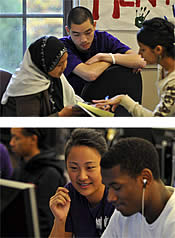 The Dream Project has also spread to other colleges and universities, including two other campuses of the University of Washington. Colorado State University has started its own Dream Project, and a dozen or so other colleges and universities across the country have plans underway. It is hard to imagine a more cost-effective program: the UW Seattle Dream Project budgeted only $50,000 in 2009–10, including $11,000 in scholarship awards.
A recent $972,000 grant from the Bill & Melinda Gates Foundation (the first major grant awarded to the UW Dream Project) will more than double the size of the program over the next three years. The program will expand its geographical reach beyond Seattle, to all seven school districts in the county. It will increase the overall number of high school student participants, reaching down into the ninth and tenth grades and, in some cases, working with 100 percent of a high school's juniors and seniors. The grant will enable the Dream Project to work effectively with approximately 3,000 high school students and 2,800 college student mentors over the next three years. And it will pay for a comprehensive, third party evaluation.
In its short history, the Dream Project has created a host of winners. For example, the chance to lead a class of 300 undergraduates has transformed Cassandra Berhe-Tyne, a UW junior who co-teaches the weekly lecture and shies away from public speaking. "I've been honored by it," she said.
"I'm not just learning about educational inequality," Luke McKinley said. "I'm doing something about it. I'm part of a movement."
"My mentor, she didn't just help me figure out college. She helped me become a better person," former scholar Jeremy Perez said. "She was a real mentor to me."
"Everyone should have a Dream Project," said the Ingraham High School junior who compared the project workbook to the Bible. Her classmates would agree.