---
by Barbara Cervone
PROVIDENCE, RI—The melody wafting from the windows of Providence's Round Top Church was clear and strong: "You're college bound, you're college bound! Tell the world that you're college bound." Inside, 67 high school seniors, cheered on by their families and friends, crossed the stage one by one as their college adviser called their names and paid tribute. Nearly all low-income and minority, every one of them was headed to college, with financial aid well in hand. Coached, prodded, and loved by the nonprofit College Visions, they had defied the odds.
"Darline, I will always remember the night of your poetry slam event," CV advisor Raul Cervantes begins. "I didn't know what to expect, but needless to say you blew everyone away with your captivating verses. . . You're a surge of life and enthusiasm, whose ambition only matches your intellect. Go show the University of Wisconsin how Little Rhody does it!"
Next up is Ibrahima and Cervantes remembers how he was in the office so often you would of taught he was part of our staff. "Throughout the college application process you would repeatedly tell me, 'I want it to be perfect.' . . . I'm confident your persistence and dedication to your academic future will allow you to flourish at Brandeis University."
College Visions 2011 graduates gained admission to 58 four-year colleges, including:
Agnes Scott College
Albertus Magnus College
Alfred University
Barry University
Brandeis University
Clark University
College of the Holy Cross
Drexel University
Hampshire College
Hofstra University
Ithaca College
Johnson and Wales University
Loyola University Maryland
Manhattanville College
Mass. College of Liberal Arts
McDaniel College
Mount Holyoke College
Nichols College
Pace University
Providence College
Rhode Island College
Rhode Island School of Design
Roger Williams University
Saint Anselm College
St. John's University
Syracuse University
Temple University
U. Massachusetts - Amherst
University of Rhode Island
University of Vermont
U. of Wisconsin - Madison
Ursinus College
Wheelock College
When Alcides crosses the stage, his CV advisor Tyrene Jones recalls the day when the two of them, jaws dropped, realized that Alcides had forgotten to click the button to submit his application to the University of Rhode Island, his top pick. "While I was close to fainting, you remained calm and took the initiative to contact the URI Admissions Office."
For all five of the advisers at College Visions (CV), the night's victories were sweet testimony to the power of helping urban youth mind their GPAs, find the "right" college, ace their applications, and hunt down financial aid. And even though they're packing their bags to leave, these college-goers will remain in CV's embrace for years. College Visions not only helps students make it to college, but also to thrive once there.
Empowering low-income youth
"We push students to think expansively about their life options," said Simon Moore, who founded College Visions. "We engage students—challenged by under-resourced schools and families—to do their best."
Moore himself attended public high school in Providence, with friends who could have gone to college but for family circumstances, lack of information, and diminished ambition. He headed to Brown University, then to New York City, where he found himself advising a senior class of 40 at a small, innovative high school. Three years later, he returned to Providence determined to provide those same college supports to youth like his high school buddies. Guidance counselors with huge caseloads, he knew, found it largely impossible to forge the close personal relationships that support a college path. So Moore decided on a nontraditional approach.
Working with a handful of the city's youth-serving organizations, Simon Moore launched College Visions in 2004 with a budget of $19,000 and 10 students. Today, the nonprofit engages a new cohort of 70 students each year. "We're never going to be huge," said Moore, "but we have developed so much expertise that needs sharing."
Youth join the program in the spring of 11th grade and remain until they finish college. Nearly all qualify for free or reduced lunch, and only 10 percent have a parent with a bachelor's degree. College Visions youth are 23 percent African-American, 54 percent Latino, 13 percent Asian, 4 percent White, and 6 percent bi- or multi-racial. Almost 45 percent were born outside the United States, and nearly three quarters are children of recent immigrants. Though they show great potential, many have had trouble achieving academic success in their struggling schools. The typical College Visions student has a GPA of 2.6 (out of 4.0) and a combined SAT score of 885 (out of 1600).

Seven years later, the program has seen extraordinary success with the roughly 400 students it has coached thus far. Ninety-five percent have enrolled in college; of those, 90 percent return for the second year. Sixty-seven percent have graduated from college in five years, with College Visions their steady companion. Seventy-five percent attend four-year institutions and 33 percent go to schools out of state.
Building a support system
Few of the students who join College Visions have a support system—in or outside school—that fortifies their college ambitions. "My Mom, she never finished high school so she didn't know anything about the college process," said Tiffancy, who is headed to Rhode Island College to study social work. "And I had no clue. I thought you just applied to college and that was it."
Darline Morales: CV Graduate '11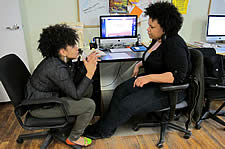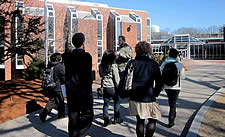 At CV, students like Tiffany participate in an intensive group workshop series the summer before senior year. Throughout the following year, they meet weekly, one-on-one, with their CV advisor. They have joined a college-going community.
From the start, College Visions helps students demystify college options and understand the landscape of college opportunities.
"College Visions exposed me to colleges I didn't know existed. I realized that there are so many schools out there it's ridiculous. You don't have to go to a school that's just a name, like Columbia. College is what you make it, there's a college for everyone." – Darline, U. of Wisconsin-Madison, Class of '15

"I feel like "options" is the word at College Visions. They make us aware of all the options, whether it's going to Community College of Rhode Island or studying abroad. I never, ever would be going to a small, women's liberal arts college in North Carolina if it weren't for this program." – Susan, Salem College, NC, Class of '15
Students identify the characteristics of their ideal school and investigate a long list of possibilities. (The program now has a bank of 12 computers in its refurbished quarters in downtown Providence.) College Visions also takes students on as many campus visits as it can.
"At the beginning of the year, our advisers give us a survey to fill out. How far do you want to go from home? What size college are you interested in? Do you prefer urban, suburban, or rural? What fields of study interest you? They take your responses and draw up a list of schools that match you and your personality. Then you go on the school's website and check it out. They take you on college visits, something our schools and parents can't." – Damaris, College of the Holy Cross, MA, Class of '15

"The advisers at College Visions have so many connections. They know the colleges well and they know you." – Susan
When researching colleges, students also learn to ferret out important quantitative data like graduation rates and the likelihood of substantial financial aid.
"There's no point in applying to a college if they have a poor record with financial aid. We look for schools that meet 90 percent or above of students' financial need. It's the same for graduation rates. If they're low, that's a sign that students, mostly low-income, are getting discouraged or lost." – Darline
CV students produce creative essays, polished résumés, and well-crafted applications.
"There's no such thing as doing something once here. Revision is the rule. I think each one of us had 20,000 drafts of our college essay!" – Susan

"It's pretty simple. Our advisers push us past our limits, whether we like it or not." – Tiffany
The program also helps students choose a college once acceptances arrive. In several long huddles with their adviser, they balance financial aid, fit, and location—sometimes a bittersweet arithmetic. And the moment they enroll, CV helps students access the on-campus support networks and retention programs they will need as freshmen.
Finally, College Visions works closely with families to navigate the financial aid process so that college costs end up within their reach. The program hones its list of colleges across the U.S. that stand out for the aid they provide to low-income students. If the original award falls short, College Visions advocates for additional aid from the college. Finally, it helps students manage the complex enrollment and billing process.
Abel Hernandez: CV Alumnus '07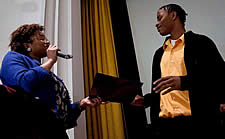 The heart of the matter
Many see the college application process as a series of deadlines, tests, lists, and forms, like clearing the hurdles in a long race. But that view has flaws, said the youth at College Visions.
"What you really need," Damaris said, "is someone who gives you the dedication to get through the process. Someone who knows you well and takes the time to explain what you need to do and how to do it, step by step. Tells you to try it by yourself, but says that if you need help, come and get me."
At College Visions, advisers become friends. "When you're with someone and you have a connection, you're not afraid to say something, express your feelings, or talk about your day even when you don't have to," Darline explained. "At College Visions, it's the personal connections, not the checklist, that makes you feel supported."
Susan spoke of the confidence she gained, from the mentoring and the community involvement that College Visions prizes. "These things have shaped me into becoming a leader, the person I am today," she said. "It's crazy" how much the program helped her, she added. "I feel so encouraged."
As twilight fell on Round Top Church, passers-by could hear the singing continue from within:
You're college bound, you're college bound, tell the world you're college bound! . . .You are right where you belong, you've never seemed so strong. Feels like there's nothing you can't try. And if you're with me, put your hands high.
Listen to a radio interview with College Vision's founder and director, Simon Moore (originally aired on 95.5 WBRU, March 12, 2006)