---

by Barbara Cervone
PROVIDENCE, RI, USA and KAMBI YA SIMBA, TANZANIA—Six summers ago, I was hiking the paths of Kambi ya Simba, Tanzania with students from the village secondary school. Armed with digital cameras and tape recorders, we'd set out to capture daily life in this remote East African village of agro-pastoralists, far from running water and electricity but filled with stories. My twenty-something son, Carl, had set up a small micro-finance project there and had introduced me to the village's special grace.
We were newcomers to our task. The students had never held a camera or tape recorder, let alone a book with stories or photographs like the one I hoped we might produce. Their knowledge of the world came from words on dusty chalkboards at school and battery-operated radios at home. Of what interest, the students asked me, could this spare life be to readers far away?
I knew little about their world. Quickly, my student collaborators showed me a new universe, from how to turn maize into the dense, fried bread called chapati to how to identify the constellations in a night sky that is as white (with stars) as black. Most of all, they taught me about resilience, warmth, and generosity in the face of unforgiving poverty.
Our book, In Our Village: Kambi ya Simba Through the Eyes of Its Youth (Next Generation Press, 2006), has sold close to 10,000 copies. Its proceeds support graduates of the village's secondary school as they pursue what's called "advanced secondary" education (another two years of high school), often far from home. All ten of the youth who showed me—and readers far away—their world six summers ago are college students now, in a village where few have gone "that far." What's more, these youth did not benefit from the scholarship funds the book generated; it took several years for the money to accumulate. Rather they powered their quest for higher education with the deep belief, as the book had proved, that their lives mattered.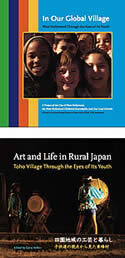 A global movement of "In Our Village" books
It's been contagious. When international service-learning educator Cathryn Berger Kaye serendipitously picked up a copy of In Our Village, she wondered if teachers and students in the schools where she worked might create books documenting life in their own "village"—from West Hollywood, California to Johannesburg, South Africa. She invited her fans to give it a try, an assignment that demanded inventiveness and teamwork and put muscle into the phrase "global citizenship."
Four years later, over 60 groups of educators and young people, ages 8 - 23, across five continents, have joined the "In Our Global Village" movement. They have published more than 30 books to date. In one, children in a Nepalese jungle portray the lushness and intimacy that surrounds them. In another, the entire senior class at Boyle Heights High School in Los Angeles documented the ethnic richness—and history—of their immigrant neighborhood. "We wrote this book to educate others about where we come from," one Boyle Heights student wrote, "but we never expected to obtain a better understanding of ourselves." Students in the International School in Zagreb, Croatia, where the student body is mostly transient, immersed themselves in the city and wrote a visitor's guide.
If money grew on trees, we'd create a mini library that contained a dozen or so of these precious volumes and traveled from school to school, across the globe. Being practical, we have created a virtual library where readers of all ages can flip through titles online and download PDF versions.
Mattresses, water tanks, murals, and more
"I don't see it as generosity," one student told us. "I tell my friends it's the least we can do." That American students might read about the hardships in Kambi ya Simba, then want to do something about them should come as no surprise.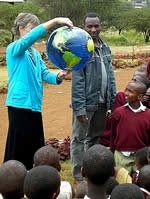 Students at the John Porter Middle School in Los Angeles—where 70 percent of the enrollment is Hispanic and 60 percent qualify for free lunch—raised $1,000 for the village's threadbare clinic. When asked what was most needed, the clinic doctor said new mattresses and solar lighting. A few months later three mattresses, purchased in the nearest city (Arusha, 160 kilometers distant) and lashed to the top of a four-wheel drive vehicle, arrived at the infirmary in Kambi ya Simba, where they replaced bedding with a combined age of 150 years. Craftsmen in a nearby village built bed frames from iron scraps. Solar lamps followed.
At Bear Creek Elementary School in Boulder Creek, Colorado, fourth grade students and their teacher, Susan Secord, have made yearly fundraising a habit, collecting more than $6,750 to date. They financed the installation of a 5,000-liter water tank at the village primary school; until then, the school's two water pumps ran dry five months of the year and students spent classroom time fetching water from a pump a half-hour walk away. They purchased school supplies by the carton full: math manipulatives, globes, volleyballs, musical instruments, solar-powered calculators, reference books, magnifying glasses, and more.