---

by Barbara Cervone, March 7, 2012
NEW YORK, NY—When the lights go down next week at the Film Society of Lincoln Center, short videos from the award-winning Educational Video Center's Youth Documentary Workshop will fill the screen. From the crack epidemic of the 1980s and explosion of hip hop in the 1990s, to the dislocation and housing foreclosure crisis of today, these young videographers use their cameras to tell the stories of their times.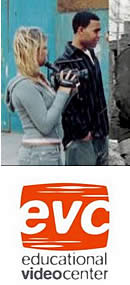 Through Our Eyes:
Three Decades of NYC
Youth Documentaries
March 13: Youth Culture and the Arts
April 17: Epidemics in Our Lives
May 15: Housing and The Way We Live
The Film Society of Lincoln Center
For thirty years, the Educational Video Center (EVC) has put cameras in the hands of New York City youth and encouraged them to investigate the burning questions, controversies, poetry, art, and music in their lives. They have produced a powerhouse of over one hundred videos.
These emerging filmmakers, we learn, don't blink.
In All That I Can Be (2005, see trailer) EVC filmmakers follow the stories of William, Dorian, and Shinel as they embark on separate journeys with the U.S. Army. The war in Iraq is two years old and chances are they will end up as foot soldiers in "Ocucupation Iraqi Freedom." But for the poor, black youth in this film, joining the military seems to be their best or only option, even if the down payment is their life.. "No money, no support . . . free medical care, free dental care . . . this sounds good, I think I'll give it a try," Shinel says as she enlists." The film, commissioned by documentary director Eugene Jarecki, was voted an "Official Selection" at the 2005 Human Rights Watch International and Tribeca Film Festivals, and won the "Economic Justice Award" at the 5th Annual Media That Matters Film Festival. 
Urban gentrification, we know, creates winners and losers. In As the Sun Comes Up, the Bricks Fall Down (2007, see trailer), EVC filmmakers explore powerful stories of change in their own Bronx and Brooklyn neighborhoods. "We have these developers, these landlords that come in here and say, 'Okay, you guys got to move out,'" Maria Fernandez of Sistas and Brothas United says in the film. "They say, 'We're not going to take care of any of the businesses or the housing, we're going to let everything run down.'" Then the developers turn around, Hernandez explains, and "invest all of their money into the neighborhood, because it's now hip, it's cool, it's up and coming. Never mind the people who used to live there."
In The War Within (2009, see trailer), EVC youth explore a hidden crisis among young people of color: depression. Youth in communities of color, they find, often feel they have no options for affordable, culturally relevant therapies. "I cannot control this terrible sadness within me," one female interviewee says. "In a way I feel I'll never be happy again."
Over the years, EVC filmmakers have also turned a critical lens on art and culture in New York City. When the controversial 1993 Whitney Billenial became the talk of the town, with its political and social edginess, EVC youth produced That's What They Call Art! (see trailer). New to the world of downtown art galleries and Fifth Avenue museums, the young filmmakers chronicled the making (and subsequent unmaking) of the exhibition, interviewing curators and artists as they are installing and, in some cases, even creating their artwork. A short version of this documentary was on continuous display in the Whitney Museum's lobby.
This spring's retrospective at Lincoln Center, spread over three months, will showcase eleven videos in all, including That's What They Call Art! and As the Sun Comes Up, the Bricks Fall Down.
A pioneer in youth media
EVC has been teaching New York City teenagers the art of making powerful social documentaries in schools and its afterschool workshops since 1984. Its documentaries have been featured on PBS, NBC, the Whitney Museum, the Brooklyn Museum of Art, Sundance Film Festival, and the Human Rights Watch International Film Festival in New York and in London. EVC has won more than 100 national and international festival awards and was presented the JVC President's Award at JVC headquarters in Tokyo, and the President's Committee's Coming Up Taller award at the White House.
In a 1993 interview with the Center for Media Literacy, EVC's founder and director, Steve Goodman, described the philosophy behind EVC.
Our philosophy is based on having kids start with their own lived experiences and then looking at other experiences and problems. They inquire about issues in their own communities and deepen that inquiry through research and through a continuous dialogue with other students and with the teacher. It's turning issues into problems that the students also then have an opportunity to try and resolve.
Why the focus on the documentary? Goodman answers:
It is a wonderful way for young people to bear witness to the conditions in their own lives . . . They use the community as a subject of inquiry. They produce the documentary. They synthesize what they've found and . . . open it up for discussion, in order to galvanize people's thought and move them toward action. There is the understanding that they can participate in the culture and history of their community.
As the long list of awards attests, Goodman's formula is a winner—put into practice daily by a supporting crew of filmmakers (including EVC graduates who went on to study film in college) and instructors who teach EVC youth their craft. "EVC's student films are assertive and astonishing," says Isa Cucinotta at the Film Society of Lincoln Center. "These teens have a lot to say about their world. They boldly go where angels fear to tread."
In 2010, EVC launched the annual "Youth Powered Video Festival," an opportunity for young people to showcase their films and connect with a larger community of media makers and community organizers. Itis open to teachers and youth workers, nationally and internationally, who are using EVC's Youth- Powered Video curriculum to support the facilitation of video projects in a classroom or after-school setting.
Indelible impacts
Steve Martinez, a 2004 EVC graduate who is now a White House Intern in the Office of Public Engagement, credits EVC for laying the seeds to his awakening to "the social ills of this society." "Not only that," says Martinez, who attended Hampshire College on a full scholarship, "they provided me with a tool that many people don't get to use, the lens of a camera."
Martinez continues: "There's a quote I love, which is 'There is nothing more dangerous than an educated black man.' I think I'm pretty darn dangerous now."
Angelica Perez, currently a sophomore at Queensbury Community College, remembers the time that one of her films was screened and a person she did not know came up to her and told her, "This work is really amazing and you should focus on art as a career. And God bless you." Every time she came to EVC, Perez says, "I discovered something new about myself, like I discovered that I could learn something new and be good at it and be successful—and that people can know that. It made me feel so proud of myself." An arts scholarship has made college possible for Perez, the first in her family to go onto higher education.
"Putting a documentary together is a lot of hard work. Coming up with the idea is the easiest part of the process," says 1990 EVC alumna Melissa Hasberry, now a producer for Fox 6 News in Alabama. "At EVC, instructors taught me how to turn my ideas into a powerful message others can learn from." The documentary she is most proud of, Hard Times in Cypress Hills, chronicles youth violence in this crime-ridden Brooklyn neighborhood. She remembers how her EVC co-producer, herself from Cypress Hills, showed her a bench "that no one sat on because if you did, you'd be dodging bullets."
When the lights go up in the amphitheatre at Lincoln Center, this March 16th, it's a good bet there will be a standing ovation.