---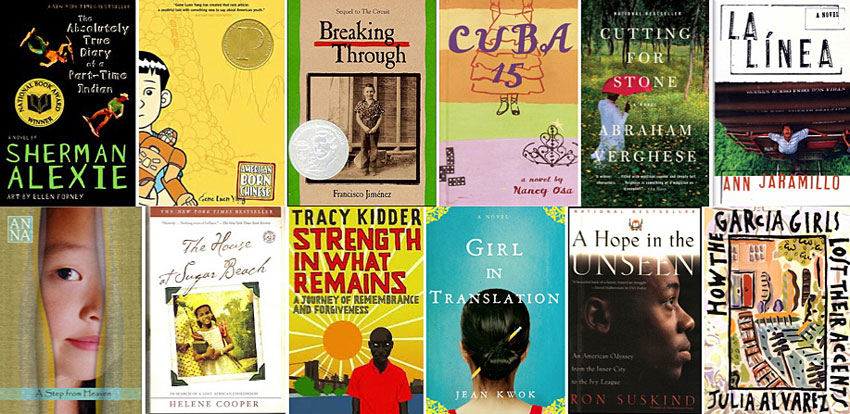 Here's a summer reading list for teens with a compelling angle: 16 immigration stories of hardship and hope, identity and transformation. At a time when legal immigration to the U.S. is the highest ever (one million immigrants a year) and immigrants or the children of immigrants make up a quarter of the under-18 population, a summer reading list filled with the voices and stories of young newcomers seems right. You'll find here titles that mix humor with coming-of-age stories and narratives that break hearts. Some are relatively easy reads; others are demanding, but totally worth the effort. Two of the books—The Absolutely True Diary of a Part-Time Indian and Hope in the Unseen—don't involve journeys between countries, but across vast cultural divides within the U.S.
Every high school student, we wager, will find meaning in these titles. Teenagers with immigrant backgrounds may find their own reflection, whether their journey to the U.S. began in Mexico or China. American teens who've only known the U.S. as home will learn about the brave journeys of peers who often came to the U.S. with all their hopes in one suitcase.
All of the titles are available in paperback at Amazon.com and at local public libraries.
PLEASE PASS ON THIS LIST TO YOUTH WHO WOULD APPRECIATE IT! CLICK HERE for a downloadable PDF.
INTERESTED IN A LIST OF GREAT FILMS THAT WILL SWEEP TEENS AWAY? CLICK HERE
The Absolutely True Diary of a Part-Time Indian by Sherman Alexie (2007, 240 pp.) Amazon, $10.39

Sherman Alexie tells the story of Junior, a budding cartoonist growing up on Indian Reservation in Washington State. Determined to take his future into his own hands, Junior leaves his troubled school on the "rez" to attend an all-white farm town high school where the only other Indian is the school mascot. Heartbreaking, funny, and beautifully written, The Absolutely True Diary of a Part-Time Indian is based on the author's own experiences. Coupled with poignant drawings that reflect the character's art, it chronicles the contemporary adolescence of one Native American youth as he attempts to break away from the life he thought he was destined to live. The novel, Alexie's first, was an instant success. [Reading level: easier]
American Born Chinese by Gene Luen Yang (2006, 240 pp.) Amazon, $9.99
An amazing ride by rising indy comics star Gene Yang, American Born Chinese tells the story of three apparently unrelated characters: Jin Wang, who moves to a new neighborhood with his family only to discover that he's the only Chinese-American student at his new school; the powerful Monkey King, subject of one of the oldest and greatest Chinese fables; and Chin-Kee, a personification of the ultimate negative Chinese stereotype, who is ruining his cousin Danny's life with his yearly visits. Their lives and stories come together with an unexpected twist in this action-packed modern fable. American Born Chinese was the first graphic novel to be named a finalist for the National Book Award. [Reading level: easier]
The Brief, Wondrous Life of Oscar Wao by Juno Díaz (2008, 339 pp.) Amazon, $10.88
Things have never been easy for Oscar, a sweet but disastrously overweight, lovesick Dominican ghetto nerd. From his home in New Jersey, where he lives with his old-world mother and rebellious sister, Oscar dreams of becoming the Dominican J. R. R. Tolkien and, most of all, of finding love. But he may never get what he wants, thanks to the Fukú the curse that has haunted the Oscar's family for generations, dooming them to prison, torture, tragic accidents, and, above all, ill-starred love. Oscar, still waiting for his first kiss, is just its most recent victim. With dazzling energy, Díaz immerses us in the tumultuous life of Oscar and the history of the family at large. This is Juno Díaz's first novel. [Reading level: advanced]
The Circuit by Francisco Jiménez (1997, 134 pp.) Amazon, $10.17 | Breaking Through by Francisco Jiménez (2002, 208 pp.) Amazon, $6.95
"'La frontera'...I heard it for the first time back in the late 1940s when Papa and Mama told me and Roberto, my older brother, that someday we would take a long trip north, cross la frontera, enter California, and leave our poverty behind." So begins this honest and powerful account of a family's journey from Mexico to the fields of California -- to a life of constant moving, from strawberry fields to cotton fields, from tent cities to one-room shacks, from picking grapes to topping carrots and thinning lettuce. In two books—The Circuit and its sequel, Breaking Through—Francisco Jiménez shares his own story of survival, hope and faith against crushing poverty and blatant prejudice. Jiménez went on to earn a master's degree and PhD from Columbia University. (Note: Both books are also available in Spanish.) [Reading level: easier]
Cuba 15 by Nancy Osa (2003, 277 pp.) Amazon, $8.99
Violet Paz has just turned 15, a pivotal birthday in the eyes of her Cuban grandmother. Fifteen is the age when a girl enters womanhood, traditionally celebrating the occasion with a quinceañero. But while Violet is half Cuban, she's also half Polish, and more importantly, she feels 100% American. Except for her zany family's passion for playing dominoes, smoking cigars, and dancing to Latin music, Violet knows little about Cuban culture, nada about quinces, and only tidbits about the history of Cuba. So when Violet begrudgingly accepts Abuela's plans for a quinceañero-–and as she begins to ask questions about her Cuban roots–-cultures and feelings collide. The mere mention of Cuba and Fidel Castro elicits her grandparents' sadness and her father's anger. All Violet knows is that she's got to form her own opinions, even if this jolts her family into unwanted confrontations. This is Nancy Osa's first novel. [Reading level: easier]
Girl in Translation by Jean Kwok (2011, 320 pp.) Amazon, $6.00
When Kimberly Chang and her mother emigrate from Hong Kong to Brooklyn squalor, she quickly begins a secret double life: exceptional schoolgirl during the day, Chinatown sweatshop worker in the evenings. Disguising the more difficult truths of her life like the staggering degree of her poverty, the weight of her family's future resting on her shoulders, or her secret love for a factory boy who shares none of her talent or ambition. Kimberly learns to constantly translate not just her language but herself back and forth between the worlds she straddles. Through Kimberly's story, author Jean Kwok, who also emigrated from Hong Kong as a young girl, brings to the page the lives of countless immigrants who are caught between the pressure to succeed in America, their duty to their family, and their own personal desires, exposing a world that we rarely hear about. This is Jean Kwok's first novel. [Reading level: intermediate]
A Hope in the Unseen: An American Odyssey from the Inner City to the Ivy League by Ron Suskind (1999, 373 pp.) Amazon, $9.73
It is 1993, and Cedric Jennings is a bright and ferociously determined honor student at Ballou, a high school in one of Washington D.C.'s most dangerous neighborhoods, where the dropout rate is well into double digits and just 80 students out of more than 1,350 boast an average of B or better. At Ballou, Cedric has almost no friends. He eats lunch in a classroom most days, plowing through the extra work he has asked for, knowing that he's really competing with kids from other, harder schools. Cedric Jennings's driving ambition—which is fully supported by his forceful mother—is to attend a top-flight college. In September 1995, after years of near superhuman dedication, he realizes that ambition when he begins as a freshman at Brown University. In this updated edition, A Hope in the Unseen chronicles Cedric's odyssey during his last two years of high school, follows him through his difficult first year at Brown, and now tells the story of his subsequent successes in college and the world of work. This is Ron Suskind's first book. [Reading level: intermediate]
The House at Sugar Beach by Helene Cooper (2009, 324 pp.) Amazon, $10.20
Helene Cooper is "Congo," a descendant of two Liberian dynasties—traced back to the first ship of freemen that set sail from New York in 1820 to found Monrovia. Helene grew up at Sugar Beach, in a 22-room mansion by the sea. Her childhood was filled with servants and flashy cars. It was also an African childhood, with knock foot games and hot pepper soup. When Helene was eight, the Coopers took in a foster child, a Bassa girl named Eunice. For years the Cooper daughters—Helene, her sister Marlene, and now Eunice—enjoyed the blessings of their wealth. But on April 12, 1980, a group of soldiers staged a coup d'État, assassinating President William Tolbert and executing his cabinet. The Coopers and the entire Congo class were now the hunted, being imprisoned, shot, tortured, and raped. After a brutal daylight attack by a ragtag crew of soldiers, Helene, Marlene, and their mother fled Sugar Beach, and then Liberia, for America. They left Eunice behind. A world away, Helene tried to assimilate as an American teenager. At the University of North Carolina at Chapel Hill she found her passion in journalism, eventually becoming a reporter for the Wall Street Journal and the New York Times. She reported from every part of the globe—except Africa—as Liberia descended into war-torn, third-world hell. In 2003, a near-death experience in Iraq convinced Helene that Liberia—and Eunice—could wait no longer. At once a deeply personal memoir and an examination of a violent and stratified country, The House at Sugar Beach tells of tragedy, forgiveness, and transcendence with unflinching honesty and a survivor's gentle humor. It is Helen Cooper's first novel. [Reading level: advanced]
How the García Girls Lost Their Accents by Julia Alvarez (2010, 336 pp.) Amazon, $7.19
The Garcías—Dr. Carlos (Papi), his wife Laura (Mami), and their four daughters, Carla, Sandra, Yolanda, and Sofía—belong to the uppermost echelon of Spanish Caribbean society. Their family compound adjoins the palacio of the dictator's daughter. So when Dr. García's part in a coup attempt is discovered, the family must flee. They arrive in New York City in 1960 to a life far removed from their existence in the Dominican Republic. Papi has to find new patients in the Bronx. Mami, far from the compound and the family retainers, must find herself. Meanwhile, the girls try to lose themselves—by forgetting their Spanish, by straightening their hair and wearing fringed bell bottoms. For them, it is at once liberating and excruciating being caught between the old world and the new, trying to live up to their father's version of honor while accommodating the expectations of their American boyfriends. Acclaimed writer Julia Alvarez's brilliant and buoyant first novel sets the García girls free to tell their most intimate stories about how they came to be at home—and not at home—in America. [Reading level: intermediate]
The Latecomer: A Hmong Family Memoir by Kao Kalia Yang (2008, 277 pp.) Amazon, $10.85
In search of a place to call home, thousands of Hmong families made the journey from the war-torn jungles of Laos to the overcrowded refugee camps of Thailand and onward to America. But lacking a written language of their own, the Hmong experience has been primarily recorded by others. Driven to tell her family's story after her grandmother's death, The Latehomecomer is Kao Kalia Yang's tribute to the remarkable woman whose spirit held them all together. It is also an eloquent, firsthand account of a people who have worked hard to make their voices heard. Beginning in the 1970s, as the Hmong were being massacred for their collaboration with the United States during the Vietnam War, Yang recounts the harrowing story of her family's captivity, the daring rescue undertaken by her father and uncles, and their narrow escape into Thailand where Yang was born in the Ban Vinai Refugee Camp. When she was six years old, Yang's family immigrated to America, and she evocatively captures the challenges of adapting to a new place and a new language. Through her words, the dreams, wisdom, and traditions passed down from her grandmother and shared by an entire community have finally found a voice. Together with her sister, Kao Kalia Yang is the founder of a company dedicated to helping immigrants with writing, translating, and business services. A graduate of Carleton College and Columbia University, Yang has recently screened The Place Where We Were Born, a film documenting the experiences of Hmong American refugees. [Reading level: advanced]
La Linea by Ann Jaramillo (2006, 131 pp.) Amazon, $7.99
Miguel has dreamed of joining his parents in California since the day they left him behind in Mexico six years, eleven months, and twelve days ago. On the morning of his fifteenth birthday, Miguel's wait is over. Or so he thinks. The trip north to the border—la línea—is fraught with dangers. Thieves. Border guards. And a grueling, two-day trek across the desert. It would be hard enough to survive alone. But it's almost impossible with his tagalong sister in tow. Their money gone and their hopes nearly dashed, Miguel and his sister have no choice but to hop the infamous mata gente as it races toward the border. As they cling to the roof of the speeding train, they hold onto each other, and to their dreams. But they quickly learn that you can't always count on dreams—even the ones that come true. Ann Jaramillo is a middle school teacher in a Texas border community. She wrote La Línea for her students, many of whom have made journeys that parallel Miguel and Elena's. [Reading level: easier]
A Step from Heaven by An Na (2003, 160 pp.) Amazon, $7.99
When she is five, Young Ju Park and her family move from Korea to California. During the flight, they climb so far into the sky she concludes they are on their way to Heaven, that Heaven must be in America. Heaven is also where her grandfather is. When she learns the distinction, she is so disappointed she wants to go home, even though her uncle suggests that maybe America can be "a step from Heaven." Life in America, however, proves far from heaven. Her father becomes depressed, angry, and violent. Jobs are scarce and money is even scarcer. When her brother is born, she faces her father's sexism as he confers favored status upon the boy who will continue to carry the Park name. In a wrenching climactic scene, her father beats her mother so severely that Young Ju calls the police. Soon afterward, her father goes away and the family begins to heal. This is An Na's first novel. [Reading level: intermediate]
The Strength in What Remains by Tracy Kidder (2010, 284 pp.) Amazon, $10.88
Strength in What Remains is an unlikely but true story about an unreasonable man. Deo was a young medical student who fled the genocidal civil war in Burundi in 1994 for the uncertainty of New York City. Against absurd odds--he arrived with little money and less English and slept in Central Park while delivering groceries for starvation wages--his own ambition and a few kind New Yorkers led him to Columbia University and, beyond that, to medical school and American citizenship. What gives Deo's story its particular power is that becoming an American citizen did not erase his connection to Burundi, in either his memory or his dreams for the future. The author, Tracy Kidder, follows Deo back to Burundi, where he recalls the horrors of his narrow escape from the war and begins to build a medical clinic where none had been before. Deo's terrible journey makes his story a hard one to tell; his tirelessly hopeful but clear-eyed efforts make it a gripping and inspiring one to read. [Reading level: advanced]
A Thousand Splendid Suns by Khalad Hosseini (2008, 432 pp.) Amazon, $10.88
After 103 weeks on the New York Times bestseller list and with four million copies of The Kite Runner shipped, Khaled Hosseini returns with a beautiful, riveting, and haunting novel that confirms his place as one of the most important literary writers today. A Thousand Splendid Suns is at once an incredible chronicle of thirty years of Afghan history and a deeply moving story of family, friendship, faith, and the salvation to be found in love. Born a generation apart and with very different ideas about love and family, Mariam and Laila are two women brought jarringly together by war, by loss and by fate. As they endure the ever escalating dangers around them—in their home as well as in the streets of Kabul—they come to form a bond that makes them both sisters and mother-daughter to each other, and that will ultimately alter the course not just of their own lives but of the next generation. With heart-wrenching power and suspense, Hosseini shows how a woman's love for her family can move her to shocking and heroic acts of self-sacrifice, and that in the end it is love, or even the memory of love, that is often the key to survival. [Reading level: advanced]
...AND AN AMBITIOUS BUT AMAZING READ
Cutting for Stone by Abraham Verghese (2010, 667 pp.) Amazon, $9.57
Marion and Shiva Stone are twin brothers born of a secret union between a beautiful Indian nun and a brash British surgeon. Orphaned by their mother's death and their father's disappearance, bound together by an unshakeable connection and a shared fascination with medicine, the twins come of age as Ethiopia hovers on the brink of revolution. Moving from Addis Ababa to New York City and back again, Cutting for Stone is an unforgettable story of love and betrayal, medicine and ordinary miracles—-and two brothers whose fates are forever intertwined. This is Abraham Verghese's first novel, based on his own life experiences. Note: This is a long book, even for advanced readers, but we bet it will go down as one of the best books about life journeys that you'll ever read. As one reviewer wrote: "This is one of the most outstanding books I have been privileged to read. [If you possibly can, try to read] Cutting for Stone without interruption. If you do not, you will find yourself thinking about the characters and wondering what is going to happen to each one. In my opinion, that is the mark of a great book —the author has captured your attention and quietly demands you give it to nothing else. You can [of course] read this book in multiple sessions without losing interest or forgetting what has previously occurred. Had I been allowed to rate this book more than five stars, I would have done so. It is truly a masterpiece." [Reading level: advanced]