---
by Barbara Cervone
December 12, 2012
BOTO, ETHIOPA —Few residents of Boto, a farming village in the highlands of southwestern Ethiopia, have traveled farther than their feet can carry them. But their coffee circles the globe.
For more than a thousand years, coffee has grown wild in this lush corner of Ethiopia, under a thick forest canopy of acacia and other indigenous trees. Coffee is Ethiopia's biggest export and, for Boto, a lifeblood. Families gather saplings from the forest to plant in the small gardens that surround their homesteads. Each fall, they join together to pick the coffee berries, amid colobus monkeys and birdsong. In a village where kerosene lanterns still light the night and children walk dirt paths to fetch water each day, the annual coffee harvest spells ballast or bounty.
I came to Boto, a day's journey by four-wheel drive from Ethiopia's capital, Addis Ababa, to engage a smart, curious group of local youth in capturing daily life there—and then to share their words and images far and wide, through WKCD's Next Generation Press. Five years earlier, I had done the same with secondary students in Kambi ya Simba, a village in Tanzania near Mt. Kilimanjaro, where families subsist on the maize and beans they grow. The goal, then as now, was to create an unvarnished glimpse at life in an East African village through the eyes of its youth.
In Kambi ya Simba, my young collaborators had expressed incredulity that anyone beyond their village would find their stories and challenges of interest. (The book we created together has since sold over 10,000 copies and raised 30,000 USD for the village schools.) Boto's youth greeted me with equal skepticism. I replied that for most of the world, Africa remains a dark continent—not for the color of its peoples' skin, but because so few know much about the world's second largest continent, beyond the heartbreaking headlines of war, famine, and illness. This was their chance to shed light, I said. Were they up for it?
Our group's first hour together had begun with a spirited round of musical chairs in the middle of a field. But after my question, a long silence fell. At last, fifteen-year-old Zelika stood up, with a grin as bright as her head scarf. "Gariidha jelqaba,"— she declared. "Okay, let's begin!"
How we worked
We gathered each morning under a tree at the primary school to plan the day's agenda. We appointed ourselves the village's photojournalists: five young men and three young women, ages 14 to 18; two tireless translators, talented managers and educators from the non-governmental organization TechnoServe; and one ferenji (me). Every minute was precious. Zelika and her compatriots were not only missing school and duties their families counted on, but they also had a year's worth of stories to share. When we paused for morning prayers the first day—in this part of Ethiopia, Islam predominates—our young journalists had covered a flip chart with over thirty topics.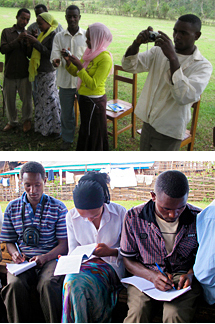 We broke into pairs and I handed out notebooks and digital cameras, whose mysteries took less than ten minutes for these technology-innocent youth to unlock. We talked about what characterized a good narrative and a strong photograph. We critiqued photos I had collected on my laptop and they practiced taking their own.
Story assignments in hand, each team then spent the next several hours hunting for images, information, and interviews that would bring their subjects to life. When we reconvened later, each team uploaded its photos, shared its interview notes, then summarized what they had learned and what they thought about it. For the week that followed, this was our routine.
Like a curious editor, I always probed for more. In a tradition that still upholds arranged marriages, did they hope for a marriage based on love? How is the spicy butter niter kebbeh prepared so that it lasts unrefrigerated for a year? Why are conflict resolution and cooperation so prized in Boto? Restrained by poverty and by Islamic modesty, how do villagers develop a personal style? How many in our group had lost a family member to sickness (all had), and how did they die? What were their hopes and dreams, for themselves and their country?
These exchanges, rich and lively, carried the heavy burdens of translation. Our young journalists spoke only Afan Oromo, and I was trapped in English. Our two translators, Bekele Damte and Ketemaye Arega, brought us together; they spoke English and Afan Oromo in addition to their native Amharic. We soon developed a rhythm for the intricate back and forth that kept us talking each day until sunset, across the barriers of language and culture.
Nonetheless, as I later wove those words and images into the stories that fill this book, I paused again and again. Did I have this right? What have I missed? Is my own voice overtaking that of Zelika or Hawi or Muhidin? My young collaborators trusted me with their world, a profound gift. Keeping true to their world, while also translating and editing their words, is the gift I tried to give back. Almost all of the book's photos, however, came directly from these youth—the first that any of them had ever taken.
Hurdles and opportunities
Ethiopia, long one of the poorest countries in Africa, stands poised to become an agricultural and economic engine, predicted at this writing to be among the continent's fastest growing economies. Still, its hurdles are immense, as Boto's youth attest. Paved roads, sanitation, electricity, health care, and well-equipped schools are rarities in the country's shackled infrastructure. Yet the coffee harvest continues as Ethiopia's prized commodity. On this front, the small farmers in Boto, with their new cooperative and top-quality Arabica coffee beans, can see, touch, and taste their poverty receding. Their "sole sourced" coffee has become a darling among coffee buyers worldwide, and with these newly grown funds the village is better equipping an infirmary, the primary school, and more.
As always, no economic prognosticator can convey the human spirit and resilience that lie beneath cold figures of profit and loss. In Boto, both spirit and resilience thrive, and so do dreams. Seid hopes to be an engineer, developing technology to fight global warming. Alfia, married at seventeen, wants to study agriculture and join her husband as one of the village's agricultural agents. Jemila dreams of becoming her country's president, spreading progress and peace "throughout the land."
Eleven thousand kilometers away, surrounded by a world of "conveniences" my young collaborators could barely imagine, I too have a dream. In mine, this book by the youth of Boto opens eyes and hearts to a world where affluence comes from the soil, hardship is a way of life, and wonder abounds.