---

CLICK HERE to view flipbook version of "The Best School Ever." CLICK HERE to download PDF.
"This book tells the story of a project still in progress, begun in Providence, RI during the fall of 2012 by myself and a group of young people interested in thinking about the possibilities of schooling. The story includes many smaller stories of students' time spent in school, happy and unhappy, as well as their dreams of what school could be. They are presented here for teachers, parents, and everyone else to read and to act upon."
—Alison Rutsch, Rhode Island School of Design (RISD) and Brown University, May 2013
PROVIDENCE, RI—Alison Rutsch had been painting for as long as she could remember when she joined the first cohort of dual-degree students at the Rhode Island School of Design and Brown University in 2009. With a passionate belief in the transformative power of art, she quickly set out to explore the after-school and summer programs of Providence.
---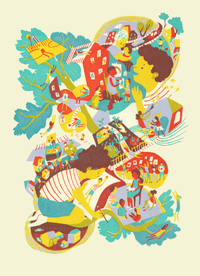 Silkscreen prints by A. Rutsch: "Education for Liberation #1" (above) "Listener" (below)
Click on image to enlarge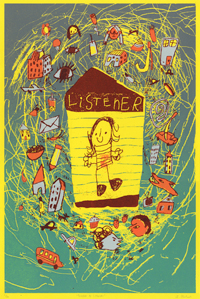 With the diverse students she encountered there, by her graduation this month she had completed an extraordinary research project titled "The Best School Ever." Handwritten and illustrated with an explosion of drawings by Rutsch and her young collaborators, the publication overflows with questions, assertions, findings, and provocations about what school should be.
"The first 'real' education experience I had was tutoring first graders in a public elementary school on Providence's south side," Rutsch said. Three days a week, she would take the public bus down Broad Street, cutting a straight path through some of the city's poorest neighborhoods as she listened to other riders swap opinions or stories about hardship and celebration.
When she arrived at school, her students flooded her with their own stories. "They shared happy times, for sure, but they spoke more about how they hadn't slept and how tired they were because their houses were so chaotic or their neighborhoods were so loud," she said. "They'd talk about a parent who was incarcerated or an empty fridge. Some smiled and hugged until they were told to sit. Others looked sad."
Rutsch responded with what she had: a deep ability to listen.
Back at Brown, she studied the history of school reform and filled up on the writings of education philosophers like John Dewey, Paolo Freire, and Patricia Carini. "In my classes, I would read about democracy and education and the possibilities of a progressive education," she said. "Then I'd hop the bus to South Providence and see real school through the eyes of real children, the ones who democracy had largely failed. The disconnections were profound."
Rutsch decided to use her growing interest in drawing and illustration to help her students develop their own truths.
She traveled to schools throughout the city, art supplies in hand. "Draw me a picture of your school, how it looks and feels to you," she would ask the students who joined her in whatever space the school had available. After they talked about what they had drawn, she would say, "Now draw me a picture of your ideal school, the best school ever."
Often, Rutsch would roll out a huge swath of paper and invite kids to put their ideas together like a map. She returned for individual interviews with 53 students, spanning first through twelfth grade At night, working on her own illustrations, she strived to stay faithful to what their drawing and words told her.
The problems they posed about "everyday" school fell into four categories: spatial and body issues, social and emotional issues, problems with the form and content of lessons, and a lack of autonomy. For example, students of all ages spoke how their bodies were regulated in school—cramped classrooms, too much sitting, few chances to move around or choose what to eat.
"They equated freedom with the ability to make choices in relation to their body and, most of all, to move," Rutsch observed. "In their ideal drawings, their schools were invariably more spacious and included opportunities to move around, like dance, gymnastics, and recess."
Even more strikingly, students craved choices and control over what happened to them in school. "They didn't really have a single word to encompass all of it," said Rutsch. "So I chose the word agency."
When Alison Rutsch returns to Providence in the fall, she intends to pick up where she left off. When it comes to students, she notes, teachers and administrators are often hard-pressed to "ask and then listen." Her listening project aims to fill the gap.