---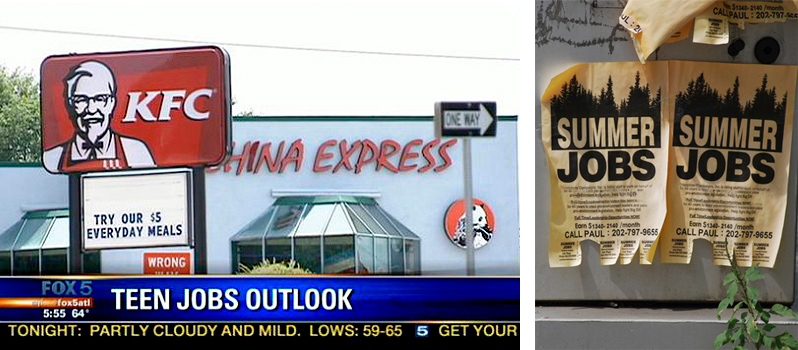 May 28, 2013
by Barbara Cervone
PROVIDENCE, RI— A week ago I met with a group of ten Chicago teens to gather their perspective on social and emotional learning, part of a new WKCD national study on SEL in secondary schools. As we were wrapping up, the students began asking eath other about their luck finding summer work. Two of the girls had part-time babysitting jobs lined up, one boy hoped to return to the summer rec job he'd had the summer before and another had just snagged a job stocking shelves at CVS. "Man, it's harder to find a summer job getting into college," Carlos, six weeks shy of graduating, said.
An April 2013 report from the Center for Market Labor Studies at Northeastern University offers an unsparing look at the sad state of the nation's teen job market from 2008 - 2012, along with the teen employment outlook for the summer of 2013.
Below are excerpts—a troubling read. You'll find some recent clips from the newswires, too.
Introduction

The last decade in the United States has been labeled a "lost decade" by a number of economic and social science analysts. Total nonfarm payroll employment failed to experience any net growth between 2000 and 2010, yielding a decade with the poorest job creation performance in the past 70 years. All persons under 55 years of age were less likely to be working in 2011-2012 than in 2000, with the size of declines in these employment rates being strongly connected with one's age.

Persons 55-57 years of age basically held their own, while persons 58-79 were more likely to be working in 2010-2011 than in 2000. Meanwhile, employment has declined far more among teens (16-19) and young adults (20-24) than any other age group in the country. Job growth after the end of the Great Recession of 2007-09 still has left our teens far behind their older counterparts, failing to generate even one net new job for them since the last quarter of 2009.

In the "full employment" year of 2000, 45 per cent of the nation's teens (16-19) were employed during an average month. In 2011 and 2012, only 26 per cent of the nation's teens held any type of paid job, the lowest annual average employment rate in the history of our country in the post-World War II era.

The joblessness problems of the nation's teens are present year-round, including the summer months, which traditionally have been the peak employment season for teens. Summer employment rates (not seasonally adjusted) for teens have declined dramatically over the past decade, falling from nearly 52 percent in the summer of 2000 to slightly under 40 percent in 2007.

The 2010 and 2011 summer employment rates for teens were the lowest in our nation's post-World-War II history. Last summer, the teen employment rate ticked up slightly to 30.5 percent, one point above the historical lows in 2010 and 2011, but representing the second lowest rate of teen employment in our nation's post-World War II history.

Who worked in the summer of 2012?

The summer employment rates of the nation's teens have tended to vary quite widely across key demographic groups (age, race-ethnic), family income groups, and geographic areas (states, metropolitan areas, large cities). To identify disparities in teen employment rates across these various groups, we analyzed the findings of the June-August 2012 Current Population (Household) Surveys by gender, race-ethnic group, family income group, and across states.

The gender gap in summer 2012 teen employment rates was quite small. Women had a summer employment rate about one point above those of men (31 percent vs. 30 percent).

Gaps in summer teen employment rates were considerably larger across major race-ethnic groups. They ranged from a low of 1 percent among Asians to 20 percent among Blacks, 25 percent among Hispanics, and just under 38 percent for White, non-Hispanic youth.

The 2012 summer employment rates of teens also varied quite widely across family income groups. We divided the annual incomes of the families of teens into seven categories, ranging from under $20,000 to a high of $150,000 or more. Teen employment rates generally tended to rise with family incomes until incomes of $150,000 or more were reached.

Low-income youth were the least likely to work. Last summer, only one out of every five teens (21 percent) from a low-income family (under $20,000 in pre-tax annual money income) had a job. Teen employment rates rose steadily as family income grew, increasing to 31 percent for those teens with a family income between $40,000 and $60,000 and to a high of 38 percent for those with a family income in the $100,000 to $150,000 range.

The employment rates of teens in the U.S. are characterized by an extraordinary high degree of variability across geographic areas, including regions, states, and metropolitan areas. The relative degree of dispersion in these employment rates across states is higher for teens than for any other age group under age 69 in the U.S.

The bottom six states were characterized by teen employment rates that ranged from 19 percent in the District of Columbia to 23 percent in Arizona, Georgia, and Louisiana. The average value of the teen employment rates for these six states was slightly under 22 percent. At the upper end of the distribution, the teen employment rates ranged from approximately 48 percent for Montana, Maine, and Wyoming to highs of 56 percent in North and South Dakota. The average (unweighted) teen employment rate for the top six states was approximately 51 percent—over two and one half times the average teen employment rate for the bottom six states.

The outlook for the summer 2013 teen job market

Our forecasting model for 2013 summer teen employment yields a projected seasonally adjusted employment rate of 27.4 percent. This represents about a one-point improvement over 2012, when the employment rate was 26.5 percent. However, it would remain nearly 17 points below the rate in the summer of 2000 and about 20 points below the rate achieved in the summer of 1989. The teen summer job outlook for 2013 is thus one of a slight improvement over the previous two summers, but well below those achieved in earlier years. This projected gain in teen employment will offset only a small portion of the near 3.6 million summer teen jobs deficit.

Unfortunately, job creation programs for teens have fallen off the radars of both political parties in the nation's capital. The burden of generating more job opportunities for the nation's teens remains in the hands of state and local political leaders and policymakers, many of whom are encountering their own budgetary problems. Much more creative and sustained actions by the public and private sector will be needed to put more of the nation's teens to work. The time for action is now.
FROM THE NEWSWIRES
Where the Summer Job Market Is Heating Up (CNBC, May 10, '13)
It's that time again—time for fresh faced youth to take their spots behind fast food counters, in stores and on lifeguard chairs. The summer job market is upon us, and the good news is that there are likely to be more openings.
The most recent annual summer jobs survey by outplacement firm Challenger, Gray & Christmas found that even after a sharp increase in teen employment last summer, more openings are likely this year. A second survey, by snagajob.com, an hourly employment network, found that 19 percent of the hiring managers who responded plan to hire summer help, up from 9 percent in 2012, and more of them think it will be "easy" for teens to find work.
That's a good thing, since these days, high school and college students aren't the only ones looking for summer employment. With so many in the over–60 set out of work for lengthy periods, or looking for supplemental income, the jobs competition between teens and older workers may be heated. "I'd be foolish to say they don't compete with each other," said Kerry Hannon, the author of "Great Jobs for Everyone 50+."
Hannon says older workers are attracted to a wide range of seasonal jobs, some of which draw younger workers as well. "When they do job fairs for Major League Baseball and amusement parks like Six Flags, you see a lot of retirees showing up to apply," she said. But older workers also seek opportunities that younger applicants may skip, like work in RV parks that enables them to go cruising over the summer, or hiring themselves out as summer tutors.
In any case, high school and college students seeking jobs may have less competition than they think from their peers. In 2012, there were 11.2 million teenagers not in the work force, but only 1.2 million indicated they wanted jobs, according to Challenger, Gray. "We're not in a culture where students work as teens the way they used to. When I grew up, you worked at drugstores and grocery stores and clothes stores. I painted houses and I mowed lawns," said John Challenger, chief executive of Challenger, Gray. "It's not as built into the culture today. They go to summer school. They go to camps."
One company that regularly adds to its workforce in the summer months is Home Depot. The company recently announced it will take on 80,000 seasonal workers this summer, up from the roughly 70,000 it added last summer. "Spring is our Christmas," said Stephen Holmes, a company spokesman, adding that the retailer has openings for everything from "loaders in the garden centers to cashiers to sales associates."
There are also plenty of entrepreneurial opportunities, Challenger said. "Teens that have technical skills, programming skills, even Power Point skills, can do tech service and support. They can really find some high paying jobs that used to not really be available to teens." READ MORE
Will work for summer: Where your teen can find a job (myfoxatlanta.com, May 15, '13
ATLANTA, GA—Is your teenager on the hunt for a summer job? It's not too late for them to find a way to make some extra cash when school gets out.The outlook isn't great, but they've just got to know where to look.
As the school year comes to a close, many students will be looking for work. But based on numbers complied by the non-profit Employment Policies Institute, unemployment for Georgia teens is just over 30 percent. That means competition for the jobs that are open is fierce. All of the area's larger employers for teens—like Six Flags Over Georgia and White Water—have already done their summer hiring.
But, regional vice president of the employment agency Manpower says teens shouldn't let the numbers discourage them. Herman says teens can find jobs in the same places they always have, from fast-food restaurants to gyms to retail stores. Too often, Herman says, parents and teens give up before they start. But while hiring is down, she says it hasn't disappeared altogether. And while participating in sports is a valuable endeavor for kids, getting them to work is an experience that will only help them in the long run.
Experts say networking is the most effective way for teens to job search, so they should let people know they're looking for work. READ MORE
Teen summer jobs a mixed bag (Cincinnati.com, May 19, '13)
CINCINNATI, OH— Do you have your summer job lined up yet? If not, there's good news and bad news about your prospects.
First, the bad news. In April, the unemployment rate for teenagers (ages 16-19) was 24.1 percent. Before the recession, the unemployment rate for teenagers was 14.9 percent. So the overall employment outlook is not good. Adding to the problem is that the labor market is still not strong for adults, either. This means that jobs that have traditionally been occupied by teenagers are now being taken by adults who can't find any other employment.
The further bad news is that the belt-tightening that is occurring at the federal level is being felt economy-wide, as local and state governments and corporations face uncertainty about the effects of budget cuts. Uncertainty usually means that these entities are reluctant to hire until they know how they will be affected.
Now, the good news. While still weak, job growth has been consistent in the past several months, particularly in industries that employ a lot of teenage workers, such as leisure and hospitality, and the restaurant industries. According to a recent survey of hiring managers, 68 percent plan to hire summer workers this year, adding an average of 30 workers. Another factor in favor of teenage employment is that young workers tend to be cheaper to hire – a summer job typically costs $2,200 – because summer jobs usually don't come with the full array of benefits. For cost-conscious employers, this could mean that teenagers have an advantage. READ MORE
The best-paying summer jobs for teens (wickedlocal.com, May 13, '13)
The eight best-paying summer jobs for teens, according to AOL Jobs:
8. Food server - $8.81/hour (median pay)
7. Lifeguard - $9.09/hour
6. Babysitter - $9.28/hour
5. Housekeeper - $9.28/hour
4. Home health or personal care aide - $9.70/hour
3. Retail sales clerk - $10.09/hour
2. Product merchandiser - $11.11/hour
1. Pharmacy technician - $13.65/hour
JOBS: Summer outlook is brighter, survey finds (The Press Enterprise, April 6, 2013)
The outlook for summer jobs could be the best it has been in several years, according to a survey from Snagajob, an employment network that specializes in hourly assignments. The study, an online survey of more than 1,000 hiring managers conducted in early March, found that the average company that does hire seasonal workers for the summer plans to hire 30 people, up from 27 in the summer of 2012.
Also, they'll be paying more. The average hourly wage is expected to increase to $11.50, from $10.90 last year.
One in three hiring managers said it would be "easy" for a teen to find a job this year. In 2011, only one in five made that prediction. Experts stress that a teen who waits until her or his last final exam before starting to look for a summer job is probably going to end up watching a lot of daytime TV. Employers have already started to hire, and more than one third of all positions will be filled by the end of April. Only about 10 percent of the people who get summer jobs get them in June.