---
Rohan Kirpekar, Catherine C. Gamble and Grace Young, teenage tea impurity sleuths, describe their investigation and show their work.
NEW YORK, NY—The headline in the New York Times City Room Blog whiffed of mystery: "Young Sleuths' Last Target: Sushi. This Time: Tea." Who were these young sleuths? They were three high school students at Manhattan's Trinity School, and they had found that a significant percentage of herbal tea sold in New York City and around the country contained ingredients the tea manufacturers failed to list. They had just published their results in the Nature journal, Scientific Reports.
Using DNA barcoding, a kind of genetic fingerprinting, the students had tested 70 tea products and 60 herbal products to see what was in them. Four percent of the 70 tea products they tested and 35 percent of the herbal products had unlisted ingredients, including white goosefoot, a weed; Taiwanese cheesewood, an ornamental tree; and, most often, chamomile and plants closely resembling parsley.
"It is significant that consumers know what they are buying," one of the students told the Times.
For several years, scientists at the DNA Learning Center at Cold Springs Harbor Laboratory had been teaming up with students at the elite Trinity School to use new DNA testing to examine popular items. Just as a unique pattern of bars in a universal product code (UPC) identifies each item for sale in a store, a DNA barcode is a DNA sequence that uniquely identifies each species of living thing. In 2008, a group of Trinity seniors had investigated the sushi they loved to eat and discovered that a fourth of the sushi they sampled was mislabeled. An article in The New York Times prompted an outcry.
This fall, with a grant from the Alfred P. Sloan Foundation, the university-based scientists took The Urban Barcode Project (UBP) citywide, inviting student research teams across New York City to use DNA barcoding to explore biodiversity in their own backyards.
In their grant proposal, they noted that science education is traditionally accomplished in the context of "canned" labs with known outcomes. Science educators, they continued, must look for ways to implement open-ended, 'authentic' research projects that engage students in all aspects of scientific inquiry.
"New York City is a 'melting pot' of human diversity," they wrote. "This project will encourage students to consider the diversity of other living things and products in their parks, homes, restaurants, and stores. UBP will provide an infrastructure to involve large numbers of students in distributed, collaborative experiments using DNA barcoding. This project is in the vein of 'citizen science,' where non-scientists contribute data that is potentially useful to scientists."
The call for proposals asked students to use DNA barcodes to examine any aspect of the NYC environment, such as:
Sampling bio diversity in a park, garden, office, or school.
Checking for invasive plant or animal species.
Monitoring animal movements or migrations.
Identifying exotic or endangered food products in markets.
Detecting food or product fraud.
A whopping 110 student teams from 22 schools in 5 boroughs submitted proposals. Below we offer a glimpse at a few of these. Competing teams must complete their projects by Spring 2012 and present their work at a project symposium.
To see all of the project submissions and the UBP project guidelines, click here.
Barcoding Bed Bugs in New York City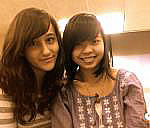 | High School for Environmental Studies, Manhattan
Teacher/Mentor: Marissa Bellino | Students: Nuttha Siriwatanakul, Era Lame
A recent increase in bed bug infestations in New York City motivated us to barcode bed bugs. Bed bugs are a threat to NYC residents due to their prevalence throughout the city and the cost of removing them. Our goal is to identify the bed bug species currently in New York City, and determine if there are any previously unknown invasive species infesting the city. We also want to discover the overall biodiversity of our bed bug samples. This project will provide more information on bed bug species' genetic make-up.
Surveying the Fungus Among Us in New York City
| Bronx High School of Science, The Bronx
Teacher/Mentor: Marisa Wagner | Students: Elias Strizower, Sarah Sutto-Plunz, Philip To, Tyler Bell
Fungi are of one of the most diverse taxonomic groups, but are not often studied. In fact, only 10% of fungi have been identified and studied (Hawksworth, 2001; Schmit and Mueller, 2007). New York City is home to various fungi, many of which can be found in the city's main parks. Our project will specifically look at Central Park, the goal being to determine the biodiversity of winter mushrooms within the park grounds. We will determine the biodiversity by collecting small samples of different mushrooms and first identifying them with a preliminary taxonomic assessment, then preparing the samples to be sent off for sequencing. This will help us sequence and identify new fungi that may not yet be in the database.
Beetle Diversity in New York City through DNA Barcoding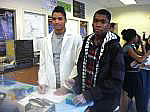 | High School for Environmental Studies, Manhattan
Teacher/Mentor: Stephen Harris | Students: Andrew Henriquez, Andrew Campbell
The goal of our project is to look at the biodiversity of beetles in several NYC parks. Beetles are among the most diverse group of all insects because of their great adaptability and variety of life styles. They are useful not only to ecosystems in general, but also to humans. Beetles are sometimes difficult to identify by physical characteristics without expert training therefore DNA barcoding is a perfect method for species identification of beetles in New York City. It is imperative to study urban ecosystems because this will allow for deeper analysis of anthropogenic effects on biodiversity. We propose to study the biodiversity of beetles in multiple NYC parks using DNA barcoding. The purpose of studying Beetle's in various parks is to determine whether different environmental factors affect the species of beetles living in the parks.
Seahorse Barcoding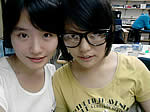 | Flushing International High School, Queens
Teacher/Mentor: C. Anthony Finney| Students: Meiling Cui, Jun Zhang
Seahorses are widely distributed marine fish that are used for various medical purposes. Each year, an estimated 24.5 million or 70 tons of seahorses are harvested. Due to the direct exploitation, accidental capture in on selective fishing gear, and degradation of seahorses' habitats, seahorses' populations are getting lost every year. In addition, because of the lack of knowledge in seahorse species identification, vulnerable or endangered species may be traded in multiple locations. Hence, we are going to collect seahorses in multiple Chinese pharmacies, identify their species using DNA barcodes, and verify if any of the sampled seahorse species has been reported as an endangered species.
Atlantic Salmon In New York City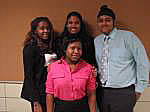 | Excelsior Preparatory High School, Queens
Teacher/Mentor: Ophelia Morris | Students: Shellon Lambert, Brittney Eady, Navdeep Singh, Ameena Amin
Our team focus is on the Atlantic salmon in the New York City region. It has been assumed that the farm raised Atlantic Salmons might currently be interbreeding with the wild Atlantic salmon. This can create a threat to New York's Biodiversity and pose a greater danger to the entire wild Atlantic salmon gene pool. Our group will be investigating to compare both wild and farm raised Atlantic Salmons to see if there is any evidence in the DNA of hybridization in their gene pool. Many buyers cannot differentiate between the wild, farm raised salmon or the interbred salmon species in their local supermarkets. Our project questions whether or not interbreeding them poses a direct or indirect harm to New York's Biodiversity and its consumers at large.
Wanted: True Identity of Melons and Pears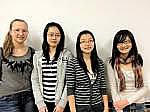 | Brooklyn Technical High School, Brooklyn
Teacher/Mentor: Kelly Lovelett | Students: Jia Ling Chen, Alissa Borshchenko, Whitney Lai, Lai Yee Kwan
According to the New York City Department of City Planning, New York City has a population of 8.3 million people, as of 2009. Out of this 8.3 million people, around 950,000 are Asian, 2.1 millions are Black/ African American, 2.3 million are Hispanic or Latino and 20 thousands are American Indian or Alaska Native. With these many ethnicities, different kinds of fruits are being introduced into New York City markets. In this project, we will be extracting DNA from pears and melons obtained from various ethnic markets across New York City neighborhoods. We will identify the different species of pears and melons at Chinese, Indian, African American/Caribbean, and Mexican markets around New York City. In addition, we will determine if there is a pattern in the type of pears and melons offered at the various markets.
Sampling NYC Moss Biodiversity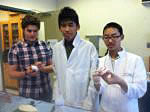 | High School for Environmental Studies, Manhattan
Teacher/Mentor: Marissa Bellino | Students: Etjen Vincani, Wei-ben Li, Samual Fok
Mosses are small plants that contain over 12,000 different species. Mosses belong to the group of plants known as bryophytes, which are a group of green, land-dwelling plants. They are found in humid, damp and moderately warm climates. Bryophytes are relatively simple plants that are generally asexual, but may reproduce sexually. Mosses are important organisms for ecosystems because they help retain water and humidity, stabilize and fertilize the soil, control flooding, and provide shelter and safety to insects and other small animals. As the number of people who live in cities increases, preservation and conservation of biodiversity in urban areas becomes a key issue. We will use DNA barcoding to identify the species of mosses in two NYC parks. The more biodiversity that exists in New York City, the more attractive it becomes to residents and visitors in addition to mosses practical uses.
Cultural Invaders In Ethnic Markets
| Dominican Academy, Manhattan
Teacher/Mentor: Lauren Serpagli | Students: Casidhe Bethancourt, Catherine Wu,
Alexandra Zawisny, Danielle Lypen
The cultural Invaders plan on collecting specimens sold in the many ethnic and cultural markets found throughout New York City. The team will take day trips to culturally distinct areas of New York City to find an ethnic market associated with the four differing nationalities that members of the team possess. The plan is to find specimens not normally available for purchase in the everyday larger supermarkets, but still very much a part of the culture of New York City. The team seeks to investigate whether the numerous ethnic food markets in New York City sell invasive species or species considered to be non-native. The focus will be on herbs and small plants with the specific aim to find what possible harm these plants may have on the unique biodiversity of New York City.