---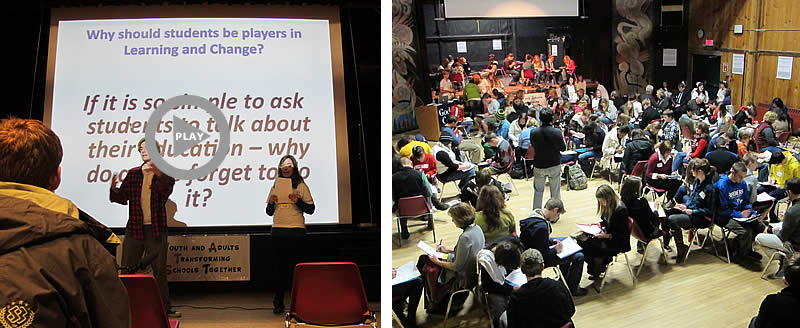 by Barbara Cervone
PLAINFIELD, VT—On this crisp fall weekend, 165 youth and adults from high schools throughout Vermont pack a large, renovated barn on the campus of Goddard College. They have gathered to "Be the Buzz": to speak up, dig deep, and work together for school transformation in their schools and across the state.
For two days these budding education activists, young and old(er), move between large and small group discussions and activities, challenging assumptions and building trust. Their energy warms the November chill, and conversation and debate fill the barn to the rafters.
"This is what real youth–adult partnership looks like," one teacher remarks. A student adds, "And what school change sounds like."
At one point, the conference's student facilitators introduce the "Quote Marketplace," directing participants to choose among five different reasons why young people should be partners in learning. In one corner, a quote from Deborah Meier draws enthusiastic support. It begins: "There's a radical—and wonderful—idea here . . . that all children could and should be inventors of their own theories." In another, the words of Paulo Freire, about the power of student-teacher relationships to "renew hope," stirs conversation.
From "chalk talks" to impromptu skits, from learning about participatory action research to creating whole school assemblies that promote community, these young people and adults are most certainly becoming "the buzz."

"Sometimes it seems like what we're doing is a little daunting," says Yuka, a high school junior from Harwood, Vermont, who co-designed and facilitated the YATST orientation the previous summer. "So where's the hope? It's us. If we form this partnership and have the dialogue, then we're already putting one foot forward, moving us closer to our goal."
The "peaceful revolution"
YATST vision
Regular student input into the classroom experience, such as mid-semester written feedback, followed by dialogue and goal setting by both students and teachers.
Student involvement on standing committees: e.g., curriculum, school climate, hiring committees, school board.
Student-generated courses, with students as co-teachers and facilitators, mentored by teachers and administrators.
Multiple opportunities to be civically engaged, through courses such as "Rights in Action" or service learning programs.
Regular seminars and/or school forums to discuss school, local, or world issues of concern.
Students joining adults in analyzing school academic and climate data and developing plans to address findings.
Quarterly dialogue nights to involve parents in meaningful discussion about student issues.
Students regularly providing information and direction to the school board, and school boards deferring decisions until adequate student input is obtained.
Youth and Adults Transforming Schools Together (YATST) grew from frustration and opportunity. For years, the Vermont Principals Association (VPA) worked statewide to support student councils, hoping without success to increase student engagement in learning. The VPA consulted with the Vermont Department of Education and the Vermont Rural Partnership—each with its own interest in student voice and youth engagement in high school learning—and by 2008 it declared that the time was right to develop "authentic youth-adult school partnerships and collaborative decision-making."
Under the leadership of Helen Beattie, a longtime Vermont school psychologist and youth advocate, YATST quickly grew into a movement with impassioned students and teachers, what one high school junior called "a peaceful revolution."
For the group's ten member schools, expectations match that soaring rhetoric.
They must create a youth-adult team that includes a cross section of the student body and commits to the work for (at least) two years. They must embed the initiative within the school day to the greatest extent possible—ideally through a credit-bearing class—and participate in multi-school retreats for training and team planning purposes, six days a year. They pledge to ground their work in data.
Adult team members enroll in a graduate-level course built around the initiative's core activities and values. Principals are members of the team and strong advocates for the work, looking to make the group a permanent decision-making body within their school.
Students receive intensive training in how to conduct participatory action research and advocate for change.
"It's deep work," says Helen Beattie. "It deserves a space in our schools as the core part of the curriculum. And when it has that, it has the potential for significant change."
The "4 R's"
A belief in the power of the "4 R's"—rigor, relevance, relationships, and (shared) responsibility—infuses the YATST vision. The group holds that these four elements undergird student engagement in learning, which encourages students and teachers to do their best. Students themselves can explain what the terms mean:
Rigor is learning that is challenging, that develops the capacity to understand content that is complex, ambiguous, or provocative.

Relevance means making connections between course content and the "real world," along with students' personal lives and goals.

Relationships are the glue that connects students and teachers—tailoring learning to students' learning styles and interests.

Responsibility (when shared) ties the elements together, as teachers and students hold each other accountable to teaching and learning that prizes rigor, relevance, and relationships.
Gathering data
Hoping to bolster change with data, YATST teams first administer a survey to both students and teachers, measuring how much their "4 R's" show up in daily classroom practice at their school. After analyzing the resulting data, teams summarize it for the full school community.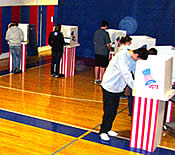 It takes hard work to apply the research skills their trainings emphasize. Some teams struggle to get a high survey completion rate from students and teachers. Some have trouble quickly analyzing the results. But most have fared well.
The results have been revealing, especially with regard to gaps between student and teacher perceptions.
"The faculty really thought they taught using relevance and connection to students," says Harwood Union teacher Ellen Berrings. "But student data tells us differently."
"We asked the students if they felt teachers classified them into separate sections," explains Leila, a Harwood senior. "The students thought there were teachers who did. But the teachers, all of them, said they never classified students—that all of their students had the same potential."
Respectful discussion and sharing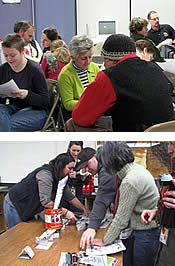 In the auditorium at Hazen Union School in rural Hardwick, the entire faculty of 40 teachers is standing and talking in small groups around posters mounted on easels. They have gathered to learn from students in the first of several faculty meetings led by their school's YATST team (nicknamed "imagine"). The students are using the "Quote Marketplace" activity that energized participants at their November conference.

"We talked about students needing to first have ownership before they are ready to learn," one teacher later reports. "Then we moved into a discussion of what we could do as teachers to give students more of a voice. We agreed that just having this discussion and raising awareness is a huge step in getting us started."
(Click here to see Hazen Union video.)
Fifty-five miles away, students on the YATST team at Harwood Union High School, near the Mad River Ski Resort, use a bridge-building activity to launch their meeting with faculty. They break the faculty into small groups, give them newspaper and masking tape, and direct them to build a bridge between one index card that says "teachers" and another that says "students."
In the debrief discussion that follows, teachers share their thoughts: "It was fun and we forget that students want teachers to do more fun things." "There wasn't a rubric assigned to this, just an objective. [How nice!]" "There's no distance that can't be travelled when you work together."(Click here to see Harwood Union video.)
Reaching out person by person, YATST students bring their visions for engaged learning to faculty and classmates, share their research data, and invite dialogue. Sometimes the very alienated classmates the team wants most to draw in rebuff their approach. Teachers skeptical about student voice may not budge. But small steps supported by trust, these teams believe, pave the way to transformation. ("Such a huge word," one student sighs.)
"Changing a school's culture is a painstaking process, grounded in respectful discussion, not blame, and building upon strengths," Helen Beattie says.
Small actions
The biggest challenge teachers have with YATST, says French teacher Marcus Grace, "is trusting that the youth voice is strong enough to lead them to places they may not see or are afraid to go."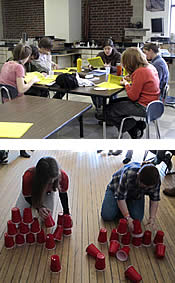 At Peoples Academy High School in Morrisville, which draws students from 11 nearby villages, the YATST survey revealed that one third of the students disagreed "somewhat" or "strongly" with the statement, "Teachers check in regularly to see if I am learning and adjust instruction based on what they hear." In marked contrast, 97 percent of teachers agreed or strongly agreed that they "regularly check in with students to see if they are learning and adjust instruction based on what I hear."
The discrepancy prompted faculty and students to institute a mid-semester student feedback survey, in which students shared what was or was not working for them in the class, followed by class discussion and goal-setting by both students and teacher.
At Twinfield High School, the YATST team is piloting student- and adult-led workshops every two weeks, during a period set aside for academic support. "Here's the hunch," explains one student. "You get students and teachers together doing fun activities, where both are learners, and the relationships grow."
The list piles up of dozens of small actions taken. Most schools, for example, are working to get student representatives on local school boards. At one school, a monthly principal's roundtable has taken root. At Twinfield, a longstanding "Rights to Action" course will now be co-taught by the teacher and a student, with student input on the curriculum. Determined to model a community that supports all its members, students and teachers at Twinfield also worked to increase the number of eligible families enrolled in free and reduced lunch, raising over $5,000 to help the program. At Winooski High School, the rules governing who can serve on the student council were changed to allow any student to serve who wanted to become involved in school improvement efforts.
Endurance and impact
"We may be young, but we're not naïve," one student remarked. Creating durable relationships between students and teachers involves more than building bridges with newspaper and masking tape. Embracing rigor, relevance, relationships, and shared responsibility can take years of hard work in even the most determined school.
Stable leadership is rarely a given: in the first two years of the initiative, principals at three of the seven original YATST schools left their positions. And finding time for students and teachers to meet and talk outside the classroom can be a logistical nightmare.
Nonetheless, YATST continues to grow and make its mark, adding six new schools in 2011. Its partnership with the Vermont Department of Education is stronger than ever. The International Center for Education Leadership recently agreed to join YATST in bringing its core principles and framework to schools across Vermont.
Despite principal turnover, students and teachers both give administrators high marks for their commitment to YATST. Students described their principals as "awesome." At one high school, teachers noted: "There is no point in doing it without principal support. He was a gift. He acted as a full participant. We couldn't have done it without his support. He made it a priority and said it helped keep him sane. He supports it as a positive and proactive tool for deep change."
For their own part, students have much to say about the initiative's impact. Reflective writing is a habit YATST instills in its members. Ian, a Twinfield junior, wrote:
This class broadened the spectrum of students participating in their learning, and this will live on long after we are done with this class. I now know that education is a collaborative process between students and adults working together . . . . I know that meaningful action can be taken by anyone and that [it] is an important part of democracy. . . . I want to learn more about the way Vermont's education system works and how it could work better. I also want to learn how to take national action from a small state's perspective. And I still wonder how can we get more students involved in decisions that every day affect their school and life.